Philippine boxing icon Manny Pacquiao gave staunch support for President Rodrigo Duterte's martial law declaration on Monday, saying the country should be "grateful" for its strong leader.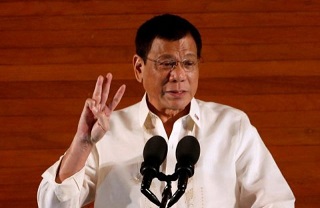 Duterte last week declared martial law in the southern Mindanao region to combat what he called a rising threat posed by the Islamic State group, after militants rampaged through a city triggering deadly battles.
Activists, opposition lawmakers, and even some of Duterte's allies criticised the decision, warning it could lead to rights violations and widen abuses amid his ongoing deadly drug war.
But Pacquiao, a high-profile supporter of Duterte and an elected senator, heaped praise on the president.
"We need to be grateful because we have a firm, strong president who is fighting these problems," Pacquiao, who is regarded as a national hero for his boxing feats, told reporters.
"From my heart, I support the declaration of the president."
Pacquiao, 38, has also expressed support for Duterte's war on drugs that has left thousands of people dead and which has drawn international condemnation and rights groups' warnings of crimes against humanity.
Human Rights Watch warned last week that Duterte's martial law "threatens military abuses in Mindanao that could rival the murderous 'drug war' in urban areas".
On Sunday, Duterte said he will ignore the Supreme Court and congress as he enforces martial law, even though the constitution gives them oversight.
He had also told soldiers that they could arrest people without warrants and joked that they could rape up to three women, drawing global outrage.
But Pacquiao said critics misunderstood Duterte.
"I know the president: he hates abusing the little people," Pacquiao said.
"He really does not like it when the poor are abused."
Pacquiao, who like Duterte hails from Mindanao, insisted that martial law was necessary to secure the conflict-plagued region.
"The President knows what he is doing. It is for the good of our country.