By Olu Ajayi
IBADAN – In times past, kings, especially in Yorubaland had absolute power. When they sneezed, their subjects would catch cold. The order of a king or traditional ruler then was power and authority. But, nowadays, civilisation has changed so many things. When the Olubadan of Ibadanland, Oba Saliu Adetunji removed Chief Labake Lawal as the Iyaloja of Ibadanland and installed Chief Iswat Ameringun as a new market leader in the city, many had thought both parties would surrender to fate. But, it appears, Mrs. Labake who is on the receiving end is not giving up the fight against her removal by the king.
She says up till now, the king cannot say specifically what her offence was that warranted the purported removal. She vowed that she would likely go to court to challenge what she described as illegal removal and sheer injustice. She said she has already briefed her lawyer to take the matter to court. "This is clear injustice and we are not going to allow it to stay. I was appointed as Iyaloja for the past 11 years. It is not a rotational thing," she insisted.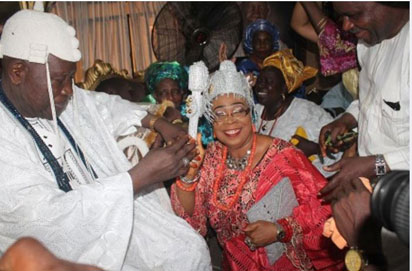 Indigenes oppose her replacement
When Vanguard visited some markets in Ibadan metropolis, it showed that several market men and women were not pleased with the removal of Chief Lawal, saying it was pure injustice. Speaking on the issue, the Babaloja of Ifeleye Market, Chief Olusola Kowosi who says he is an Ibadan indigene also took exception to the removal of Mrs Lawal.
He noted,"All we are saying is that Chief Labake Lawal should be reinstated. She has been a wonderful leader. What is happening is sheer rebellion and it started from one of our meetings. I am from Ibadan and I don't think it is fair to say you remove somebody because she is not an Ibadan indigene. Is it only Ibadan people that are in markets? This issue started about four months ago and there is division among market men and women.
"While some are in support of Chief Lawal, some are behind Chief Ameringun. Two meetings hold now. There is a factional meeting that holds at Ojaaba Market which is being presided over by Mrs. Ameringun and there is another one at Aleshinloye which is chaired by Mrs. Lawal. What I can say is to plead with the Olubadan of Ibadan to rescind his decision so that peace would reign in our markets."
Another market leader, Chief Mrs. Coker Olayinka Lawal, Iyalaje of Dugbe Market, said corruption and covetousness led to the crisis, adding that while some people believe any money realised should be spent to the last penny, Chief Lawal feels the purse of the market association should not be empty.
She wondered what Mrs. Lawal who has been the Iyaloja for the past 11 years did that could lead to her removal. "Some 11 years ago, we market men and women wrote a letter to this woman begging her to lead us in the market because of her impeccable character. She has done nothing to deserve this treatment. What they are saying is that she is not from Ibadan and I told them I would not be a party to injustice and that we should always say the truth. A woman like Chief Lawal is very rare. There is division in the market now. But, despite the challenges facing the woman, she still has more supporters than the new woman they made Iyaloja," he said.
At Labaowo market, a woman, who only gave her first name, Omobola who is the supporter of the new Iyaloja, Chief Ameringun, said the embattled Mrs. Lawal allegedly refused to listen to the complaints of members of the association and this she said led to her removal. "Some of us are not pleased with Chief Lawal because of what she did in one of our meetings. We said we wanted something but she overruled us. More so, since the Olubadan has removed her, let her maintain peace. After all, she had served as Iyaloja for 11 years. She should allow another person", she said.
Olubadan insists on her removal
The Olubadan of Ibadanland, Oba Saliu Akanmu Adetunji, Aje Ogungunniso 1, in a statement signed by his Director of Media and Public Affairs, Mr. Adeola Oloko, said that there is no parallel Iyaloja in Ibadan. According to him, following the appointment and installation of Alhaja Iswat Abiola Ameringun as the new Iyaloja of Ibadanland on Monday, March 20, 2017 at the Olubadan Palace, Popoyemoja, Ibadan, the former occupant has ceased to be the market leader.
Appointing authority
Said he, "If any other person parades herself as the Iyaloja, such a person would be running the risk of impersonation, which is an offence punishable under the laws of the land. The first class monarch made it clear that the Olubadan is the prescribed and appointing authority on different categories of chiefs in Ibadanland, including Iyaloja and Babaloja.
"The only person who has been conferred with the chieftaincy title of Iyaloja of Ibadan is Chief (Mrs) Ameringun following the recommendation of the Market Advisory Council, and she has accordingly been issued a certificate to that effect. This new certificate has invalidated any previous certificate issued to anyone.
"Again, it is not true that only one chief removed the old Iyaloja as she claimed in the interview. No high chief is vested with the power to remove or install and the installation rites of the new Iyaloja was done at the Olubadan-in-Council meeting of Monday, March 20, 2017."
Vanguard gathered that not all members of Olubadan-in-council are comfortable with the removal of Mrs. Lawal. In fact, this did not escape Mrs. Lawal who said boldly that her removal was not supported by majority of the council.