By Emeka Obasi
Land of Rising sun, we love and cherish
Beloved homeland of our brave heroes
We must defend our lives or we shall perish
We shall protect our hearts from all our foes
But if the price is death for all we hold dear
Then let us die without a shred of tear
This we sang as kids about 50 years ago, the Biafran National anthem. Play this on your organ today and see reminiscences of yore.  It is sad that 47 years after General Yakubu Gowon proclaimed: 'No Victor, No Vanquished' and flashed his three Rs[Reconciliation, Rehabilitation and Reconstruction], areas that were known as Biafra still look like they are not part of oil rich Nigeria.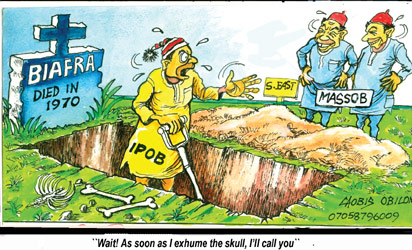 hose who have chosen to tie their tongues with silence will not survive another war. Those who have not seen battle and are eagerly pushing the country to an inglorious end should go and ask questions. Another war will not just destroy this nation, it may consume all of us.
Give the South–East geo–political zone one more state, create another state in Southern Nigeria and you get balance of identity. The  North-West has seven states and the whole North  is made up of 19 states while the South comprises 17.
Those who do not want the creation of more states should think twice. Revenue is shared according to the number of Local Government Areas and states. Political advantages accrue from states. The South-East therefore cannot continue to be denied a fair share of our commonwealth.
Let Nigerians resolve to pump money into  areas destroyed  during the Civil War. After the Second World War, the United States came up with the Marshall plan to help Western Europe. That brought Germany back to life. Today they are Europe's strongest economy.
No such thing was done for the South–East. Just look at the money going to the North-East that saw far less devastation because of Boko Haram, today. Insurgency around the Lake Chad Region has  killed in  thousands. Biafrans died in millions.
The Amnesty Programme in the Niger Delta coupled with the creation of a Niger Delta ministry is something to celebrate. To cap it all, a son of the South-South, Dr. Goodluck Jonathan, ascended the throne that is oiled by the black gold discovered in Oloibiri.
What is wrong with building federal industries in Igbo land and other devastated parts of the old Eastern Region? Fix a refinery in the South-East, open up a sea port, build a Second Bridge across the River Niger, work on the roads like you have in some zones up North  and allow them to use the brain God has given all Nigerians.
The Igbo have done so much to show they  believe in one Nigeria. Let us look at the background of men who have ruled or affected the movement of  History.
Dr. Nnamdi Azikiwe was born in the North and schooled in the West. He spoke the three major Nigerian languages.  First President of Nigeria. Zik's first language was Hausa and his children bear Yoruba names.
General Johnson Aguiyi-Ironsi attended Primary School in Kano and grew up in Calabar. He spoke  Hausa. His Second in command was a Yoruba , Brigadier Babafemi Ogundipe.  None of his Service Chiefs was Igbo. Gowon, a Lt.Col., from the North, headed the Army. Captain Edet  Wey, an Efik turned Yoruba was in charge of the Navy. Another Efik, Chief Luis Edet, gave way to Alhaji Kam Selem as Police Chief and George Kurubo, [ Kalabari]  led the Air Force.
Ironsi's escort team was led by William  Walbe, from the Middle Belt. His Aides de Camp were Andrew Nwankwo, Air Force, Sani Bello, Army, Dennis Okujagu, Navy[ Ijaw ] and Timothy Pam, Police[ Middle Belt].
Now to Nigeria and Biafra. Gowon was born in Pankshin and taken to Wusasa when he was barely three years old. General Emeka Ojukwu,like Zik, was born in Zungeru. Primary education was at St. Patrick's Idumagbo, Lagos. After that he proceeded to CMS Grammar School and later Kings College, both in Eko. Ojukwu mastered the Yoruba language and could write love letters in Hausa.
Those who accuse Biafra of being an all South-East affair are mean. The Chief of Defence Staff was an Akwa Ibom General named Philip  Effiong. Secretary to the Government was Chief  Ntieyong Akpan. Commissiner for External Affairs was Mathew  Mbu from today's Cross River State. High Commissiner to the UK, Ignatius Kogbani, an Ogoni man.
The Golden Voice of Radio Biafra was Okonkon Ndem. Head of Military Intelligence, Bernard Odogwu, hailed from today's Delta State. An Ijaw, Capt. Willie Murray-Bruce[Ben's elder brother], was high up in the Airforce. Former Cross River governor ,Clement Ebri ,was there too.
Of the 21 provinces, nine were non-Igbo  like their administrators . Chief Ekukinam Bassey, Annang. Prof Eyo Bassey Ndem, Calabar. Mr. S.N. Dikibo, Degema. Mr. S.J. Edoho, Eket. Mr. Frank Ugbut, Ogoja. Dr. Sylvanus Cookey, Opobo. Mr. Emmanuel Aguma, Port Harcourt. Chief J. Udoh–Affiah, Uyo and Chief Frank Opigo, Yenogoa.
In 1974, Gowon changed the Bight of Biafra to Bight of Benin. Two journalists: Henry Onyedike and Agwu Okpanku of  The Renaissance newspaper, were arrested over an article:  Killing Biafra.  Today, because of high handedness, Biafra has refused to die.
Perhaps, the Peduase Lodge, Aburi Accord of 1967 would have killed Biafra if it was implemented. An area that produced our country's First President, First Senate President , First Speaker, First Head of State, First  Olympic  gold medalist cannot be silenced. Let there be justice and you may not hear much of Biafra.