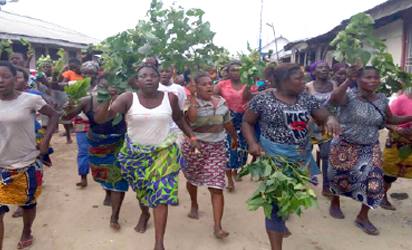 Oporoza women protesting incessant military invasion of the headquarters of Gbaramatu Kingdom in Ijaw area of Delta State yesterday
By Emma Amaize
WARRI—THE Ijaw People's Development Initiative, IPDI, Delta State, stirred a fresh controversy between the Ijaw and Bini ethnic groups, yesterday, when it declared that Ijaw people had settled in the present-day Edo State before the Bini. It claimed that the Ijaw currently proclaiming ownership of the Gelegelegbene community in the state, came from Egypt after a short stay at Sudan and Ile-Ife.
National president of the group, Austin Ozobo, in a statement, challenged the Edo Forum of Patriots and Bini Solidarity Movement, both of which it said alleged that Bini owned Gelegele, an Ijaw community, with misleading information, to prove their case with historical facts.
The group asserted: "Our attention has been drawn to statements credited to Edo Forum of Patriots and Bini Solidarity Movement, where they alleged that Gelegele, an Ijaw community, belonged to the Bini, citing some distorted and contorted black market court judgments. It is imperative to state that Bini is laying false claim to Gelegelegbene community.
"The community is owned by Ijaw of Gelegele. They are neither Benin visitors nor strangers. History has it that Ijaw first landed in Benin before the arrival of Edo- speaking people from Egypt after a short stay in Sudan and Ile-Ife.The aborigines of that land before the arrival of the Bini are the Ijaw of Olodiama, Egbema, Gbaraun, Okomu, and Furupagha clans in the present-day Ovia North, South-West and Ikpoba-Okha Local Government Areas."
IPDI quoted a renowned Benin traditional historian and member of the royal society of the House of Iwebo, Chief Jecob U. Egharevba of blessed memory, as saying unambiguously in his book, titled, A Short History of Benin (1968), Page 1: "Many, many years ago, the Bini came all the way from Egypt to found a more secure shelter in this part of the world after a short stay in Sudan and Ile-Ife, which the people called Uhe. Tradition says that they met some people who were in the land before their arrival…"
IPDI contended: "This implies that the Ijaw are the original natives of the current Edo State and not the Bini, who are non-natives of Edo state. Ijaw have their kingdoms which are different from Bini Kingdom. No Benin settlement is found among these aforementioned places. Ijaw are older than the Bini in current Edo State, but are being oppressed by the Bini for a very long time.
"Perhaps, another historian, who bore witness to the invasion of Ijawland by the Yoruba new visitors is E. Alademomi Kenyo, who in his book titled The Origin and Title of Yoruba Rulers (N.D) Page 3, stated: 'Up till time, the Oba (in Benin) and his people were pure Yoruba and did not understand the language of the aborigines, who usually salute themselves and the new people (the Bini) Adoo, Dolo."
"Going by the above author, the land they refer to as Bini land today belongs to the Ijaw people.No amount of distortion of history or documents of Benin will deter Ijaw from being focused.
In the same book, the author stated: 'About 1170 AD, Prince Oranmiyan, one of the sons of Oduduwa of Ife, the father and progenitor of the Yoruba Obas………succeeded  in reaching the city after much trouble at Ovia River with the ferryman (ibid) Page 6. About a century later, another Oba, Ewedo, had to undergo similar troubles to those which his great-grand father,  Prince Oranmiyan, had from the ferryman at Ovia River, (ibid page 9)."
"These are clear facts that Benins are occupying Ijaw land and should be grateful to Ijaw for accommodating them. No wonder, the ferryman in Ovia River was fighting them, we concede that he knew their expansionist and land rustling agenda, hence he was fighting and resisting the Yoruba visitors," the group further said.
It added: "It is wrong for Edo Forum of Patriots, Benin Solidarity Movement and other Benin people to have stated that Gelegelegbene is under the kingship of Oba of Benin, we make bold to challenge them to support their claims with historical facts."
"Prof. Alan Ryder, a British national and former professor of history at University of Ibadan in his book, 'Benin and the Europeans 1485-1897,' Page 27 writes, 'Whichever of the slave rivers the Portuguese frequented,  the people they first met and traded with, would have belonged to Ijo (Ijaw) tribe, which at that time dominated  the coastal belt of the swamp forest, extending inland to a depth of 30-40miles in the region.
It is shocking for Benin Solidarity Movement to equally say that government and oil companies should not have direct dealings with Gelegelegbene community, what a disappointment. We should respect our individual rights. It is Ijaw's right to benefit whatever is emanating from their land.
"The Bini cannot decide for them, Ijaw cannot cede Gelegele to Bein, it is on record that up till now, Israel is still fighting for their lost lands. Such inflammatory utterances by the Binis will do nobody any good, but will only propel Ijaw to continue to fight like the Israelite to reclaim its lost lands.
Ijaw are not greedy people, the proposed EPZ and seaport projects in Gelegelegbene community will benefit everybody, including the Binis.    They do not need to unlawfully claim Gelegelegbene to benefit. They should apologize for calling Ijaw in Edo state non- natives and stop further infuriating comments.
There is no history that says that Bini gave land to Ijaw to settle in the current Edo state, such lies are meant to mislead the general public and such is capable of fanning ethnic discord,"