The National Chairman, All Progressives Congress, APC, Chief John Odigie Oyegun revealed that Nigeria is presently in its infancy state.
The party chairman attributed the current state of Nigeria's economy to the mismanagement of funds which had occurred in previous administrations and unexpected downturn in global oil prices which the nation was not prepared for because of the lack of savings, excess crude oil accounts that were already depleted, and earnings that dropped dramatically.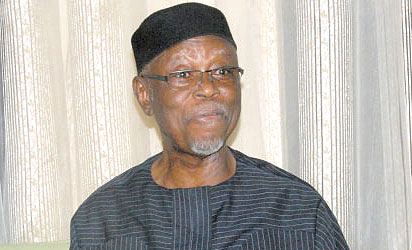 Oyegun, who spoke in an interview with City FM 105.1 FM, cited the example of the newly launched railway system, stating that the present administration is in the process of growing the economy.
He said, "We are changing the entire base of the economy, we are rebuilding the economy; we are working hard to replace oil, we are trying to re-access our solid mineral base and leverage other sectors like agriculture, power, infrastructure to stabilize the economy."
He also stated that that the changes which are being introduced in the economy like the railway system will have a huge impact that will touch the lives of the common man in terms of job creation and rise in the standard of living.
"Indeed there is pain, there is distress but one can already begin to see the brightness that is coming," he said.
John Oyegun acknowledged that while the country is currently facing challenges, "the potential of the country is so tremendous; we haven't even scratched the surface of our potential."