By Perez Brisibe
UGHELLI—THE Nigerian Army has said it would investigate the alleged assault on an Oviore- based lawyer in Okpara Waterside, Delta State, and vowed that it would not condone indiscipline among its personnel, nor would it compromise on its professionalism.
The lawyer, Sunny Ekwe, was allegedly brutalised by five soldiers last Saturday with two of his assailants apprehended and detained at the headquarters of 222 Battalion, Agbarha-Otor, Delta State.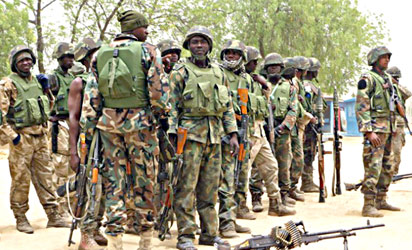 Giving the charge at the battalion, head of the panel set up by the Army to investigate the allegation, Capt. Solomon Abner, warned the public to desist from deliberate acts capable of blackmailing and tarnishing the image and reputation of the Army.
Reacting to the incident, Abner said: "As a disciplined institution, the Army will leave no stone unturned in unravelling the truth and the general public should be assured of the readiness of the military in protecting their interest as the military would not tolerate any form of unprofessional act from its officers and men."