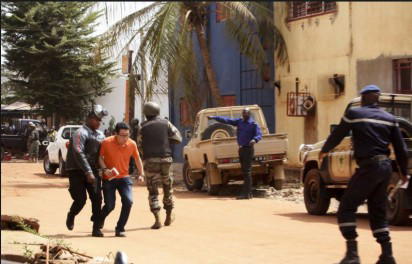 Malian troops assist a hostage to safety near the Radisson Blu hotel in Bamako, Mali, on Friday. Gunmen went on a shooting rampage at the hotel, seizing 170 guests and staff. Source: Harouna Traore/AP
At least 11 soldiers were killed in Mali on Sunday in an attack on an army base near the border with Burkina Faso, as rival armed factions surrounded the flashpoint city of Timbuktu.
The jihadist attack on the border village of Boulekessi killed 11 troops and wounded five more, according to an official toll from the defence ministry read out on national television.
"One of our positions was attacked early Sunday morning by terrorists, on the border with Burkina Faso," a highly-placed Malian military source told AFP on condition of anonymity earlier Sunday.
French forces stationed in the troubled west African nation sent helicopters to help Malian forces assess the attack site, the source later added, and 20 soldiers had crossed into Burkinabe territory to flee the violence.
A regional security source said the attack was carried out by Ansarul Islam, a jihadist group that claimed an attack in December in which 12 Burkinabe soldiers were killed.
Ansarul Islam is led by Burkinabe Malam Ibrahim Dicko, a radical preacher who wants to create an Islamist "kingdom" in the region, experts say.
There was no official claim of responsibility from the group.
Dozens of soldiers were killed in a suicide attack on an army base on January 18 in Gao, northern Mali.
But jihadist attacks like Sunday's have increased in Mali's centre, having previously been largely confined to the restive north.
A resident of Douentza, the county seat near the base, said the assailants had looted or torched large amounts of military hardware.
The Malian army told AFP that a team had been dispatched to assess the damage and provide reinforcements.
– Timbuktu surrounded –
Meanwhile in Timbuktu, northern Mali, residents said their city was entirely surrounded by rival armed groups, blocking all entry and exit points.
"They have taken position everywhere outside the city. We are very scared of being caught in crossfire," said the resident of Abaroudjou, a neighbourhood on the city's outer edge.
Witnesses told AFP shots were fired on the city outskirts and the main road to Timbuktu was cut off by mid-evening.
The tensions relate to Boubacar Ould Hamadi, an ex-separatist rebel who was awarded a position as head of an interim regional authority in Timbuktu that will pave the way for elections to be held when security improves.
Internal conflicts within the former rebel alliance have delayed Hamadi taking his position until Monday, and appeared to have erupted anew ahead of the deadline.
The government maintains that the heads of the new regional authorities in Timbuktu and Taoudenit will still begin work Monday.
Mali's north fell under the control of Tuareg-led rebels and jihadist groups linked to Al-Qaeda in 2012, who were largely ousted by a French-led military operation in January 2013.
But the implementation of a peace accord struck in 2015 has been piecemeal, and insurgents who refused to sign the deal are still active across large parts of the country.
Meanwhile, three jihadist groups active in the Sahel region announced Thursday that they would merge to form a single organisation, raising fears of more attacks and better coordination by insurgents operating in Mali.