By SAM EYOBOKA
General Overseer of Lord's Chosen Charismatic Revival Ministries, Pastor Lazarus Muoka on Sunday reiterated his warning to the womenfolk who are fund of adorning their bodies with artificial make-ups to desist from such unholy practices, saying it is sin against God.
Addressing a large crowd of worshippers at the just concluded international crusade titled; 'From Sorrow to Joy" at the Chosen Revival Ground, ljesha, Lagos, Muoka charged women and all sinners to repent from their evil ways before giving their offerings in the church.
"I want to tell you you don't need extra eye, make up or bangle or attachment at all. You don't need to dress and show your nakedness, your ass, your chest, your armpit, your tummy, your waist, your lap….that is sin. Cover your body properly.
"And if you are a young man and you are doing jerry coil and you make your hair like a woman, use some funny language…and when they ask you where are you from and you say Naija instead of Nigeria. Something is wrong with you. The bible tells us that the unrighteous shall not inherit the kingdom of God. If you are a woman wearing trousers that's a sin. If you are a man wearing skirt and blouse, that's an abomination," he continued.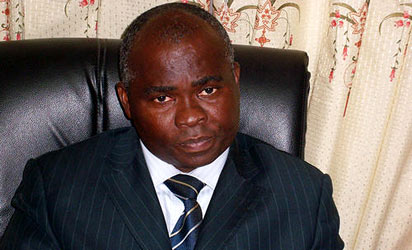 Reading from several passages of the Bible, the man of God said it is abominable for such persons who are living living abominable lives for they shall not enter heaven.
"Search your life, repent of your sin and God will show you mercy. God loves you. It is not the will of God that any soul should perish.
According to him, a sinner is not a Christian and a Christian is not a sinner, stressing that all unright-eousness is a sin. "Which means unbelief is sin, unforgiveness is sin, so is selfishness, anger, hatred, lie, pride, envy, covetousness, blasphemy, bearing grudge, speaking evil of other people, backbiting, gossiping, disobedience, all these are terrible sin.
"Going to native doctors to make charms or being a native doctor is a terrible sin. Belonging to secret cults, open cults or marine cults, withcraft cults, all of them are terrible sins. Renounce them and give your life to Jesus Christ.
"I want to remind you, if you are into such kind of occultism, you will be working for satan and suffering. If you are into occultism, give your life to Jesus and the Lord will save you and grant you victory in JESUS name. All those that are stealing, picking pockets, one chance, armed robbery, breaking into homes and carting away with people's belongings, that is a life of wickedness. It is a terrible sin.
"If you are still a fraudster or into Internet fraud, don't give your money in this church, we don't need it at all. Amend your ways and promise God that you will do them no more. Take note, if you are involved in fornication, adultery or masturbation, these are terrible sins which give the devil the legal right to torment you, afflict you, put you in perpetual sorrow.
"Or maybe you are involved in homosexuality, lesbianism or into kidnapping, murder, ritual, amend your ways. The bible says there's no peace in the Lord with the wicked. If you are a terrorist, we don't need your money in this church at all. Amend you ways. Or you are among those who are disobedient to their husbands, or fighting your husband, that is a terrible sin.
"Those who are experts in taking and giving bribes, or force money from people, that is sin. Or maybe you are involved in smuggling, smoking, alcoholic drinks, whether you are drinking it or selling to people or serving people, you must repent and not drink it, not sell it to people, not work in breweries and not work in any hotel where such things take place," Muoka continued.
There were testimonies galore during the two-day crusade as a boy who couldnt walk for five years and was rejected by several hospitals was healed instantly and he started walking.
A sister (Amaka Okara) was healed of 10 years madness instantly. Another woman who had not been walking properly well for over 16 years was healed as well.
A 13-year old boy was delivered from the spirit of deaf and dumb.
A woman suffering from 38 years chronic waist pain was healed.
A woman suffering from seven  months paralysis was healed. Another woman from 10 years of frequent urinating because of diabetes and was healed as well.