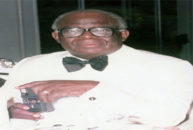 •The late Chief Amachree
Donu Kogbara
CHIEF Godfrey Kio Jaja Amachree – fondly addressed as "GKJ" by his many friends – was born 100 years ago, on February 27, 1917, to Chief Sekin Jaja Amachree, a pioneering colonial administrator of Kalabari extraction who was widely known as "Pa Sekin".
Pa Sekin, a staunch disciplinarian, advocate of quality education and perfectionist, enabled Chief GKJ, his eldest son, to become the first-ever lawyer from their ethnic group. Remarkably, this same family also produced the first female graduate in the entire Eastern Region, Mrs Christiana O. Graham Douglas (nee Amachree).
When he retired from the civil service in 1950, Pa Sekin became a passionate and fearless minority rights crusader and was elected into the Eastern House of Assembly, where he distinguished himself on the opposition benches.
Definite independence
In 1958, he was invited to join the Nigerian delegation to the Constitutional Conference in London at which a definite independence date was decided upon.
And when the UK government established the Henry Willinks Commission of Enquiry – to focus on the injustices Niger Delta people faced even then – Pa Sekin felt partly vindicated.
Everyone agreed that Chief GKJ was a chip off the old block. Having attended various top secondary and tertiary educational institutions at home and abroad – Government College Umuahia, Kings College Lagos, Higher College Yaba and University College London – he was called to the British Bar in 1948.
(Later, he added another string to his bow at Pembroke College Cambridge, where he did a course in Colonial Administration).
In 1949, he became a Pupil Crown Counsel. Within a decade, in 1958, he rapidly rose through the ranks of the Legal Department in Lagos and became the first Nigerian Solicitor-General of the Federation. When the Legal Department morphed into the Justice Ministry, Chief GKJ also (simultaneously) became a Permanent Secretary.
Not one to complacently rest on his laurels, he continued to achieve and achieve and achieve. In 1960, he became one of the first Nigerians to be admitted to the British Inner Bar as a Queens Counsel, QC. He also sometimes acted as Attorney-General and Legal Secretary of the then British Cameroon (a position that entitled him to a seat in the Executive Council and Legislature of the British Cameroon).
When he retired from the civil service in 1962, Chief GKJ was appointed as the first Nigerian Under-Secretary of the United Nations…where he assumed responsibility for Trusteeship and Non-self-governing Territories and Special Civilian Operations in the former Belgian Congo.
In 1966, he left the United Nations and went home to set up a law firm that became immensely successful and still exists today.
Described by his numerous admirers as "dedicated to duty", "incorruptible", "diligent" and "a courageous champion of justice" who "traversed the length and breadth of the Federation prosecuting 'sacred cows' whom lesser mortals would shudder to confront", Chief GKJ didn't mince words or suffer fools gladly.
But despite his intellectual rigour, bluntness and low tolerance for mediocrity, he was also famed for his kindness, generosity…and fun-loving streak.
A talented sportsman, he was a member of the University College London cricket team and Captain of its football team. He later became the first Nigerian Chairman of the Nigeria Football Association and served as Secretary of the Nigeria Cricket Association for years. Chief GKJ also loved horse-racing and was a popular member of the Lagos Polo Club.
Conflict resolution
Conflict resolution was another of his interests. During the Biafran civil war, Chief GKJ served on Federal Government delegations that sought a peaceful, negotiated settlement.
One of the many honours he earned was a Certificate of Merit from the Rivers State Government and Honorary Doctorate degree by the Rivers State University of Science and Technology.
Legal icon. Brilliant bureaucrat. Skilled entrepreneur (he was chairman and director of several reputable Nigerian and multinational companies and a pioneering indigenous investor in the oil exploration and air charter economic sectors).
Hero. Nationalist. Internationalist. Philanthropist (he made substantial contributions towards the renovation and furnishing of St Michael's church in Buguma and was involved in myriad local fundraising activities on an ongoing basis).
Chief GKJ will never be forgotten.
He is survived by my dear friends, his children: Kio, Tonye, Dateme, Kaine and Datta. They have always been and will always be extremely proud of their outstanding paterfamilias. They echo the views of many Nigerians when they say that his death has left a vacuum which cannot be filled.
May he continue to rest in peace in the bosom of the Almighty.