Gov. David Umahi of Ebonyi has hailed President Muhammadu Buhari for the Nigerian Army's impeccable feat of routing the Boko Haram insurgents from its Sambisa forest stronghold.
Umahi gave the commendation at an inter-denominational service to mark the 2017 Armed Forces Remembrance Day celebration in Abakaliki on Sunday.
Represented by Dr Kelechi Igwe, his Deputy, Umahi said that Buhari had shown that he was commanding the Nigerian armed forces effectively.
"The feat is unprecedented in the nation's long years of fighting insurgency and militancy and it signifies continued security for the nation's troubled areas.
"The president's military expertise came into bear in routing the insurgent's stronghold as he combined military skills and finesse to achieve the feat.
"He also assembled the best, high-ranking officers in the military to storm the Sambisa forest-haven of the insurgents and matched them force to force which destabilised them," he said.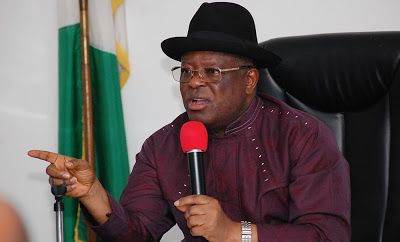 The governor urged Ebonyi and Nigerian citizens not to leave security issues in the hands of relevant agencies alone, but contribute immensely to secure the state and nation.
"Security issues are dear to God which made him deploy the cherubim, armed with swords to protect the Garden of Eden from unwanted intrusions.
"Former British Leader, Winston Churchill, said that if British people would protect their households, there would be no need to hire mercenaries to fight for them during the Second World War.
"The same is obtainable in the state and country as the legionaries should see themselves as privileged to be chosen to protect the lives of over 180 million Nigerians," he said.
He promised to assist the legionaries and families of the fallen heroes, especially their children who would be assisted to excel in their educational endeavours.
"We will always appreciate your sacrifices for the nation as you have emulated Christ who laid down his life for his people," he said.
Mrs Eunice Oyeyemi, Chaplain of the Government House Chapel, also congratulated the military for the feat, while praying for God's continued guidance and protection on it.
"The Nigerian military ranks among the best in the world and we pray that God continues to embolden it to check all security challenges confronting the country.
"The government and well-meaning individuals should take care of families of departed legionaries to cushion their emotional trauma and give them a sense of belonging," Oyeyemi said.
The cantonment Commander of the Nkwagu Military Cantonment, Ebonyi, Paul Kolawe, pledged that his officers would ensure the protection of lives and properties of the citizens.
Homilies and words of encouragement were given by the clergy and other stakeholders who graced the service, while prayers were said for the peaceful co-existence of Nigeria.
Subscribe for latest Videos