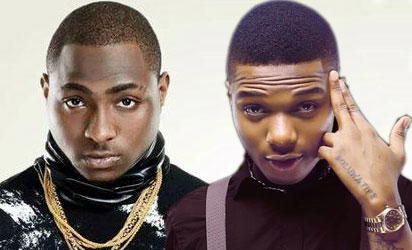 Davido and Wizkid
By Ayo Onikoyi
In a matter of hours, the year 2016 will be boarding a ship to set sail for a journey of no return. The good news is that, another one, 2017, will berth, and stay with us for another 12 months. But can we ever forget 2016 in a hurry? Not a chance, at least not for us in the entertainment arena, where many gladiators have charged our world, with battle cries, blazing swords, hard-won prizes and yet bringing smiles and tears to our eyes.
Recession might have had its pride of place in most places with most Nigerians, but the entertainment sector was on record as one to witness a first major buzz in 2016 when rapper Olamide and music maker Don Jazzy went for each other's jugular on January 1, 2016 at the Headies award over whose artiste was more worthy of the over-hyped 'Next Rated Award'.
For much of the first week in 2016, Olamide and Don Jazzy played out what can be classified as B movie dialogue, carving out the city of Lagos between them. While Don Jazzy claimed the Island, Olamide said the Mainland belonged to him, bringing back to mind the Tupac Shakur and Notorious BIG's feud of the East Coast and West Coast crews, that ultimately led to their deaths. Fearing the worst, Nigerians waded in to reconcile the two entertainers, but not until the billion-dollar voice of Aliko Dangote sounded the loudest, that they sheathed their swords.
That was how 2016 started in the entertainment industry and it didn't let up until the very end of the year. Soon to follow Don Jazzy-Olamide's roforofo fight was a string of spats and scandals, that pretty much defined the bare-knuckled 2016 Nigerian entertainment landscape.
Dammy Krane vs Wizkid
Shortly after the Olamide/Don Jazzy drama, Dammy Krane took to his social media page to accuse Wizkid of stealing his lyrics and slangs, which Wizkid used in one of his songs. The duo even went as far as engaging in a physical brawl at Quilox Nightclub. Owner of the club, Shina Peller orchestrated the settlement of this disgraceful incident between the two music stars.
Black Face vs Wizkid
Soon after Dammy Krane and Wizkid's fight, it then seemed like the music industry was doomed as there was a never-ending open season of feuds . Next in line was erstwhile rapper of the defunct Plantashun Boyz, Blackface, who  publicly accused Wizkid of stealing his song. The dancehall, ragga and reggae artiste claimed that Wizkid's 'Ojuelegba' is replete with his (Blackface's) lyrics.
Chioma Akpotha vs Uche Jumbo and others
Like a premeditated Nollywood script, some Nollywood stars joined in the series of beefs making the headlines in 2016. No one saw it coming when Chioma Akpotha took to Twitter and tweeted a picture of Blessing Egbe, Uche Jumbo, Emem Isong, Ufuoma Mc-Dermott and Omoni Oboli with the statement: "Sometimes, sisters aren't really sisters #2016Mindingmyownbusiness #Stayingonmylane #Movingon.
No one really knows what prompted the twitter outburst but the actresses who are in the picture didn't find it flattering as they  all responded in like manner to her tweet.
Blackface vs 2face
Yet again, it was Blackface, a member of the defunct Plantashun Boyz, who was in the news, this time, taking a shot at his former group member, 2Face Idibia. He took to Twitter to express his aversion for how 2face allegedly stole his song. He stated that his former partner 2face stole from him. He also threatened to sue the African Queen sensation. In response, 2face in an interview said, " It is just so unfortunate. I got nothing but love and respect for him and it is just   so unfortunate   that he is coming at me like that"
Davido Vs Sophie and Dele Momodu
The drama between singer Davido and his babymama, Sophie Momodu over the custody of their lovechild, Imade, nearly broke the internet. And it got more interesting when media mogul and Ovation publisher, Dele Momodu, came in, in defense of his niece.
Davido attacked the media mogul severally and didn't let up even until some days ago, when Dele Momodu walked out of an event because Davido referred to him as " his boy"
Tiwa Savage and estranged hubby, Teebillz
If the Davido and Dele Momodu's drama broke the internet, the one involving Tiwa Savage and her estranged hubby, Teebillz certainly shut it down. Sometimes in April of 2016 the world woke up to a twitter rants from Teebillz, accusing his wife of infidelity, neglect and his mother in-law of witchcraft. In a matter of hours, he claimed the tweets were not from him, saying his account was hacked, asking people to disregard the rants.
This was soon to be dispelled when some concrete reports emerged that he was actually under the influence of some substances, that, he had actually tried to commit suicide. For days, there were debates of all sorts, questioning and confirming veracity of the claims, until the super star singer herself set the record straight by granting an interview that was videoed for all to see. In the interview, she gave a graphic account of how Teebillz had been such an irresponsible father, husband, drug addict and incurable womaniser.
Though before the close of 2016 some hard facts emerged that the couple may be on their way to coming back together as man and wife. The  motive force to that speculation was set in motion at the Three Crowns concert that held in October, where Tiwa Savage, looking rather forlorn and drained, asked Tunde and Wunmi Obe for secret of making a marriage work. After that, another report claimed that the husband, Teebillz, was being certified 'clean' after some rehab time and a long session of counselling.
Seun Egbegbe and Toyin Aimakhu
In the contemporary Nollywood, not much is known about a film maker known as Seun Egbegbe, but in the Yoruba sector, the name pulls weight as he is well respected. But his popularity soared when the news of his romance with top actress Toyin Aimakhu made headlines. And it even made bigger headlines when their relationship turned soured and the lovestruck film maker threatened to finish the career of the actress.
All the social media went berserk during their love tango as fans had a field day expressing all sorts of sundry opinions on their love escapade, taking sides and playing with the lovers like a see-saw.
Ice Prince, his girlfriend, Maima Vs Sugar Daddy
Ice Prince Zamani's love for his girlfriend, Maima, is never in question and the singer demonstrated it with actions when a certain old flame of Maima, named Akin, came on the Internet  with photos that he was the one that saw the girl through school.
Ice Prince debunked the claimed and stood by his girlfriend, but they got on the wrong side of their fans, who ripped them to shreds after the Akin, released more photos to prove his case. However, the singer showed love conquers all as it had no effect on their relationship.
Miss Anambra lesbian sex video
Perhaps, the most trending piece of news in the blogosphere in 2016 was the leaked Miss Anambra 2015 sex video in which the beauty queen, Chidinma Okeke was caught on video in an enthralling act of lesbianism with another beauty queen. Sometime between September and October of 2016, there was no other piece of news more searched on the Google Search Engine than the Miss Anambra drama which cast a shadow of gloom and almost doom on pageants in the country.
In September, the first video surfaced, showing the winner of the 2015 Miss Anambra beauty pageant, Chidinma Okeke, in a lesbian act with another female. And when that less-than-one-minute video was causing an uproar, another one, clearer and more detailed, lasting more than two minutes emerged, graphically showing the queen and her partner, playing with cucumber, and using it as sex toy on their privates, there was pandemonium everywhere.
So great was the strength of the story that every news platform feasted on it from various angles. At the height, there was a sort of a manhunt for the source releasing the videos, especially, when a source revealed to Saturday Vanguard, that the first two videos were just a tip of the iceberg, promising, there would be a third video, lasting up to one hour.
Pronto, all fingers were pointing in one direction -The organizers of the Miss Anambra Beauty Pageant, Anambra Broadcasting Service, ABS. This, however came on the heels of the beauty queen's revelation that she was pressured to do the videos under an influence she had no knowledge of by the organisers. Though ABS swiftly reacted, washing themselves clean of the claim but the air of uncertainty and confusion hung over the matter, with no clear-cut resolution.
Oritsefemi and the Quilox squabble
Double Wahala singer, Oritsefemi had a good 2016, headlining prime shows across the country. But by November, he was languishing in the hospital, getting treatment for shock and all sorts of minor injuries. Some might say,'good for him', because he had landed in the hospital after being beaten blue and black by Quilox muscle guys, after the singer stabbed one of them in the eye with a broken bottle.
The details of how it all began doesn't matter here, because the singer who released an album some weeks prior to the incident 'Corporate Miscreant' acted in like manner and duly apologised both to his fans and the owner of the Quilox nightclub, Shina Peller afterward.
Seun Egbegbe in alleged Iphone theft
With his romance with Nollywood actress, Toyin Aimakhu who now addresses herself as Toyin Abraham, Seun Egbegbe's popularity has soared and when the news broke in late October to November that he was beaten to a pulp after he attempted to steal nine Apple Iphones from a shop in the popular Computer Village in Ikeja, the news spread like wildfire.
His photos with blood-soaked mouth littered the Internet. But his PR people told us nothing of such happened, that the film maker was too big to steal phones. However, the police settled the matter when they charged him to court on one-count of theft. Whether true or lie, the matter remains in court.