By Henry Umoru
NEW BUSSA- SENATE President Bukola Saraki has urged all the Senators and other elected lawmakers across the country to make it a point of duty to travel to their constituencies and intimate the people on the progress made so far at the chambers and the senatorial district.
He also called on lawmakers in the country to promote national development as well as advance the course of economic diversification.
Speaking Weekend at Jahi Ground, Gbemusu, New Bussa, Niger State at the Commissioning of empowerment Items donated to Constituents of Niger North by the Chairman, Senate Committee on Media and Public Affairs, Senator Sabi Abdullahi, Senator Saraki said, "Politics they say is local and politicians must update his constituents regularly on the progress they are making especially representative politics."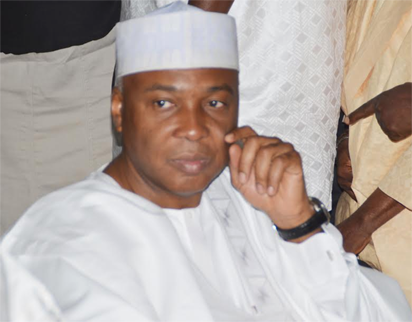 Meanwhile, as part of his first Barade Empowerment of Constituents fir poverty Alleviation, Employment and Reporting Progress, Senator Sabi Abdullahi distributed items worth millions of Naira to the eight local areas making up the Niger North Senatorial district.
The items include Motorcycles; Tricycles( Keke NAPEP) ; Wheel Chairs; Grinding Machines; Generators; a 25 persons capacity Boat for River Transport with 25 life jackets as well as complete Jerseys for 100 Football Teams across the Zone and an accompanying Football.
Senator Saraki said that today in the history of Nigeria, Nigerians were witnessing a more focused National Assembly that was spending 70% of its legislative time to reform the business environment as well as to promote economic diversification and development.
The Senate President stressed the need for situation and progress report because when they started, a commitment was made to bring lawmaking back to the people through their activities and programmes as lawmakers, adding, "We pledged to use lawmaking the better the lives of our people."
Saraki who was already airborne for the programmes and the plane roving in the sky at New Bussa, could not land at the Air force base because of bad weather, even as he was later represented by the Chairman, Senate Committee on Banking, Insurance and other Financial Institutions, Senator Rafiu Adebayo Ibrahim.
He said, "Today in the history of Nigeria, we are seeing a more focused National Assembly that is spending 70 per cent of its legislative time to reform the business environment".
Saraki who noted that the National Assembly was promoting government patronage of made -in- Nigeria good through the amendment of the Public Procurement Act, said, "We are also moving against revenue leakages that are affecting government's ability to deliver on its promises.
"We are doing all of these through a well fashioned out legislative agenda that has at the centre empowerment opportunity and better life for our people."
He however assured the people of Niger North that once the Ministry of Works commences the rehabilitation of roads nationwide, it would
give attention to the long standing Wawa – Rafia road which was started by the defunct Petroleum Trust Fund, PTF and the Wawa – Kaiama road which connects communities in Niger State, Kaima in Kwara State and Shaki in Oyo State.
Speaking further, Saraki said, "I am very pleased and rejoice with you my people that you have such a committed resilient young leader. Sen. Sabi has lobbied strongly for the completion of some roads that will boost the social economic life of the people. Some of these includes the long standing Wawa – Rafia road which was started by the defunct PTF and also the Wawa – Kaiama road which is connects communities in Niger State, Kaima in Kwara State and Shaki in Oyo State. This road rehabilitation has been captured in the Senate committee of Works and I assure you all that when the Ministry of Works begin nationwide rehabilitation of roads, these roads will receive urgent attention.
"This is just some among the many projects he has used his influence to bring close to the north Niger Senatorial district. He has not stopped at these projects but have today taking another giant step with all these implements he has presented here and I am hopeful that all the beneficiaries are going to find them very useful and will make their lives better and promote entrepreneurship in the Senatorial zone.
Hailing Senator Sabi Abdullahi, Senate President Saraki said, "Indeed, Sen. Sabi is one of those Senators who have very cordial working relationship with every senator. He is a worthy representative of his people, as he understands what the average Nigerian goes through on a daily basis. Any time he stands up to speak he carries the average Nigerian along and draws the attention of the Senate to what his people are passing through."
In his remarks, Sen. Sabi Abdullahi said that the three arms of government have been constitutionally charged to focus governance on the welfare and security of the citizens.
According to him, the gesture was aimed at providing dividends of democracy to his electorate, adding that Niger North was the largest Senatorial District in terms of land mass, but was confronted with developmental challenges including youth unemployment and very poor road network.
He, however, called for more support from both the Federal and State governments as well as development partners.
Also speaking, Niger state governor, Alhaji Abubakar Bello, who was represented by the Commissioner Planning Commission, Mohammed Nda described Sabi as "a man of the people."
He said that as the empowerment programme was the first phase, it should spur him to do more in terms of women and youth empowerment.
The event was attended by APC party members including the zonal chairman, North Central, Alhaji Zakari Idde, APC Chairman, Borgu Local Government Area, Alhaji Muhammed Ladan and party supporters across the Senatorial district.