By Muhammed Adamu
FOR quite some time this Column has been all about 'politics', 'economy' and the more humdrum subject of 'good governance' -or the lack of it. But last two weeks -in a series- it was all about one of my family members' health concerns -a narrative around the subjects of 'pain' and 'anguish', but no less too about the outpourings of love and emotion.
And now I am thinking that with the wife of the former President, Patience Faka Jonathan suddenly on the menu, may be a little 'humor' this week will not be that bad -to wash down several weeks of insipid gourmet of the 'serious' and the 'ludicrous' or sometimes even the 'sacred' and the 'profane'. On a lighter note I am serving you this week a re-jigged version of a piece I once wrote about Patience titled Etteh and Faka: A tale of two 'witties''. Enjoy it.  
Etteh and Faka: A tale of two 'witties'
PATRICIA Etteh's short-lived tenure as Speaker of the House of Representatives was perhaps the green Chamber's un-sung age of chivalry. Members, for the first time had buried gender bias and elected a 'reverent gentlewoman' as Speaker –hoping perhaps to have a fresh breath of feminine air around matters of legislation and the legislative process. But in the end, as with most things about women in public and private affairs, members got more than they bargained for.
As Speaker Etteh's twin problem was her extravagant attitude towards legislative funds and her inelegant use of the language of legislation, so was First Lady Patience's tragic use of pidgenized English and her less than graceful forays into matters of state to add chivalrous pep to her husband's unsavory grappling of matters of governance. And now we are coming to know also that like Speaker Etteh, Patience too had issues with executive funds.
Embarrassed  colleagues
The paradox of the squint-eyed person is that when he is looking at you, he is actually not looking at you; or that whenever he is not looking at you, he may actually be looking at you. Don't get me wrong, Speaker Etteh was not squint-eyed. She was rather 'squint-mouthed' –in the way that she used the Queen's English that is. Her words were not only often misconceived and misbegotten, they were almost always mis-primed and therefore inevitably mis-delivered; -to the chagrin of her embarrassed colleagues or the amusement of a titillated public.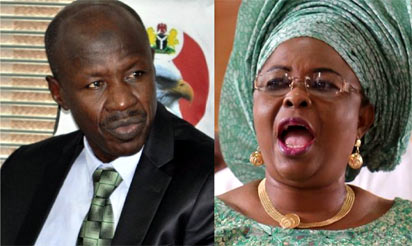 In fact, although Etteh was prematurely cut down amid charges of corruption, ironically it was in her queer extra-grammatical use of the English language which was rather un-dignifying of the legislative arena that her Speakership carved its inglorious niche. As Ghali's tenure was famed for graft and legislative rodomontade, so was Etteh's tenure notorious for legislative vacuity and grammatical faux pass. When –at the 2007 inauguration- she urged members to fill the inaugural Register, it was with the warning that those who did not risked having their names "striking out"; but which –thank God- she had quickly corrected to 'striked out'.
In every legislative debate at plenary, and where a voice vote is taken, one of two contending camps -namely the 'ayes' or the 'nays'- will usually 'have it'. But in Etteh's Chamber often neither the 'ayes' nor the 'nays' had it; because with Madam Speaker it was not strange after the bang of the Gavel to hear "the hayes has it". Nor did Etteh's originality even in other extra-legislative matters know any bounds. When a former President of the Senate, Evans Enwerem died, Speaker Etteh was exceptionally innovative when she prayed "for the death of the departed soul". Her apparently morose-looking colleagues did not know whether to answer 'aye', 'nay' or 'amen'.
Speaker Etteh was not only obsessed with her 'exotic office' and the 'exotic offices' of Honourable members, she was also known to be passionate about legislative decorum and the dignitatem of the green Chamber; because she would often remind indecorous members at sessions to watch it: 'you are sitting in the HOLLOW Chamber, not in your ESOTIK office'. In fact, she was so passionate also about our bad 'roads' and the state of "our agriculture" that Etteh once pleaded with FERMA to kindly "make our roads habitable" even as she advised "members of the international countries" to come to Nigeria and "infest"; -or is it invest?- because according to her Nigeria has "fast land" –maybe she meant 'vast'- where according to her again, "agriculshore is alternate".
By the time members realised that they had unwittingly elected –as Soyinka would say- a mis-primed 'sakabula' as Speaker, all hell had to 'break loose' as a war of attrition had to be fought between Etteh's 'hollow supporters' led by a fisticuff Dino Melaye and the majority other supposedly 'hallowed members' of a self-styled 'Integrity Group' led then by the not-yet-fallen Faruk Lawan. One of such 'hollow' members advised Etteh not to yield but to 'stood her ground'. And she did. But her ground did not 'stood'. She lost her 'esotik office'!
Then came Faka: Just when you thought that with Speaker Patricia Etteh had gone that age of legislative chivalry, -or the era of jaw-breaking contrapuntal turnarounds-, just then came the mother of it all; the Queen of the fairies, Dame Patience Faka, First Lady, Mother of the nation, quintessentially the Murderer-in-chief of the English language and paradoxically the 'husband' of her 'husband' -Jonathan. In the social world of 'hyenas', a female rules the pack; and she does so with such obsession for asserting and maintaining hierarchy, she is often induced by riotous hormones, to produce a false male organ which she dangles lewdly –even if merely symbolically- to assert her feminine macho-ness. Patience Faka was no less assertive over her man Jonathan.
In fact, when she said "My 'husband' Jonathan is the best couple", beyond the grammatical mumbo-jumbo, the word 'husband' coming from the defacto 'husband' herself merely covered discretion with a coat of feminine sarcasm. It was no less sarcastic -nor any less grammatically mumbo-jumbo- than when she said "My husband and Sambo is a good people". Or more amusingly so when the political geographer in her praised Nigeria as "a great continent". But nothing could have been more mumbo-jumbo than Patience confirming to "fellow womens" her improving health condition with the assurance that "the doctors were responding to treatment".
Patience Jonathan was to the executive arm what Patricia Etteh was to the legislature, -a loose, unrestrained, un-restrain-able cannon of grammatical tautology, redundancy and gobbledygook. And as she was both a 'linguist' of conjugal necessity and a trado-logician of super intelligence, only Patience could invoke the right kind of logic in answer to those who had said Jonathan had failed in governance: "when a shildren fail exam" she asked rhetorically "is he not suppose to be repeated? So let us repeat Goodluck"! Nor was Patience's figurative sense of 'taste' any less acridly intelligent than her logic of 'repeating' non-performing 'husbands'; or when she threw to the wind all sense of the lewdly-suggestive and announced that: "Wike is the younger brother of my husband. This man I have tasted him. And he is very sweet. Support him". Yummy yummy.
Political  gaffes
And where the former Speaker-Patricia Etteh prayed fervently for the "death of the departed soul of Evans Enwerem", you'd think that the least Patience would do to the soul of the late Ojukwu was to pray for its gentle repose. But no! Madam First Lady spoke rather nostalgically about the 'living manhood' of departed Ojukwu, and she assured his grieving widow Bianca, that although her husband was dead, "his manhood still lives on"!
But Dame Patience was not just about political gaffes and grammatical faux pass. She was also as charitable as she had the gift of the virtue of 'patience' -which her name amply epitomized. It was in her profoundly 'self-donating' charity that the 'kindest' side to our indefatigable Faka was made manifest; because she had once announced gratuitously at a public launch "on behalf of N2million, I donate my family" –'cash', 'kind' and 'all'!
Yet the unwarranted metaphors of 'death' and 'dying' in madam Patience's everyday speech had been luridly more poignant than even her wacky sense of 'taste' for Wike or her zany sense of 'self-donation' –cash, kind and all- at public launches. Her famous "I travel abroad to rest in peace", which was as ominously death-wishing as her other infamous "I rather kill myself than commit suicide" was paradoxically ironic. But on the whole her popular oxymoronic salute "my fellow widows" –even though her 'husband' was not dead- was empathy with the 'grieving widows' taken rather too far.
These two great 'users' –of the English language and of public resources- Patricia Etteh and Patience Faka, we sorely miss.
Re: My Sickled-cell anemic daughter
2347030586306 -I have read an article on your daughter Walida's predicament. I sympathise with you because I had a daughter that had epilepsy. I read sometime ago how UBTH, Benin successfully corrected this blood anomaly on a child though they said the cost was reasonably high. Can you try and find out. God save your daughter. Aleogho Gregory, Auchi Polytechnic.
+2347038823673 – May the merciful God heal Walida, and others like her, Amen.
+2348081777456 –Good day. Your article today on sickle cell anaemia is a summary of my story. We share a lot of similarities; my daughter is ten years old just like your daughter. She is sickled-cell anaemic. She is my beloved one. She wants me around always and she bears a striking resemblance with your daughter as appeared in your Column. Walida will not only live long, you will see her own children, as our good lord will preserve them for us. I appreciate your courage. Mine is being strengthened as well. I really want to (know) the cost implication of bone marrow transplantation and is it done in Nigeria? Thanks, –Adebayo O Lagos.
+2348033247253 –Mohammed, my complements. You don't know me I am an avid reader of your Column and a retired Perm Sec in ANS. That is not why I am sending this. My main aim is to encourage you over your daughter Walida. She will make it and overgrow it. God has willed it. I know what you are going through. I have experienced it and in our golf course my caddy is a sickler. He passes through many attacks. Please take heart. God is working. Uche Udedibia.
+2349058522529 -Good evening sir, I have just finished reading your article in the Vanguard Newspaper about your ailing daughter. The almighty Allah will perfect her healing. She will live to fulfill her destiny. I have a son with the same condition. In and out of the hospital. My regards to her Mom and other siblings. Regards from Adenigba Mrs, Ijesatedo, Lagos.
+2348060328291 –It is so sad that you and your family are passing through this pain. But I assure you that you guys are not alone. I have lost six of my cousins to this sickness. Your daughter will grow old. She may be in pain but with your care and love, she is a survivor. She is fighting it already and I assure you that you will watch her grow. My prayers are with your loving Walida. She is beautiful and will grow out of it miraculously. I encourage you to continue to be brave, strong and prayerful and almighty Allah will be with you and your family.
+2348038504254 –Adamu, Princess Walida will not die. What a beautiful girl. I am a sickler in my fifties, if I did not die, Princess will not die. I will be in touch.
 A.L. Okafor.
+2348033343283 –As Salaam. Just learnt about Walida's sickness in your write up. May Almighty Allah give her cure for this travail. Amin.