By Gabriel Enogholase
BENIN—A chieftain of Peoples Democratic Party, PDP, in Edo State, Mr Philip Olumese, has berated the state governor, Mr Adams Oshiomhole, for listing the likes of Alhaji Aliko Dangote, Captain Hosa Okunbor and Dr Daniel Ladipo as his friends, pointing out that the pronouncement made a mockery of the governor's claims to be on the side of the common man, who gave him the mandate to govern the state.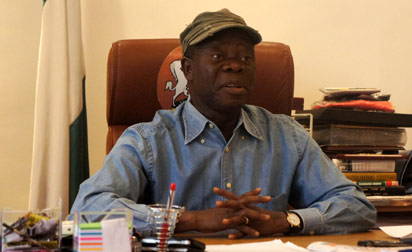 The former chairman of Edo State Urban Water Board added that the governor has finally rubbished his touted ideological attachment to the poor and exposed himself as someone who rode on the back of the people to get to office.
Olumese, who was reacting to a statement credited to Governor Oshiomhole, said that while the governor was proclaiming his valued friendships, Edo people were struggling for life under his "excruciating yoke of the many taxes, levies and economic measures."
He said, "If Oshiomhole's 'friends' are only found within the marginal area of the rich and famous, what has happened to his much hyped champion of the oppressed, the maligned and the despised?
"Has the welfare and living standard of the people been sacrificed on the altar of business considerations that he has rightly condemned for its short-term focus, belatedness in a two-term time-bracket and the under-the-table deals that the ordinary Edo citizen may not have the luxury of exposing.
"While welcoming his 'friends' with exaggerated tooth-paste smiles and artificial pageantry, his state officials from the lowest rungs of government to the exalted pedestal of governorship, harass and torment petty traders both day and night with extreme degrees of violence and intimidation."
"We made bold to say that the common people of Edo State are labouring, daily, under the excruciating yoke of the praetorian enforcement of the many taxes, levies and economic measures."