By Denrele Animasaun
"You never change things by fighting the existing reality.To change something, build a new model that makes the existing model obsolete." — R. Buckminster Fuller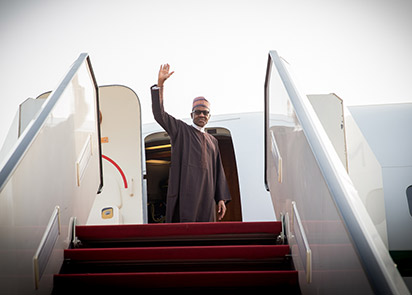 PMB is on an official visit to France, where he will be meeting the President of the European Parliament, and the President of the European Commission and he will address a special session of the European Union Parliament. This meeting will be attended by members of the executive and legislative arms of the Union.
The President's address is expected to focus on terrorism, violent extremism, corruption, Nigeria and Africa's current security, economic and developmental challenges and the need for greater support from the European Union and advanced nations for their rapid resolution. Sounds good, doesn't it?
He will proceed to the UK, where he  and more than 70 heads of state, the UN  Secretary General, heads of international Organisations, NGOs and  private sector representatives will gather in London for a key conference to pledge their support for the growing aid needs of the Syrian people.
You would have thought that the president should be there after all, he was invited. But, no, according to some Nigerians, he should not have been travelling, he should be home.  So, what are they going to say when, on his return home, he is due to travel to the Middle East. Now, they are going to have a lot more to say.
In polite society, they say that if you don't have something good to say don't say anything at all.  An etiquette missed by many who are happy to give their kobo's  worth on matters they know nothing of and, to be honest, they do not care about. And why should they, they do not know how to build; they are good in destroying and thriving in chaos.
I have been following the ruckus from these naysayers, who have taken umbrage at the president travels. You would have thought, the man was going on holidays and gallivanting all over the world without a care about Nigeria and Nigerians.
So what has the man done to warrant the miasma tic disapproval emanating from certain quarters?  Well, there is no surprise there then, whatever this man does will never meet with their approval and nor he kowtow to them.  After all, the mess that Nigeria is in today is because of these felonious collective.   They will continue to measure the man with their yardstick. In the past, the euphemism of foreign travels by the past leaders was another word for carting the commonwealth to foreign bank accounts and the unexplained   trappings of sudden wealth.  The rumblings from these quarters is, exactly that; a diversion from their dastardly activities.
It seems that the Ekiti State Governor, Ayo Fayose, has been calculating every presidential foreign trip and has totted up that every trip is around $1 million. This man has no filter or grace. He said: "Conservatively, about $1 million goes into every of the foreign trips and the way the President is going, foreign trips alone might gulp 20 percent of the Federal Government budget and that will be disastrous for the dwindling economy of the country and that "this year alone, President Buhari has travelled to the United Arab Emirate, Kenya, Ethiopia and he is leaving for France and United Kingdom today to spend four days abroad. So, who made Fayose the president's accountant?  I thought he had a state to govern and his family affairs to deal with, why has he taken the unofficial role of tracking the president? He went on; "In most of these trips, about $500,000 is spent on escorts, transportation, accommodation, honorarium, media coverage, contingency and other expenses on accompanying Presidency officials."  Can someone give this man a muzzle, he definitely needs one and humility.
The usual suspects have been banging on the same old gong for all those who care to listen or read that they are not best pleased with the president and his travels.  They even complained about him travelling to neighbouring countries!
They have a lot to worry about and I have a feeling that they are uncomfortable because, PMB is making a mark on the world stage and maybe, just maybe he will untangle the mess that they have left Nigeria in and that he had inherited.
More crucially, PMB has been working closely with other world leaders; and given firm assurances of cooperation from these countries to recover and repatriate the funds stolen from Nigeria. Of course, this will make the guilty uneasy so, you can't blame them for wanting the president to stay home and away from their tucked away loot.
Never mind that, he has  to forensically clean up the mess that many of these people have left the country and its  citizens in order for the  country to move  forward  from the  mess that they made.  So let them continue to make the noise, the louder they are, the more guilty they look.
 Ibori is in or out?
"To oppose corruption in government is the highest obligation of patriotism." – G. Edward
James Ibori, the  former Delta State governor, was widely reported to have been  released from Prison and according to some  sources, he was  re-arrested and back in jail.  Mr Ibori, 57,  former governor of oil-rich Delta State between May 1999 and May 2007, was jailed for 13 years in April 2012 in London for fraud totalling nearly £50m ($77m).The same Ibori who was  found  guilty and imprisoned on 10 counts of money-laundering and conspiracy to defraud and this  was no ordinary thief. He siphoned as much as $250m over eight years. He lived a lavished lifestyle of a  portfolio of luxury houses, fleets of top-of-the-range cars, fees at some of the UK's most expensive boarding schools, first-class travel, expensive hotels and even a $20m private jet.
At his hearing, the prosecutor called him a "thief in government house and common criminal".  So, why the sudden interest? And it seems that his followers or kinsmen are preparing to welcome him back into their fold. One of  his supporters said ;"They know Ibori sells papers, so some people just sit down and write whatever they like", he said, and explained that the former governor is due to be released this year but not before the completion of the confiscation case and I visited him in prison about three weeks ago and speak with him every other day", he said, adding that "things are still as they are, and everything is on course". Really, this is not something to be proud and be boastful of.
This man was not wrongfully imprisoned; in fact, he had started a career in thievery way before he got to the government's house.  Ibori and his wife had been at it while they were working in a DIY store in England; he had a criminal record   and had been convicted in the UK before – in 1991 for stealing, in cahoots with his wife who worked as a cashier, from the Neasden, London, branch of the DIY shop Wickes. He was also found guilty in 1992 for being in possession of a stolen credit card and having used it to fraudulently withdraw $1,590.
So, here is this man who fell from grace and it seems his friends want to roll out the  red carpet and celebrate his relase. We have a lot to learn. We  need to seriously examine  ourselves as  Nigerians if the likes of Iboris are the true markers  of success and if our  aspirations is solely to milk  the system at all cost for all  its  worth. We need to re-examine our conscience, sense of pride and dignity. There is a narcissistic pattern; self-gratification and  delusion of  grandeur  that  occurs, assuming high office in  Nigeria. These individuals tend to lose all sense of proportions  and  common decency.  The Prosecuting QC Sasha Wass said of  Mr Ibori, 53,  that  he had "tricked" his way into becoming Delta State governor, by giving a false date of birth and claiming he had no criminal record". Every part  of his  rise   to power is flawed  with inaccuracies and, at no time  was he  stopped  and  reprimanded.  So if, I were to advise those planning for Ibori's welcome party, they should  show some temperance, conscience and integrity. And  when  Ibori is released from prison, they should quietly take their friend and their lot  far away from the public gaze. This is  not the time to publicly display his return as a prize. The prodigal son may return,but there should not be a party to celebrate his notoriety.  He committed a crime so foul and  he should show some  remorse. On the other hand, his friends,may be waiting for a for a pay day,  disgraceful, the lot of them. Nigeria deserves respect