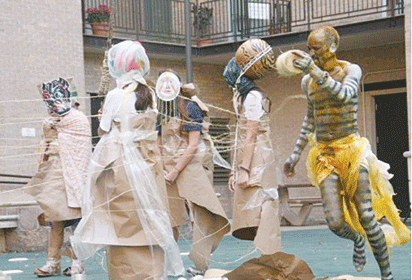 • A previous performance Jelili Atiku
By Japhet Alakam
The community of artists in Nigeria and around the world hereby call on the Commissioner of Police in Lagos to drop the 4-count criminal charge (Charge No MM/E/01/16) instituted against the performance artist Jelili Atiku, widely believed to have been sponsored by the traditional ruler of Ejigbo community, Oba Morufu Adekunle Adisa Ojoola, the Oojon of Ejigbo/Ijan kingdom in Lagos State.
Atiku is being arraigned on criminal charges of "constituting public disturbance, and inciting the public with his performance of January 14, 2016." The toughest accusation laid in front of the Magistrate court is that the artist conspired with four others to "commit felony" with his art. Jelili Atiku, winner of the 2015 edition of the Prince Claus Prize for Culture Development, was arrested on Monday, January 18, 2016, after staging a performance art; a genre of visual art conflated with elements of dramatic arts. He has spent three days in jail in the last two weeks.
We are deeply worried that a display of a visual work of art, expressed without violence, would have been criminalised by policemen, who arrested and brutalised the artist, and some others involved in the performance of the art. We express misgivings that an artist would be detained in prison, for three days, in Nigeria, 17 years in the life of the fourth democratic Republic, for simply expressing his view.
We are disturbed that community chieftains would so easily take advantage of the state agencies of coercion, to inflict harm on individuals who haven't themselves resorted to violence in expressing their opinions. As citizens, we have faith in the country's judicial process for adjudicating matters of law and disturbance of the peace, but the circumstances surrounding Mr.Atiku's arrest, harassment and detention are so deeply troubling that they compel us to demand the dismissal of the case.
Mr. Atiku's recent creation, ARAGAMAGO – a masquerade motif that he proposes as a campaign against the reign of executive terrorism–is at the heart of his current challenges. In parts, it is an attack on rentier tendencies in Nigerian communities; it bears similarity with many local artistic productions that assail the extremes of the rentier economy in Nigeria, including Benson Tomoloju's Jankariwo  and Wole Soyinka's Alapata of Apata,
Aragamago Will Rid This Land of Terrorism, staged Thursday January 14th 2016 in Ejigbo,community located in the north of Lagos, obviously rankled the traditional ruler of the town, Oba Morufu Ojoola, who felt that the performance was targeted at him, and promptly got the artists arrested. The fact that an arrest of persons performing visual arts could lead to three days in Prison indicates a heavy hand of some persons in favour of the accuser.
We insist that an artist has a right to provoke thoughts and generate debate in society. Attempts at censorship will unnecessarily bottle up opinions, and lead to consequences that are not guaranteed to be positive.