•Bomb Escravos gas pipeline in Delta
*Tompolo reacts: I have no hand in the bombings
*Tension in the creeks, riverside dwellers flee for safety
By Emma Amaize, Regional Editor, South-South, Warri
Hours after a court in Lagos ordered the arrest of former militant leader, Government Ekpemupolo, aka Tompolo over alleged fraud, suspected ex-militants, Thursday night, blew up a gas pipeline in Warri South-West Local Government Area, Delta State conveying gas from Escravos –Warri- Lagos – Abuja, property of the Nigeria Gas Company, NGC, in what many suspect to be recommencement of hostilities in the Niger Delta region.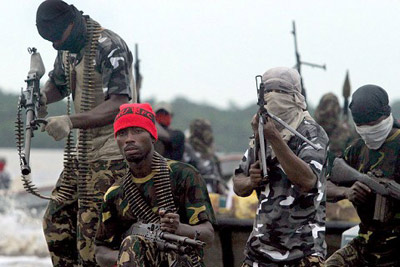 A riverside dweller, who spoke to Saturday Vanguard on phone from one of the Ijaw communities, said, "We slept with our eyes open throughout the night as bombs boomed everywhere, the attackers were exploding bombs and shooting guns indiscriminately."
His words, "They blew up the gas pipeline from Escravos to Warri – Lagos and Abuja at three different points. They struck at Opudebubor, Kpokpo areas, Chanomi creek and Sahara, behind Chevron Nigeria Limited, CNL."
"We do not know what is going to happen next, but there has been tension since last night over the bombing and many residents are afraid that it could continue. Some are already fleeing their communities because they suspect that government would deploy security agents to hunt for those bombing the pipelines and they do not want to be caught in the ensuing crossfire."
On Thursday, Niger Delta ex-militant leader, Government Ekpemupolo, alias Tompolo, who a Federal High Court sitting in Lagos, issued a bench warrant for his arrest, same day, raised the alarm that some persons were planning to bomb crude oil facilities and pipelines and other facilities in the Niger Delta and attribute the havoc to him.
He reacted yesterday to the explosions, condemning the incident and stating categorically that he had no hands in the multiple bombings.
Tompolo, who spoke through his Media Adviser, Mr. Paul Bebenimibo, told Saturday Vanguard on phone, "Tompolo has no hands in what happened. He condemns the blowing up of pipelines no matter the reason the perpetrators advance for their action."
"He (Tompolo) has a case with the Economic and Financial Crimes Commission, EFCC, in court; his lawyers are on the matter and because he knows he is innocent of what he has been accused of, he will not take the laws into his hands," the media adviser added.
He asserted, "Tompolo is not happy with what has just happened."
Told that people were already pointing fingers at him, Bebenimibo said, "He is innocent, he knows that was their plan, which was why he made a statement before the incident alerting that some people wanted to destroy crude oil facilities and pipelines and attribute it to him."
In the statement personally signed by him and published by some national newspapers on Friday, Tompolo had fingered those allegedly dissatisfied with the re-election of Governor Henry Seriake-Dickson of Bayelsa state as the brains behind the planned destruction and urged them to desist from the plan.
He asserted that destroying crude oil facilities would not do the country any good and urged them "to support the President Muhammadu Buhari's administration to succeed."
Tompolo alluded that some persons were persecuting him for refusing to support the All Progressives Congress, APC, governorship candidate, in the Bayelsa election.
Contacted yesterday morning, chair, Delta Waterways and Land Security Committee, Chief Boro Opudu, said, "I am hearing rumour about such incident but I have not confirmed what happened. I cannot, therefore, speak on the matter until I have my facts."
Spokesperson of the Ijaw Youth Council, IYC, Mr. Eric Omare, who reacted to the development, said, "I got the information this morning (yesterday morning), it is not clean who carried out the attack. However, there has been growing tension in the Niger Delta region as a result of alleged political persecution of Tompolo by the EFCC."
"The tension is fueled by the belief that they are after him, especially as he said that he was already in the court with EFCC, but the commission is allegedly bent on humiliating him.
"As a body, the IYC supports the fight against corruption, but it should be within the ambit of the law, doing otherwise will lead to lawlessness," he said.
Omare asserted that the Ijaw youth group would continue to sustain the fragile peace in the Niger Delta to the extent that government allowed the rule of law to reign in its operations.
National President of the The Ijaw People Development Initiative, IPDI, Austin Ozobo, told Saturday Vanguard that he did not know the group that carried out the bombings, but suspected that it had to do with the perceived persecution of Niger-Deltans by the All Progressives Congress, APC government.
One of the leaders of Okerenkoko community in Warri South-West Local Government Area, bombarded by the military in 2009, Chief Johnny
Michael, said, "I am from the Niger Delta region, I am from Gbaramatu Kingdom, I understand what is going on, my advice to those they are using to bomb crude oil and gas facilities is to have a rethink. They should not allow anybody to use them like before."
He said, "The anti-corruption war by President Buhari is not targeted at any individual, Ijaw people or Niger Delta region. Anybody who has a case with the EFCC should go and sort out his case with the commission and not make it look as if it is a Niger Delta matter."
"My concern is that I do not want the people in the region to suffer what they suffered in the past when the military invaded their communities for what they knew nothing about. Those being used should be wise," he added.
Prior to the proclamation of amnesty for ex-militants in the Niger-Delta by former President Umaru Yar'Adua June 25, 2009, Nigeria reportedly lost over three trillion naira with production dropping to as low as 250,000 barrels per day from 2.6 million barrels per day after the initial crash to 700,000 barrels per day. This was largely as a result of the hostilities of the militants.
Oil workers were kidnapped at will and the multinational oil companies, including Shell Petroleum Development Company, SPDC, ExxonMobil, TotalFina Elf, and Nigerian Agip Oil Company seeking government protection for security of their investments and workers.
Several armed groups in the region led by the defunct MEND bombed crude oil and gas facilities on daily basis. Nigeria lost 1.9 million barrels per day.
On a particular day in 2008, the country produced just 684,000 barrels.
However, after the late Yar'Adua proclaimed amnesty and promised to engage the ex-militants with the establishment of the Presidential Amnesty Programme, production rose to 1.9 million barrels per day between one to two months and by 2013, it was 2.2 million barrels to 2.4 million barrels per day.
By 2014, the nation's production rose to 2.6 million barrels per day and at time, the Nigeria National Petroleum Corporation, NNPC, was projecting to produce 3 million barrels per day if OPEC allowed it.
Available information indicated that it further rose to 2.7 million barrels per day in 2015 and lately, the Minister of State for Petroleum, Dr. Ibe Kachikwu, was projecting 3 million barrels per day production.
The fear, last night, was that if government does not properly manage the current crisis in the region, the country, which is already facing a downward trend because of the crash in oil price may face harder times.