By Benjamin Njoku
What transpired between the Biafran warlord, Gen. Emeka Odumegwu-Ojukwu, and his bosom friend Emmanuel Ifeajuna, during the Nigeria-Biafra civil war, has been adapted into a short-story film titled, The Encounter, 35 years after the end of the civil war.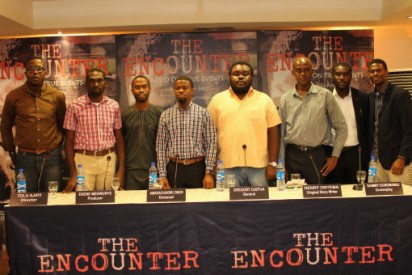 The emotional film, a poignant historical drama adaptation based on the short story of same title "The Encounter", by historian, Henry Onyema, premiered last Saturday in Lagos amidst applause.
It captures the remarkable story of a moment in the history of the nation and how the events that transpired helped in determining what Nigeria is today.
Set in 1967 during the civil war, an imprisoned Ifeajuna was summoned by his friend and Commander-in-Chief of Biafran Army, Ojukwu for one last conversation and last encounter.
The film, a production of Trino Studios, was shot in Lagos, directed by Tolu Ajayi, produced by Ekene Mekwunye and the screenplayed by Sammy Egbemawei.
The role of the main characters, General Emeka and Emmanuel Ifeajuna, were played by Gregory Ojefua and Amara Onoh respectively, while Stan Nze took the role of Lieutenant Okoh.
Speaking on the short film, Onyema, the original story writer, said the film tells a story about significant characters and a significant period in Nigerian history. He noted that it was written and screened as a story that humanizes the major characters.
"Primarily, I feel excited that the story translates into film. The story was only intended for publication on a literary website and now Trino studios has produced a short film adapted from it. This makes me feel that the story is worthy and has merit and cinematic qualities.''
"The overall themes of the film will go a long way in portraying Nigerians positively as people who cherish their history and are capable of telling the story in an entertaining manner," Onyema said.
Ajayi, who is one of the directors of Tinsel, an Mnet series, and whose directorial wizardry was felt in the film, preceding the premiere, that the two defining characters in the film are critically juxtaposed in order to depict the tension that was characteristic of the time, while the ensuing conversation causes the audience to engage in meaningful reflection.