THE city of Con-cepción and Estadio Municipal for that matter has gone down in the history of Nigerian football as the venue where the country's star-studded U-20 squad of 1987 met their waterloo following a humiliating 4-0 loss to Brazil at the FIFA U-20 World Cup Chile 1987.
Twenty -eight years after what was called the 'Chile Debacle' by a section of the Nigerian media, the Golden Eaglets will hoist the Nigerian flag in Concepción yet again for a crunch semi-final match against Mexico at the on –going FIFA U-17 World Cup Chile 2015, with the winner guaranteed a slot in the final match slated for Sunday in Vina del Mar.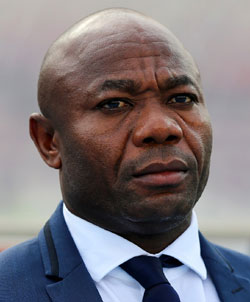 Coach Emmanuel Amuneke said the unfortunate loss by the Flying Eagles 28 years ago in Concepción will be an added motivation to guide the Golden Eaglets against defeat to the Baby El Tri on Thursday.
"Sincerely, I can't remember anything about Chile 1987 and I don't want to be bothered about that," said the straight –talking 1994 African Footballer of the Year about Nigeria-Brazil clash of October 11, 1987. "But that said, we can't afford to lose (at the same venue) to Mexico and this is an important game for us."
Nigeria and Mexico have only met thrice at the FIFA U-17 World Cup,with the Baby El Tri claiming a 1-0 win in a group phase match at Canada 1987 while the Golden Eaglets had the upper hand twice in 2013, when they walloped the Mexicans 6-1 and 3-0 in the group phase and the championship's Final Match respectively.
Amuneke reckons that the Golden Eaglets must, therefore, be at their best against the Baby El Tri who will be hard pressed to avenge their losses at the last tournament in the United Arab Emirates.
"The Mexicans are a very good side and their performance so far at Chile 2015 is an indication that they have a very solid structure back home," he noted. "But we are working to ensure that the players are mentally ready for this big match."
Meanwhile, Amuneke was honoured on Tuesday with an award by the Chiguayante community in Concepcion. The award, according to the organizers, was in recognition of the Golden Eaglets' Head Coach's feat in leading a team to qualify for the FIFA U-17 World Cup Chile 2015.