Toyin Saraki
While the men in power play their politics, all appears to be well between their women. Wife of Senate president and a woman with a heart for charity, Toyin Saraki, has been circulating via social media her acivities in the recent 70th UN General Assembly, particularly in instances where she represented the First Lady.
I'm humbly honored to have represented the wife of the President of Nigeria, Her Excellency Mrs Aisha Buhari at the Organisation of African First Ladies against HIV/AIDS (OAFLA) United Nations General Assembly Side-Event Meeting.
According to Mrs. Buhari,This year's theme – Building on MDGs to invest in the post-2015 development agenda – is one that is close to my beloved country, Nigeria's heart.
The progress made on the MDGs across the world, including in Nigeria – and indeed in a number of sub-Saharan African nations – has been truly outstanding. Just fifteen years after, MDG 4 to reduce child mortality came into effect in some countries; the global child mortality rate has fallen by an outstanding 53%; whilst child mortality has fallen by 48% in the African region.
She also quotes Professor Babatunde Osotimehin, who while giving his address at the meeting stated,
I have three grand-daughters, so the matters of women and girls are close to my heart.
Diezani Alison-Madueke
FORMER Nigerian minister for Petroleum Resources, Diezani Alison-Madueke, has trended for ten straight weeks before and after her arrest in London.
At one time, she denied seeking asylum in any part of the world, stating that the Jonathan administration had done a lot in the Oil and Gas industry that cannot be rubbished by malicious claims. But her arrest has changed that music considerably, so much so that the United Kingdom-based Chevening Scholarship, has removed her name from its list of female achievers.
Chevening, an international scholarship scheme which enables students with leadership qualities from 144 countries and territories to undertake postgraduate study or courses in universities in the UK, had given Madueke its scholarship in 2002, which enabled her to attend the Cambridge University for her MBA and on her return to Nigeria, became the first female Executive Director of Shell Petroleum Development Company.
Her emergence as the first female to hold the position of the Minister of Petroleum Resources and the first female President of the Organisation of Petroleum Exporting Countries (OPEC), prompted Chevening to list her as one of its best female alumni in commemoration of the March 8 International Women's Day.
But following her recent troubles and the invitation by UK's National Crime Agency on allegations of money laundering and corruption offences, Chevening has delisted her name from its website.
Commentators are generally of  the opinion that it says a lot about "all these international honours".
Seyi Shay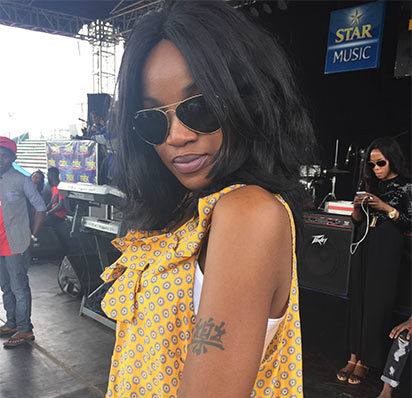 Another female musical bright light making waves is Seyi Shay, who rocked the blogosphere earlier in the year when she was pictured sitting next to former president Goodluck Jonathan at an election campaign event in the hottest dress of the year.
This month Seyi Shay signed a contract renewal deal with Etisalat's music platform "Cloud 9" keeping her as a brand ambassador of this music platform alongside Olamide and Ice Prince. The deal was announced on Cloud 9's instagram page this week. Details still under wraps, apparently.
Linda Ikeji
The undisputed queen  of the Nigerian blogosphere and latest neighbour of Mike Adenuga had stunned the space by sharing photos of her newly-acquired palace in Banana Island, releasing a statement generally prompting girls to work hard.
While her fans are cooing on her behalf, there are also a million and one skeptics that question the source of this "sudden" wealth and linking it to the 2015 presidential elections campaigns.
The photos are stunning, all agree.