By Henry Umoru
ABUJA — STRONG indications emerged, yesterday, that crisis was looming in the Senate over chairmanship and vice chairmanship of Standing Committees.
It was gathered, yesterday, that those who have been fighting Senate President Bukola Saraki have vowed to continue with the fight, using the standing committees as a reason.
Vanguard also gathered that senators from South-South, who are of the Peoples Democratic Party, PDP, except the Deputy Majority whip, Senator Francis Alimikhena (APC, Edo North), have threatened to reject any non-juicy committee such as culture, outside the statutory committees on NDDC and Petroleum.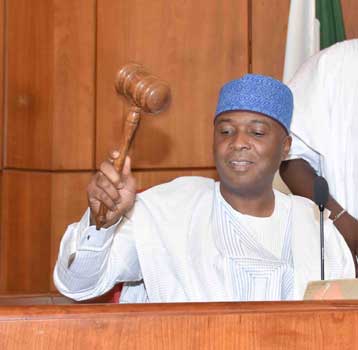 According to a source, as part of moves to ensure stability in the Senate, Saraki had concluded plans to add eight new standing committees to the existing 56.
It was also gathered that the Saraki inner caucus had agreed that for the Senate President to enjoy a stable period, he must find ways to accommodate more senators as committee chairmen.
The source said the Senate leadership, which had been working on the committee composition since August, had concluded work on the matter, having agreed to increase the number of committees to 64.
The source said that the Senate Selection Committee, made up of the Principal Officers, decided to increase the number of the standing committees to ensure the stability of the 8th Senate.
It was gathered that ranking senators have said that the 8th Senate might continue to witness turbulence, following the emergence of the Senate Unity Forum, SUF, and the senators of like minds, headed by Senate President Saraki and Senator Ahmad Lawan.