ABUJA — Nobel laureate, Prof Wole Soyinka, has described President Muhammadu as a "born-again" phenomenon on the Nigerian political landscape, who is ready to make amends for his past mistakes.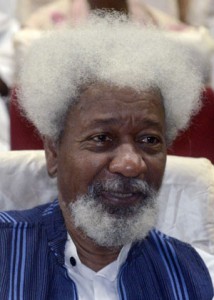 Soyinka, who spoke in an interview with Zero Tolerance, a periodic publication by the Economic and Financial Crimes Commission, EFCC, noted that Buhari has already paid some debts to the Nigerian community, describing him as a lucky man.
Soyinka noted that although Buhari has not come out openly to apologise for his wrong deeds in the past, he has nonetheless accepted the fact that he had made some mistakes.
He said: "He (Buhari) has not brought himself round to apologise; if he had done that, I might have been less ambiguous about him. But I think from my findings about him, he is a born again phenomenon. If I am wrong, well, too bad. Though I don't believe in 'born-againism' but I think this may be an exception."
Nigerians should've challenged Jonathan for defending stealing
The laureate also descended heavily on former President Goodluck Jonathan for trying to differentiate between stealing and corruption, saying Nigerians should have challenged him on that.
Soyinka noted that it was wrong for a president to have taken such a position on a serious issue like corruption, thereby playing down its negative impact on the nation and its people.
He said: "The media should have challenged President Jonathan to define what stealing is, when he said that stealing is not corruption. How can a public figure, an intelligent person like that, come out to tell the public that corruption is not stealing? Then you should have asked him, what then is corruption? The media should have challenged him."
Pyrates Confraternity isn't a cult
The pioneer Federal Road Safety Commission, FRSC, chairman, who is believed to have co-founded the Pyrates Confraternity in Nigeria, said it was wrong to lump cultism with confraternity, arguing that the two were not the same.
According to him, belonging to confraternities is a normal culture in colleges and not an evil cult, as wrongly portrayed by ignorant persons in Nigeria.
Soyinka said: "Everybody knows that fraternities are a normal culture in all colleges. It exists in all colleges. President Clinton was a member of a fraternity. In fact, anybody who goes to college in the United States is a member of a college fraternity. There is absolutely nothing evil or occultic about fraternity.
"But here, the media is largely responsible for fuelling the ignorance of society of the words 'cultism' and 'fraternity'. This is a disservice and I have said it again and again. There are evil cults, whose members must prove themselves by going to rape. There are others whose entry is to slash or eat somebody or rob; it has nothing to do with college fraternity.
"The media owes the responsibility to constantly tell the public the truth. But they go on and children grow up, believing that college fraternity is Satanic, demonic and this is wrong."
Subscribe for latest Videos