AT a time the anti-graft war appeared to have lost  its momentum, the Economic and Financial Crimes Commission, EFCC, is once again taking on perceived corrupt ex-public officials with same old 'method that yielded little in the past.
By Charles Kumolu & Iheoma Nwanyanwu
NIGERIA, a nation where official corruption thrives is at it again, dramatically chasing after those, who allegedly stole the country's commonwealth.
The development was long expected since President Muhammadu Buhari, on whose desk the buck stops, boasts of the rare integrity of being regarded as incorruptible.
That is why sights and sounds of the arrest of some high profile Nigerians on corruption related allegations by the EFCC did not come as a surprise.
However, the manner the commission is approaching the task this time is generating heat in the polity.
The high emotions over the modus operandi is borne out of the fact that anti-corruption cases in the country since 1999 had been prosecuted with  high-wire drama and controversies leading to poor results.
Drama under Obasanjo, Yar'Adua
Retrospectively, the administration of former President Olusegun Obasanjo, which heralded the fight against perceived corrupt serving and former public officials, was carried out with much energy and perhaps jaundiced rationale.
It was an era that saw the prosecution of some high-profile corrupt individuals, ranging from Nigeria's former chief law enforcement officer to several bank chiefs and an impeached governor.
Despite modest achievements, the EFCC under Obasanjo, in the estimation of many, was a handy tool to deal with perceived political enemies. For that reason, some convictions recorded then were described as cheap political points.
The commission under late President Umaru Musa Yar'Adua created more drama in the fight against graft with the prosecution of no fewer than 17 former governors, who were accused of embezzling state funds.
Jonathan's toothless bull dog
Given the accompanying razzmatazz in those trials, many had expected several convictions. Apart from former governors, Lucky Igbenedion and Diepreiye Alamieyeseigha and Chief Olabode George, most top notch cases are still pending in the courts.
Whatever was left of the commission's public support base vanished during the administration of ex-President Goodluck Jonathan, who was accused of turning the EFCC into a toothless bulldog.
With various allegations of graft against top officials of the administration being allegedly swept under the carpet, it was easy to conclude that the administration lacked the requisite political muscle and will to fight corruption.
For that reason, the EFCC was unable to optimally discharge its statutory functions.
While the commission had blamed Nigeria's slow criminal justice system for being responsible for shoddy prosecution of graft cases, some observers said the commission was undermined by frequent political interference in its operations.
In the light of this unimpressive record, there is cautious optimism in the land over the possibility of recording convictions this time.
Essentially, the argument of those who share this view is that the Federal Government may get little or no result if the same approach that was used in past is employed now.
Catholic Bishop of Sokoto Diocese, Matthew Hassan Kukah is among those concerned about the manner the anti-graft war would be prosecuted in this dispensation.
Wild goose chase
Kukah, in an exclusive chat with Vanguard, cautioned thus: "There are different ways of doing that. We elected a President not to look for scapegoats. We elected the President to get a job done and I am convinced that if Buhari wants to prosecute thieves he will do it because as the President there is no kind of information that he cannot access. Prosecution of corrupt people does not necessarily have to be done through theatre and drama. Obasanjo did it quite efficiently.
"He got back a lot of money without shouting. There were a few theatricals, but Obasanjo himself did say to my hearing that there were people who returned money even through pastors. So what is the use of wasting money trying to prosecute somebody? Doing that quietly without noise will be better because the business of governance will go on".
Quiet prosecution
Going further, he said: ''I am not against prosecution, what I am saying is that the business of governance should not be abandoned. I said it during the Oputa Panel (hearing) that the unfortunate thing about prosecution in Nigeria is that the criminals have the money to get the lawyers.
Since these things can be resolved institutionally, why going on a wild goose chase? Nigerians don't even have to know who the criminals are. Obasanjo, who has a very retentive memory, can tell Nigerians the people who brought back money without making noise. He only told them to go and sin no more.
Only a foolish man will appreciate that going after the biggest thieves in Nigeria is the biggest solution to our problems. God has his way of getting things work. Given the enormity of the issues we are dealing with, creating distraction should not be encouraged because once that route is taken, there would be distraction."
Punitive anti-graft war
Not differing from Kukah's submission, Chairman, League of Patriotic Lawyers, Abubakar Yesufu, said: "President Buhari ran as anti-corruption man and a man of integrity. It was on that basis that we campaigned for him. There is no way he can carry out his programmes without correcting the mistakes of yesteryears. We are not talking about the punitive aspect of fighting corruption; we are talking of recovery and discontinuity of corrupt practices."
Also making his position known, a retired Police Commissioner, Alhaji Abubakar Tsav told Vanguard  thus: ''I am grudgingly amazed at the seemingly newly acquired zeal and call to duty by the EFCC as displayed  through the arrest and arraignment of three former governors and others.
Does it mean that former President Jonathan was interfering with the job of EFCC? I commend their efforts but I am yet to be convinced about their sincerity. What of the case involving Princess Stella Oduah and the first batch of former governors?
''I remember making eight written statements to Lamorde and even provided documentary and pictorial evidence about a former governor, but the ex governor has not appeared before any court till date. We are waiting to see if the commission will get convictions this time after Fani-Kayode's acquittal."
Whether the commission would heed the advice of employing a workable method of fighting graft in the prosecution of those, who have been arrested and arraigned so far, is still to be seen.
Those currently being prosecuted include; former governor of Adamawa State, Rear Admiral Murtala Nyako (retd) and his son, Abdul-Aziz Nyako;  immediate past governor of Jigawa State, Sule Lamido, and his two sons, Aminu and Mustapha, a former Head of the Civil Service of the Federation (HOS), Steven Oronsaye and ex Imo State governor, Ikedi Ohakim.
Nyako and son
The anti-graft agency arraigned Nyako and his son before a Federal High Court sitting in Abuja and presided over by Justice Evoh Chukwu on a 37-count charge of money laundering, including an alleged conversion of N240 million state funds to the development of their Hill View Estate in Mpape, Abuja, between October 2011 and June 2012, an offence punishable under Section 15 sub-section 1A of the money laundering prohibition Act, 2011.
Lamido and sons
Lamido and his two sons were arrested for an alleged N1.3 billion fraud. Operatives of the commission investigating the trio alleged that billions of naira belonging to the state government was traced to the accounts of their companies.
Oronsanye's pension troubles
Oronsaye was arrested for alleged involvement in over N6 billion biometric pension enrolment scam.
It was learned that apart from being associated with the mismanagement of huge pension funds, he is being investigated over allegations that he used his position as the chairman of the Presidential Standing Committee on Financial Action Taskforce to fleece the government.
Ohakim's $2.29 million case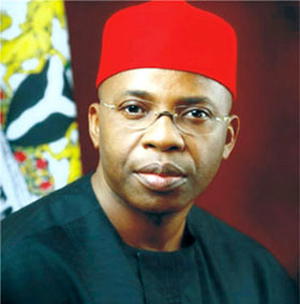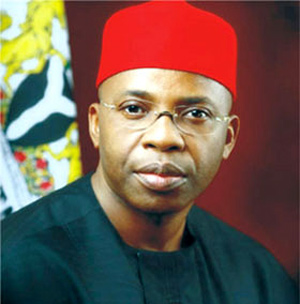 Ohakim was arrested over allegations of money laundering and consequently arraigned before Justice Adeniyi Ademola of an Abuja Federal High Court on a three-count charge of laundering $2.29 million.
He pleaded not guilty to all the charges. He was remanded in custody and subsequently released on bail.
Nnamani's assets forfeiture
Similarly, a Federal High Court sitting in Lagos and presided over by Justice Mohammed Yunusa ordered the forfeiture of multi-billion naira assets owned by Senator Chimaroke Nnamani, the former governor of Enugu State to the federal government.
The assets comprised of undeveloped properties and transmission equipment of Rainbownet Nigeria Limited; properties of Hill Gate Investment Limited (Cuena Phones Limited): assets of Cosmo 105.5FM, and 22 duplex buildings at Ebeano Estate, now known as Fidelity Estate.