By Babajide Komolafe
Bank customers across the country have thirty three days from today to enrol for the Bank Verification Number (BVN)However there are issues concerning how many customers would have enrolled for the exercise by the deadline, even as stakeholders in the banking industry have stepped up efforts to highlight the benefits of the initiative for the country as a whole.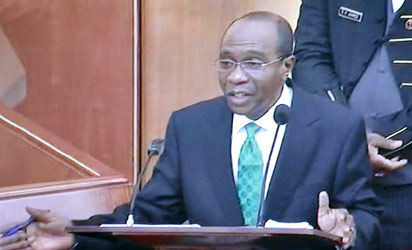 The BVN was introduced by the Central Bank of Nigeria and was launched February 14th last year. It is the registration of customers in the financial system using biometric technology. Biometric technology involves the process of recording a person's unique physical traits such as fingerprints and facial features.
This record can then be used to correctly identify the person afterwards. Once a person's biometrics has been properly captured, the person is given a Bank Verification Number or BVN.
According to the CBN, The objective of the BVN initiative is to protect  bank customers, reduce fraud and further strengthen the Nigerian banking system. Fraud is reduced because no two people have the same biometric information. Banks will therefore be able to check the features of a person doing a transaction against the record, which the bank has captured thereby correctly identifying the owner of an account.
Enrolment
To enroll for the BVN, bank customers have to visit a branch of their bank, complete and submit the BVN enrolment form, after which, the biometric information such as fingerprints and facial imagery  are recorded. The customer is then issued an acknowledgment slip with transaction ID. Thereafter, BVN is created and the customer is alerted via SMS to arrange for pick-up.
Fast-Track Measures
In order to fast-track enrolment of customers for the BVN, the CBN October last year, stipulated targets and deadline for banks. The apex bank also made the BVN a condition for accessing loan.
The CBN stated in circular, "In order to fast-track the enrolment process: DMBs are expected to give attention to enrolment of their customers; All DMBs are required to enrol at least, 40 percent of their customers on or before 31st December 2014, and 70 percent on or before 30th March 2015; All DMBs are required to fully integrate their core banking system, latest by 31st October 2014, to ease the enrolment process; All new loans must have the BVN as condition precedent to drawdown, with effect from 3rd November 2014; All credit customers must have BVNs by 31st December 2014; The Central Bank of Nigeria will monitor compliance".
Issues
Though, banks have stepped up efforts to publicise the BVN, in order to meet these deadlines, there are however concerns about ensuring that all bank customers have been captured and issued with the BVN before the June 30th deadline. For example, investigations reveal that some bank customers are yet to receive their BVN months after they have been enrolled, a development dismissed as untrue by the Nigeria Interbank Settlement System (NIBSS).
Secondly, customers with accounts in various banks, who have enrolled for the BVN in one bank, may not have supplied their BVN to the other banks, hence confusing the industry about the actual number of account holders that have been enrolled for the BVN. In addition to these is the issue of account holders based outside the country, and how to ensure they are enrolled for the BVN.
Beyond these is the threat of fraudsters, who have been sending fake BVN Validation email to bank customers. One of such messages read, "Dear Valued Customer, this is to bring to your notice that your account has been listed to be de-activated. This is because you have not validated your Biometric Verification Number with your online account. Follow this reference to START VALIDATION. All information must be filled correctly. NOTE: All ATM and internet banking channel will be disabled and your remote access will be blocked within 12 hours failure to comply."
Stakeholders drum up support
Meanwhile, stakeholders in the banking industry have stepped up efforts to highlight the various benefits of the BVN. According to the Managing Director of the Nigeria Interbank Settlement System (NIBSS), Mr. Ade Shonubi, the BVN initiative, by helping banks to identify and blacklist fraudulent customers, will help to boost retail credit in the banking industry. The NIBSS boss, who is responsible for the implementation of the BVN, in a statement, explained that once banks are able to identify and blacklist fraudulent customers, they would be encouraged to extend  loans  to those customers that are credit worthy and  do not have any record of being delinquent borrowers.
Shonubi said, "When the BVN project came up, there were three key things. First and most important of all is for us to identify our customers and to identify them uniquely across banks and across accounts. So, once you have BVN, even if you have 10 bank accounts, it is the same BVN that will be tied to the bank accounts. Now, relating to identifying is the possibility of banks blacklisting people who have committed financial infractions.
It could be fraudsters; it could be people who have gone to forge documents because what happens today is that the same guy will go to a bank, commits fraud, then runs to another bank and because there is no way of tying all these activities across. So, we found out that there were quite a lot of losses related to these individuals from one bank to another.
On his part, Executive Director at Sterling Bank, Mr. Abubakar Suleiman said that Bank Verification Number (BVN) initiative, when fully implemented, will help to curb arbitrage in the foreign exchange market. Suleiman, who disclosed this at an interactive session with newsmen in Lagos,  explained that with the BVN, each bank customer will have a unique identification, which will make it easy to prevent people from flouting the Central Bank of Nigeria's (CBN) recent policy on the use of naira denominated debit cards for transactions abroad.