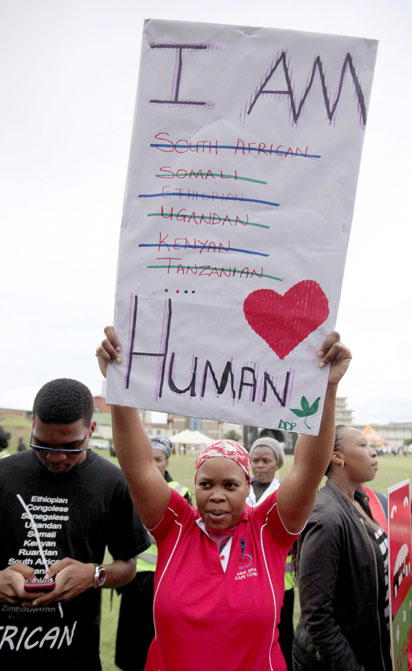 A woman holds a cardboard as she takes part in a "peace march" against xenophobia attended by thousands of people in Durban on April 16, 2015. South African President Jacob Zuma on April 16 appealed for the end of attacks on immigrants as a wave of violence that has left at least six people dead threatened to spread across the country. In the past two weeks, shops and homes owned by Somalis, Ethiopians, Malawians and other immigrants in Durban and surrounding townships have been targeted, forcing families to flee to camps protected by armed guards. AFP PHOTO
Following xenophobic attacks by South Africans against foreigners, particularly those of African descent, Nigerians have been counting their losses with the Nigerian Consul-General, Ambassador Uche Ajulu-Okeke saying the loss by Nigerians included looted shops, burnt shops, two burnt mechanic workshops, 11 burnt cars and two stolen cars, among others.
Speaking with News Agency of Nigeria, NAN on phone, Ambassador Ajulu-Okeke said "Nigerians have compiled damages to their property and it is totalling about 1.2 million Rand or N21 million, which will be sent to the Federal Government for further action"
She said that in Durban, two of the three Nigerians who were wounded during attacks had been treated and discharged from the hospital.
The consul-general said that she would go back to Durban to assess the situation on ground and meet with the provincial authority on security of Nigerians in that Province.
"The Nigerian mission in South Africa is on top of the situation. We are working hard to protect Nigerians in South Africa.
"Though, the task has not been easy, we are trying our best. In one of the hot spots at Jeppe, near Johannesburg, the mission assisted about 50 stranded Nigerians to re-settle.
"I have also visited the site of the attacks in Johannesburg to assess the damage and it was enormous," she said.
She said the Nigerian mission would meet with all Nigerian Union chapters in the nine provinces of South Africa to find strategies on how to check the attacks.
"I am bringing all Nigerians together so that we work out a vigilance and alert mechanism; they will also tell me what their challenges and issues are," she said.
Okeke said the mission and the Nigerian Union had been working cordially to meet the challenges caused by the xenophobic attacks on Nigerians.
SAFA moves against xenophobia, plan football matches
Meanwhile, alarmed by the attacks, South African Football Association, SAFA, Chief Executive Officer, Dennis Mumble said the country's national team will play two international friendly matches against neighbouring countries in a bid to sensitise the public on the evils of xenophobia.
"We want to use the two high-profile international friendly matches as an instrument to unite this continent. What has been happening in the past few days have really left most people in a shock and dismayed,"he said
According to him, "Nelson Mandela spoke of the power of sport in uniting people from different walks of life and we want to use the power of football to unite this continent and kick out this scourge within certain malcontents in our society. We are one continent, one Africa, we are all Africans and we say no to xenophobia," Mumble added.
South Africa has in recent days witnessed a spate of some of the most violent xenophobic attacks with at least seven people killed in Durban and Johannesburg.
NLC, COSATUU condemn attacks
Reacting to the attacks, the Nigeria Labour Congress (NLC) in a statement signed by its Deputy President, Isaa Aremu said it joined its counterpart Federation, the Congress of South African Trade Unions (COSATUU) "to condemn the reckless violent attacks on African working people and nationals in South Africa with unacceptable resultant avoidable destruction of lives and properties". According to the statement, "the latest round of attacks was reportedly instigated by the Zulu King in the Kwazulunatal region in South Africa.
It has since spread to other commercial cities like Durban and Johannesburg. Kindly note that similar attacks in January this year claimed several lives. In January, looters burned businesses owned by foreigners. In 2008, Seven years ago, in Johannesburg, anti-immigrant violence claimed many innocent lives. Most of the victims were Zimbabweans who had fled repression and dire economic circumstances. As many as 200 people were arrested on various charges, including rape, murder, robbery and theft.
These serial xenophobic attacks on innocent African workers are grossly unwarranted, condemnable and unacceptable.
"We believe that African workers have a right to seek legitimate work anywhere in the continent based on the dream and ideals set by the founding fathers such as Kwame Nkruma, Julius Nyerere, Abubakar Tafawa Balewa, Nnamdi Azikiwe, Nelson Mandela among others.
"The xenophobic attacks in South Africa is a reflection of the crisis of governance in Africa as reflected by the worsening poverty and unemployment rate in the continent".
"We therefore call on the African Union to prevail on the South African authorities to take immediate measures to protect and safeguard the lives and properties of migrants and indeed all nationals resident in South Africa and ensure that real compensations are paid to the families of all who lost their family members and relations and also for the loss of properties.
"It is time that Governments on the continent are compelled by their citizens to work for the common good of the people. In this direction, we will liaise with our counterpart in South Africa to join in the struggle to ensure that migrant workers do not suffer irresponsible losses anymore".
Multichoice reacts
Also reacting, MultiChoice Africa, the continent's premier pay-TV company, has described as appalling the violence being visited on foreigners in South Africa. MultiChoice Africa in a statement said "those affected by the wave of anti-foreigner violence happen to be brothers and sisters to their assailants which is abominable and strongly condemnable".
It urged Africans to see themselves as one irrespective of differences in nationalities, traditions and religions. "As a multicultural African organisation, we respect and embrace diversity, and all the different traditions and religions across the continent. This is demonstrated through our multinational staff complement, rich African programming and channels on both our DStv and GOtv platforms," the statement said.
It will be recalled that the South African Ambassador to Nigeria, Mr. Lulu Mnguli, on Saturday promised that the interest of Nigeria would not be hurt by criminals' activities in South Africa.
Mnguli said that since Nigeria played a key role in helping South Africa to get freedom, it would be wrong for Nigerians to be attacked in that country by any group of persons.