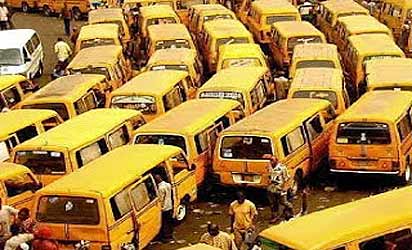 Danfo buses in Lagos.
By Bose Adelaja & Augustina Anyaegbu
Today October 15, 2014 is to be oberved as a horn-free day in Lagos State. And barring any change in policy, October 15 every year will continue to be observed as such.
According to a release by the state government, on this day motorists are expected to comply with traffic rules without tooting the horns of their motor vehicles.
At the same time, other road users, including commuters and pedestrians, are to adhere to road signs without waiting the prompting of vehicles horns.
Government said the idea is to encourage motorists to imbibe a driving culture that will go a long way to minimise lawlessness and recklessness among road users.
The Commissioner for Transportation, Mr Kayode Opeifa, had earlier disclosed that the exercise will cover automobiles ranging from bicycles, tricycles(popularly called Keke), motorcycles(commonly known as Okada) and other types of vehicles which are required to be horn-silent the whole day.
Opeifa said encouraging motorists not to resort to horn blaring would help reduce noise pollution, while gradually sprouting a horn-free consciousness in the state.
Since the announcement, there have been mixed reactions among residents. Some believe that given the congestion and deeply entrenched chaos in Lagos, the exercise would face a lot of difficulties, especially given the known recklessness of commercial vehicle operators.
Some motorists who bared their mind on the issue said the exercise might be effective in high brow areas like Lekki and Lagos Island.
But they expressed reservation about its compliance in Lagos Mainland, Ikorodu, Alimosho and Agbado-Ijaye due to the low level of orientation by residents.
A few of them also pointed out that the government should endeavour to provide good road network, combat perennial gridlock on most roads and increase the level of awareness among residents before embarking on a horn-free day.
Speaking with Vanguard Metro, VM, Vice Chairman Tricycle Owners and Operators Association, Comrade Buhari Moses, said the horn-free day should be used to create awareness among motorists who are not familiar with such exercise.
''This kind of exercise can only work in foreign countries. The level of awareness is low in Nigeria, especially Lagos State which has a teeming population,'' he said.
To Mr Gbenga Kolawole, Lagosians should first be re-orientated about it. ''That Lagosians should avoid horn throughout the day ? Remember, we are not talking of a siren but horn.
What about some defiant drivers who do not obey road signs until one makes use of the horn ? I don't think it can work except it is passed into law.
Another option is to avoid fixing the gadget in the car because as you are talking to me now, I feel like using the horn. Anyway, I'll be travelling out of Lagos on that day(today),'' he quipped.
A driving instructor, Mr Paul Oluwafemi, observed that a horn-free day under this cultural setting is a sheer waste of energy. ''It's not workable because our culture does not permit that.
We actually woke up into the civilisation of driving vehicles which was embraced without considering a lot of factors. Our roads are in a bad shape, no driving culture,disobedience to pedestrian crossing and other road signs and we want to observe a Horn-free Day ?''
Way out
''We should put the road in order, earmark tracks for motorcyclists and pedestrians. Also, there is need to discontinue the use of vehicles which are out of shape, while a driving orientation should be put in place before embarking on a Horn-free day,'' he submitted.
In his own reaction, Emmanuel Anayo, an engineer, said: "It is absolutely impossible to drive without making use of horn because some drivers do not obey traffic rules. They are always in a hurry.
They are equally inexperienced because some of them got their driving licences through the backdoor without going to driving school.
''Again, there are only few good roads here in Lagos, unlike abroad where roads are good and drivers are experienced and they do not make use of car horn.''
Similarly, a mechanical engineer, Mr. Sherrif Akan, said: "It's impossible to drive in Lagos without blaring your horn; people tend to be impatient and don't keep to their lane while driving.
Also poor road network make people to drive badly and using the horn is the only way to call the attention of the next driver.
Instead of a horn-free day, government should set up traffic cameras on certain places against bad driving; defaulter(s) should be penalized. Also, the roads should be properly maintained, while government provides standard traffic light and signs."
But former Chairman, Nigerian Bar Association NBA, Ikeja branch, Monday Onyekachi Ubani, has a different opinion, saying the exercise is a welcome development in Lagos.
''It is a good one and I support it. In Nigeria, people are generally noisy. In other countries, nobody blares the horn indiscriminately; we are all human beings and the foreigners who adhere to it are not better than us.
It's high time people are made to obey traffic rules and this is one way of achieving this. People should learn to drive decently after receiving formal training.
"When there is decent driving culture and people start to obey traffic rules, the use of horn will be abolished,'' he said.