By John Egbokhan
As the waiting game continues over when elections into the Executive Committee  of the Nigeria Football Federation (NFF) will hold, a major stakeholder in grassroots soccer and the first university graduate to play for the then Green Eagles, Dr. John Oganwu  has counseled delegates to the General Assembly to vote for the chairman of Delta State Football Association Chairman, Pinnick Amaju, as their next President.
Oganwu, reputed to be one of the pivotal sponsor of grassroots soccer in Delta State, said that Amaju has the competence, capacity and character to steer Nigerian football to great heights.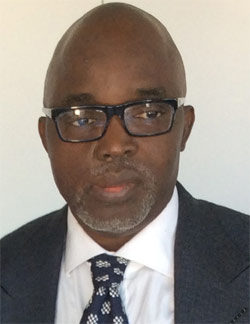 Amaju's last-minute entrance into the NFF race has thrown up a lit of possibilities at the Glass House, with many football stakeholders backing his candidacy.
Speaking on the phone with Saturday Vanguard  Sports , Oganwu said Amaju was the best man to fill the position as NFF President because of his integrity, resourcefulness, drive and passion for the game.
"Since Amaju became the chairman of Delta Football Association, the state has witnessed a great turn around in sponsorship for football. By far, Amaju is  a man of integrity. His passion for excellence cannot be rivaled by the other aspirants and he is somebody who I trust knows how to get the sponsorship deals that will help our football to develop beyond the present level.
"I can assure the delegates that if they vote for Amaju, our football will rank at per with the standard in Europe and America."
Continuing, the historic ex-Green Eagles player star said "I am so sure that if Amaju is elected, he will involve so many Nigerian ex-footballers in the running of the game. Most ex-internationals have been clamouring for them to be involved in the running of the game and with Amaju on board the saddle, I am confident that our wish will be granted", said Oganwu, who cited the case of the Delta State Football Association as clear example of Amaju\s involvement of ex-stars in the running of the game.
"As chairman of Delta State FA, Amaju has four ex-internationals on his board. They are Austin Okocha, Victor Ikpeba, Kenneth Nwomocha and Alex Amudo. He also brought in another ex-international, Davidson Owumi to run the affairs of Warri Wolves.  Another ex-international, Edema Fuludu runs the State league.
"We need his experience and visionary leadership in the NFF because he will make the NFF self-sufficient financially. He has a vast business network, that has been built with trust, integrity and visionary leadership," Oganwu said.
Delta State FA also has a comprehensive youth development programme and is the first State or Regional FA in Africa to build a World Class edifice – Secretariat called Patrick Okpomo Football House, which is due for commissioning later this month in Asaba.