By Kingsley Omonobi, Umar Yusuf, Caleb Ayansina
Yola— Anxiety, panic gripped residents of Mubi, the commercial nerve centre of Adamawa State, yesterday, as news spread that Boko Haram insurgents were closing in on the town. This came as the military vowed that the onslaught to checkmate activities of the terrorists will not stop until they are completely wiped out.
The military has also claimed that it raided the terrorists' hideout in Kawuri, killing more than 50 of the terrorists as it recovered  anti-aircraft guns, armoured tank and artillery gun. An officer and  two soldiers were wounded during the raid according to the military.
President Goodluck Jonathan, on his part urged Nigerians to pray for the security forces as they battle the insurgency.
In the last five days, the insurgents have allegedly taken over five towns in Borno and Adamawa states. The towns are Bama, the second largest town in Borno; Bara and Banki as well as Gulak and Madagali in Adamawa State.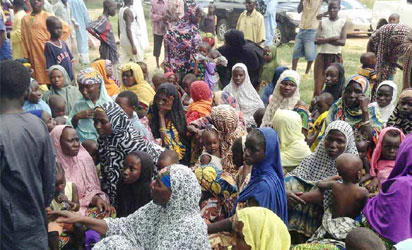 In Mubi, yesterday, there was stampede and confusion as people ran helter skelter following an alert that the insurgents were closing in on the town. The entire city was almost deserted.
According to one report, the insurgents were also close to Vimtim, the home town of the Chief of Defence Staff, Air Marshall Alex Badeh. It was gathered that armoured tanks have, however, been deployed to the area to scare away the advancing insurgents.
Fleeing residents narrate ordeal
However, fleeing residents interviewed by Vanguard said the insurgents had taken over Michika town yesterday morning, just two days after allegedly capturing Gulak town which had a large presence of soldiers.
A resident of Michika, who arrived Yola said the insurgents slit the throats of young people and shot the elderly at close range, saying the civilian casualty was more than 100 with many others separated from their families.
According to the resident: "They killed several of my friends, they rounded up dozens of young people, laid them on the ground and slit their throats while the elderly ones were shot at close range".
Pandemonium was also reported in Uba, Mararaba Mubi and Mubi town as residents fled, joining thousands of displaced persons from Gwoza, Izige, Damboa, Madagali and Gulak.
A civil servant in Mubi, Usman Habu, said many residents headed  for remote villages and other settlements south of the state capital,Yola.
My father was killed —Fintiri's aide
Boko Haram fighters had earlier stormed Gulak in the northern part of Adamawa State, near the hilly border with Cameroon, where they were believed to have bases.
Sabo Lukas, a witness, who spoke to Reuters news agency, said he saw men from the armed group moving from house to house and firing at residents. He explained that he was unable to keep count of the number of victims.
"As I am talking to you, they are still there killing people," Lukas, who escaped to the Adamawa State capital, said.
Tanko Wazumtu, an aide to Adamawa State Acting Governor, Alhaji Ahmed Umaru Fintiri, also confirmed the attack, saying his own father was among those killed.
Military authorities in Abuja however vowed to defend the nation's territorial intergrity and people at all cost. This was contained in the Defence headquarters twitter handle came against the background of more attacks by the group.
The DHQ tweet read: "All Security operations aimed at containing the terrorists menace and activities will not stop until they give up or are completely wiped out. We will assert and defend our nation's territorial integrity and people at all costs".
Pray for our security forces, Jonathan urges Nigerians
Meanwhile, President Goodluck Jonathan, has called on Nigerians to pray for security forces in Nigeria for the country to contain the current insurgency.
Jonathan made the call at the official commissioning of the "Citadel and Towers", the new complex of the House on the Rock Church, Abuja.
Represented by the Minister of Agriculture and Rural Development, Dr Akinwunmi Adesina, Jonathan, who described the structure as a world class architectural masterpiece, expressed optimism that God would rise against the enemies of Nigeria.
"Yes, we have our security challenges, but none of these things should discourage us, we are working very hard to address the insecurity in some parts of the nation. Our security forces are facing enemies of progress, who do not want our nation to prosper; those who maim and destroy.
"We must all arise and pray for our security forces, we must be encouraged everyday and indeed when the enemy shall arise, the Lord will lift a mighty standard against him. We understand the importance of faith-based organisations in building a strong, peaceful, resilient and prosperous nation; your work in this regard is highly commendable," he said.
Adefarasin revealed that a new generation of Nigerians is coming and will change the status quo, adding, "we must all rise up against those who use our public offices for self aggrandizement."
He said true transformation required discipline, integrity, unity, commitment, clarity of purpose and sharpness of vision, adding that the citadel being inaugurated was synonymous with the Biblical nation builder Nehemiah and thus Nigeria must stand guard physically and spiritually.
Troops raid terrorists hideout, kill 50
As the battle to dislodge hundreds of Boko Haram insurgents from communities in the North East states of Adamawa, Borno and Yobe continued, the Nigerian Military, yesterday, said it killed over 50 terrorists when it raided one of their hideouts in Kawuri, Borno State.
The military noted that during the raid which foiled their plan to attack Konduga community, two Anti-Aircraft Guns, one Armoured vehicle, one Fabricated Artillery Gun, and assorted types of ammunition were recovered.
"Some hardware, weapons, food items and personal belongings were also destroyed in the Kawuri raid. One  Officer and two soldiers were seriously wounded", it said.
Several tweets and reports posted on the Defence headquarters blog yesterday said: "Over  50 terrorists died ,yesterday afternoon, as troops raided their hideout in Kawuri before setting out on a planned attack on Konduga".
Earlier on Saturday, the Adamawa State government in a statement disclosed that Gulak town, another community close to Michika was under the control of the insurgents.
Secretary to Adamawa State Government, Professor Abdullahi L. Tukur  in a statement said: "It has come to the attention of the Adamawa State Government that insurgents were in Gulak, the Headquarters of Madagali Local Government Area and had killed and displaced scores of people.
"The state government deeply sympathises with the people of Gulak in Madagali Local Government and other surrounding villages and towns whose areas have been overran by insurgents.
"The concomitant effects of the insurgency like displacement of whole villages and towns create multitudes of Internally Displaced Persons (IDPs) whose management and welfare the Government is left to bear. The Adamawa State Government will as much as possible, try to soften the sense of anguish and deprivation the IDPs are going through by providing some basic necessities of life."
The statement said further, "The Adamawa State Emergency Management Agency (ADSEMA), is conjunction with the National Emergency Management Agency (NEMA), is directed to hasten to the assistance of those affected by the insurgency.
Government is also ready and willing to provide all logistical support to the Military in order to uproot the insurgency from our State. While the curfew imposed in the area is continually reviewed, citizens are advised to be calm and law abiding", the SSG said .
Madagali, Gulak, Michika, all adjourning communities in Adamawa state are not far from Gwoza community which is a border town in Borno state that was attacked last week by the insurgents.
"One Fabricated Artillery Gun, Two Anti – Aircraft gun, an armoured vehicle and assorted types of ammunition were captured in the process".
"Some hardware, weapons, food items and personal belongings were also destroyed in the Raid. One Officer and Two Soldiers were seriously wounded".