By Emem Akpan
Multinational conglomerate Stallion group has rolled out light commercial vehicles and buses at its new state-of-the-art assembly plant in Lagos State.
The Stallion vehicles were built from completely-knocked-down components and designed for Nigerian roads. They will be available soon in their dealerships nationwide, Stallion Group Chairman, Mr. Suril Vaswani, said, yesterday.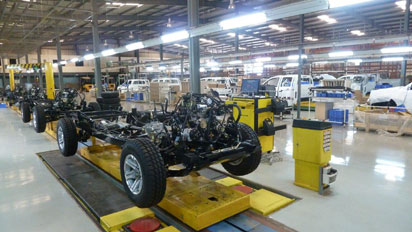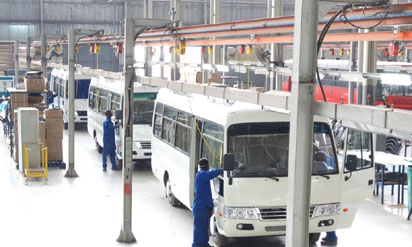 He said the induction of the leading auto brand is crucial to the National Automotive Industry Development Plan, which, essentially, seeks to position Nigeria among world class industrial economies and has been successfully achieved in other emerging countries.
"We have integrated many proven metrics into this frame work and we are mindful of the six stages of development for a brand, each equating to a different marketing priority, starting with creating basic awareness and concluding with building customer loyalty",Vaswani reasoned.
He added that the Stallion's initiative is an integrated vehicle manufacturing frame work that enables Stallion Group to produce high quality vehicles from knocked down components and with a view to ultimately grow into full fledge local manufacturing industries.
An introductory price of N2.45million has meanwhile been introduced for Stallion Force LE (double cabin 4×4 pick-up) and N2.95million for Stallion Force SE pick-up while 16-seater Stallion Citibus is being introduced atN3.95million.
Other Stallion made buses are Stallion Civicbus 29+1seater priced at N8.45m, Stallion Contibus 40+1 seater at N10.95m and Stallion Country bus available from 42 to 66 seater. The starting price of Stallion Country bus is N12.45m.
Vaswani is convinced that the population of Nigeria supports half a million vehicles annually, which is more than sufficient to sustain an emerging automotive industry. Stallion vehicles, according to the company,  are competitively priced to enable every potential buyer to purchase and own a  vehicle. The Stallion vehicle plant is coming on the heels of similar plants owned by the group, VON Automobile, Stallion Nissan Motors Nigeria and Hyundai Motors Nigeria plant.
"These plants have created significant employment to stimulate industrial clusters such as original equipment manufacturers that includes steel plants, glass manufacturers, after market shops and transportation service providers which would lead to job creation and contribute significantly to the GDP,"the company said.