BY CLIFFORD NDUJIHE
THOSE who expect the August 9 governorship election in Osun State to be violent and rigged are in for a shocker, if the promises of the 20 candidates, the Independent National Electoral Commission (INEC) and other stakeholders are anything to go by.
The stakeholders have pledged to make the polls violence-free and credible election and urged the INEC to create a level –playing field for all.
Indeed, one of the candidates said they would go the extra mile to ensure the polls are rancour-free because "Osun State is our own; we don't have any other state."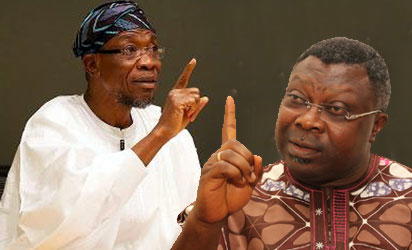 They spoke at a sensitisation workshop organised by the Office of Special Adviser to the President on Inter-Party Affairs in Osogbo, the state capital, on Thursday.
Chaired by Rear Admiral Ndubuisi Kanu (rtd), who was represented by Prof Greg Obafemi, a host of speakers enumerated reasons Osun State must get the election right especially after a series of peaceful elections in Edo, Ondo, Anambra and Ekiti in recent times.
Those spoke at the well-attended and turbo-charged workshop included Special Adviser to the President on Inter-Party Affairs, Senator Ben Obi; Kanu; INEC Chairman; Prof Attahiru Jega, who was represented by Hajia Amina Zakari, NLC Vice President, Issa Aremu; Dr.Yinusa Tanko and Professor Kayode Soremekun.
Other notable persons at the parley included National Chairman of Citizens Popular Party (CPP), Dr Sam Eke; his PPA counterpart, Mr Peter Ameh; Senator Sola Adeyeye; EU Head, political section, Paul Edwards; and Hon Joseph Akinlaja of the House of Representatives.
Among other things, the stakeholders said there is need to avoid overheating the polity by shunning aggressive and provocative language, threats and other forms of intimidation; ideas and not just personalities should reign supreme in political discourse in the state; and adequate security should be provided to prevent election malpractices and ensure that voters exercise their civic duty without let or hindrance.
Candidates and party leaders, who promised to support rancour-free polls and play the rules include Niyi Owolade (Accord), Adeoti Ibrahim Abiodun (UPN), Prince Victor Olusegun Adeniyi (UPP), Chief Babtubde Adetoro (MPPP), Olufemi Adelee Hammed (ACPN), Senator Sunday Olawale Fajinmi (AD), who lamenetd that Governor Rauf Aregbesola (the APC candidate) and Iyiola Omisore (PDP candidate), whose parties he accused fomenting trouble in the state were not at the workshop. "There is a running battle between APC and PDP. They should have been here to hear the keynote speech," he said.
There were also Akinwunmi Olusegun (SDP), Comrade Ojo Gbega Gabriel (ADC), Akintunde Adebimpe Adetunji (APGA), Afolayan ka Olarenwaju Jimoh (NCP), Agboola Azeez Obasanjo (APA), Ganiyu Abiodun Lawal (PPA), Prince Adefare Segun Adegoke (NNPP) and Osun state APC chairman, who represented Aregbesola and pledged: "We are committed to peaceful election. The INEC and police should be professional in their conduct. There should be no intimidation and harrassment, there should be a level playing ground." Alhaji Rafiu Shehu Anifowoshe (CPP) said, "we believe in the unity and progress of Nigeria as a whole. Election is not a do-or die affair" as Funso Toyin Bunmi (UDP) said, " we are from Osun, we have no place to go. We will support peaceful polls."
Adejare Bello , PDP the running mate , who represented Omisore, said(PDP)- in PDP we are committed to peace and tranquility and will lay emphasis on that." His attempt to criticise Governor Aregbesola, who he said always made reference to 'state boys' considered to be armed thugs loyal to the state government was booed by APC supporters in the hall.
Osun 'll surpass recent polls –Obi
The convener, Senator Ben Obi in his welcome remarks said the workshop s the fifth in the series after those of Edo, (July 12, 2012), Ondo (September 2012), Anambra (October 2013) and Ekiti (May 2014). He said the feats and achievements of those venets and the successes recorded during the governorship elections as a result of the workshops had been acclaimed by local and international observers. Attributing the successes recorded at the elections to the support of President Goodluck Jonathan, Obi said he expects theOsun polls to surpass the four past elections.
Senator Obi charged Osun election stakeholders to embrace peaceful conduct in their electionerring campaigns and other activities, stressing that all well-meaning Nigerians should be concerned when the electoral environment is over-heated by aggressive and provocative language, threats and other forms of intimidation, which do not aurgur well for the constestants, the electorate and the polity.
Noting that an election is a formal decision-making process by which a population chooses an individual to hold public office and be their leader, he said: Osun State, all eyes are on you to address the tense political atmosphere and eschew political infamy. We all knw that more than the law, it is the personal commitment of political parties and candidates that can create the kind of peaceful atmosphere for the conduct of free, fair and cfedible elections that we all desire as a nation."
We must undertand democratic ideals –Kanu
The Chairman of the workshop, Rear Admiral Ndubuisi Kanu (rtd) hoped that the large turnout of participants signified their acceptance and will to ensure free, fair and credible elections.
He observed that a country could not be truly democratic until its citizens have the opportunity to choose their representatives though peaceful and credible polls.
Kanu said there was need for Nigerians and party perception of governance and eschew political violence, intimidation, wanton destruction of public and private property and assassination of rivals and opponents." It is imperative therefore and of utmost importance that all parties should ensure the education of all segments of society on understanding of democrtic ideals to enhance citizen participation in credible election."
Credible polls life-wire of democracy – Aremu
The Keynote speaker, Comrade Issa Aremu, the vice president of the Nigeria Labour Congress (NLC) said Osun citizens have no option than to get the August 9 election right.
Drawing the attention of the gathering to the fact that Comrade Hassan Sunmonu, from Osogbo was the founding democratically elected president of the NLC, he said the Osun polls would be peaceful and credible if the conduct of all actors is democratic.
Aremu argued that credible election is the life-wire of any democratic process, he regretted that elections that should be like any other sport have become unnecessary wars of attrition among brothers and sisters.
For democracy to function, he urged: "Let's have a healthy debate about fixing electricity, reviving the railways and repositioning our foreign policies instead of throwing missiles at each other" adding that "participants must accept that only ideas can win in a political conflict and a framwork must be established upon a broad consensus to regulate the conflict of ideas which is what the Office of Special Adviser on Inter-Party Affairs to the President is doing."
We'll ensure free and fair polls –INEC
Assuring all stakeholders of a level-playing field, Jega said the INEC is encouraged to participate in the workshops because of the peaceful impact they have had on the conduct of the various polls. He noted that after the polls in Ekiti Governor Kayode Fayemi congratulated Ayo Fayose, a move he said arose from a similar workshop.
He advised participants to note that laws guiding conduct of elections are in the Electoral Act and 1999 Constitution. "Parties need to understand the electoral process starting from voters' registration, stakeholders meetings, customised ballot papers and result sheets, time for accreditation of voters, commencment of voting at 12.30 p.m," he said adding that the commission hopes that knowledge of the process and cooporation of stakeholders would yield credible elections.
Parties should observe code of conduct—Tanko
National Chairman of the Inter-Party Advisory Council (IPAC), Dr. Yinusa Tanko, urged all the parties to observe the IPAC code of conduct, which he noted was signed by chairmen or secretaries of the political parties.
He also asked the stakeholders to embrace peace. "Any body that emerges among you is from Osun. There is no need for violence. You are all from the same state. IPAC has code of conduct. There should be no back-biting and name-calling. We want campaigns based on issues so that Nigerians will have dividends of democracy.If you want peace, ensure you do things peacefully. Make sure that your decisions are based on wide consultations.If you are a leader, don't be greedy if you want people to be happy with you."
We're committed to the Nigerian project –Akinlaja
Also speaking, a member of the House of Representatives, Hon Akinlaja Joseph, said: "Nigeria is a project. We are committed to the Nigeria project irrespective of party affiliation. Insecurity does not discriminate, so let's join hands to fight it. If INEC is not biased and political parties and candidates play by the rules, elections will be peaceful and credible. If you want to take military out of elections, don't bring thugs."
Filename: osun polls 18-7-14
Pls, use Jega, Aregbesola and Omisore photos