By EBELE ORAKPO
You have to create your own happiness and that is exactly what commuters in the Oshodi-bound commuter bus decided to do. Seems they were tired of all the bad news – from Boko Haram and all their atrocities, to bickering between the ruling PDP and opposition APC.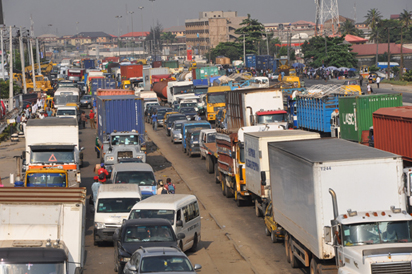 Not even the horrible gridlock that has become a permanent feature on the Apapa-Oshodi Expressway could dampen their spirits as they waited patiently to board a bus to their destinations. Suddenly, an empty bus appeared with the conductor shouting: "Oshodi N200. Hold your change oo or I join you in wedlock."
"This change problem has persisted because of the use of ATM machines. We only get N1000 and N500 notes from the ATM. If you have noticed, mallams don't even have change now," said Tim.
"Wicked people. Just imagine 100 per cent increase in fare simply because of the hold-up," said Jane.
"Do you blame them? After all, some were asking for N250 and some N300. They are business people and have to deliver to the vehicle owners at the end of the day. So because of the gridlock, instead of making seven trips, they may make only three so they have to devise a means of making up for lost time. Unfortunately, the commuters pay for it," said Tim.
All at once, everyone scrambled to get on the bus despite the fact that the fare had been doubled.
"Ah, madam, abeg, you no fit sit here oo. Go to another seat, this one is too small for you," said a commuter by name, Moses, addressing a slightly fat lady trying to sit beside him.
"Oga abeg shift, don't tell me where to sit. This seat is for four," replied the lady as she tried to squeeze herself into the small space. Eventually, she decided to go to the back while holding tight to a black polythene bag.
"Oga is taking very good care of you at home and that's why you are this big," said Clement.
Retorted the lady: "It's the other way round. I am taking good care of him. My husband is bigger than me."
Suddenly, a clucking sound came from the lady's direction and every eye was on her.
Said Moses: "See, you even bought a live chicken. The chicken is just confirming that Oga is taking good care of you.
"Na man or woman fowl? asked Clement.
Replied Moses: "It must be woman nah! Na real amebo (gossip) fowl.
"Power belongs to the women. Haven't you noticed that no matter how strong a man is, once he gets to his wife, he becomes a baby?" asked Jide.
"Very true! Women rule the world," said Clement.
"In the Western world, yes, but not in Africa!" countered Chioma.
"Even in Africa. Have you not seen a woman beating up a man and nobody says anything but once the man fights back, all hell is let loose. Everyone begins to blame him?" asked Moses.
"That's correct. Tell them!" said Jide.
"In Africa, it is a man's world. There is nothing you will say to convince me," said Chioma, adding: "When a marriage breaks up, the man practically gets everything, leaving the wife with nothing. Also, when a man dies, the wife is in most cases left with nothing because the man's relations may decide to take everything away, especially if she had no children for the man. That is terrible but that is the reality on ground in most cases."