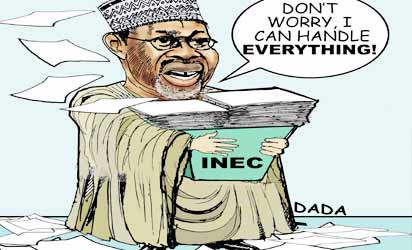 Ogbomoso  – Former governor of Oyo State,  Adebayo Alao-Akala on Saturday described the release of the 2015 election timetable by the Independent National Electoral Commission (INEC) as a welcome development.
In an interview with the News agency of Nigeria the former governor said the early release of the timetable would allow politicians to be well prepared.
Alao-Akala likened the development to a student who had been given enough notice to prepare for an examination.
In a separate interview Chief Akin Oke, the Oyo state chapter Interim Chairman, All Progressives Congress (APC) wodered why there was a reverse of the schedule of elections from the previous ones.
"My fear is that, I hope this timetable was not with ulterior motive.
Mr Bashiru Lawal, the state Chairman of Accord Party, said that INEC has done the right thing by releasing the schedule of the elections very early.
Lawal, however, also objected to the order of the election, saying that of state overnors and state assemblies elections should have come first.
"I think the states elections should be conducted before the national elections at this period when every party is struggling to be at the centre," he said.
Mr Moshood Erubami, President, Nigeria Voters' Assembly, described the release of the timetable as a good step but expressed fear over the implementation.
Erubami listed the complaint of paucity of fund by INEC and the proposed National Conference as factors that might affect the time-table.
INEC had on Friday released the timetable for the 2015 general elections scheduling the Presidential and National Assembly elections for Feb 14, 2015 while governorship and state assembly elections are to hold on Feb 28, 2015.
It also announced the dates for governorship elections in Ekiti and Osun states. (NAN)