By Providence Obuh
ABUJA—Vice President, Namadi Sambo yesterday said that the former National Chairman of the ruling People's Democratic Party, PDP, and Walin Langtang, late Chief Solomon Daushep Lar had left his footprints in the sands of time and will be greatly missed.
A statement by the Special Adviser to the Vice President on Media, Alhaji Umar Sani, said that Sambo spoke during the Memorial Lecture and Tribute in honour of Chief Lar at the Ladi Kwali Hall, Sheraton Hotel and Towers, Abuja, as part of the activities leading to his interment.
This was even as Lar's wife, Professpor Mary Lar, said that the last wish of her husband was that Plateau State and the country at large live in peace.
However, according to Sambo, Lar who was popularly known as the Emancipator, left several legacies in his numerous national assignments; especially his developmental strides in his home state of Plateau, where he was the first executive governor from 1979 to 1983.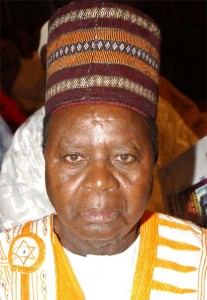 He said Chief Lar will be fondly remembered for his mantra, "leaving the state better than we met it," and asked the Plateau State Government to "consolidate on his legacies by adopting his popular adage "leaving the state better that we met it" as a state policy.
"Nigeria and Africa have indeed lost an icon, a true son of the soil and a formidable figure in the struggle for the entrenchment of democracy in Nigeria and Africa.
"He was a shining example of love, truth and righteousness. No doubt, Lar was a political titan and a man of the people whose legacies shall stand the test of time," he added. He expressed delight with the several eulogies that had been pouring out since his death.
The memorial lectures were delivered by the Catholic Bishop of the Sokoto Diocese, Most Rev. Mathew Hassan Kukah, and Professor Isawa Eliagwu.
Other speakers at the event included the Senate President, David Mark, the Speaker of the House of Representatives, Alhaji Aminu Tambuwal as well as the Governors of Katsina, Nassarawa and Plateau states.