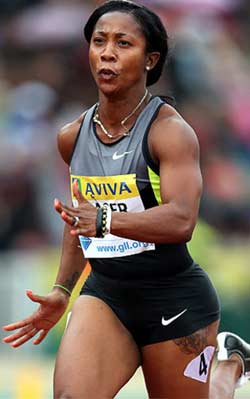 Ann Fraser-Pryce
By Onochie Anibeze
Veteran athletics coach and one time chairman of Athletics Association Tony Urhobo has said that Jamaica's Shelly Ann Fraser is still the athlete to beat in the Women's 100m event of the World Champion-ships that start tomorrow in Moscow, Russia.
Urhobo said that Nigeria's Blessing Okagbare who broke Africa's record to win the London Olympic Anniversary show with 10.79 seconds July 28 has done well and could win a medal.
"I think that Blessing may win a medal but the athlete to beat remains Fraser, the Jamaican," Urhobo said yesterday.
"If you saw the race in London you would have seen that the poor start Shelly-Ann had denied her victory. Even at that she was able to end the race well although she placed 4th. I think that she may win the race in Moscow. Blessing has done well and should win a medal based on current form," Urhobo said.
The former Pole Vault champion is not happy that only Blessing has the IAAF A standard in Nigeria.
"The World Championships are for the best in the world. The standards are higher than what happens at the Olympics. Many of those who compete at the Olympics do not qualify to compete at the World Championships. That's the situation for Nigeria. We should be better than we are in track and field. It pains that only Blessing has the A standard. Our girls may run the relays but the men did not qualify. I think that  we can do better but we must do the right things first. We can't be going for the World Championship just like we did at the last Olympics when we all banked on one athlete."
Urhobo would like to see a better coaching structure in the AFN and programmes that can produce and nurture athletes.
Brown Ebewele, another veteran of track and field said last week that AFN boss Chief Solomon Ogba bankrolls many events in his association and wished that the sport was better funded so that "many other ideas and programmes could be accommodated by the federation.