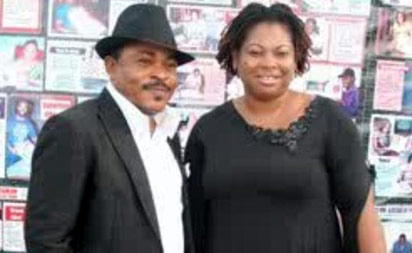 *Victor Osuagwu & wife
Nollywood actor, Victor Osuagwu , got married to his longtime lover Roseline 16 years ago. But he only wedded her last year at the bride's home  town in Choba, Port-Harcourt, amid surprises. The marriage has produced four children: two boys and two girls. Their fist son will be 15 years come next month. Osuagwu, currently the chairman of the Actors Guild of Nigeria, Lagos chapter describes his wife as a replica of what he wanted in life. He reveals that  trust and understanding have been the stronghold of  his marriage.
The beginning
I met my wife at the later part of 1990. I was an undergraduate at the University of Port-Harcourt. Then, she was a little girl of 17 years who was in her JSS 3. When I met her for the first time,  I told her straight away that I was going to marry her. And that I was not interested in boyfriend or girlfriend relationship. I later allowed her to grow.  But we became close when she gained admission into the UNIPORT. She did a certificate course in theatre arts after which she switched over to a degree programme. Since then, we became good friends. We formalized our marriage in 2002.
Temptation in Nollywood
I saw many things in Nollywood but nothing could have made me not to marry her because she has everything that can attract a man to a woman. So, what's the need looking around? Moreover, I was serious about my relationship with her. I was not treating her as a girl friend but as a wife. There was no way I could have gone into another relationship I knew I could not consummate into marriage.
Things that destroy marriage
Lack of trust and misunderstanding of each other. These are the two major factors that can destroy a marriage. Again, when the couple allows the third party to mediate in their marriage. Most times, the woman listens to gossips from outside. And if she happens to be the kind of person that they could easily convince,  then, the marriage is bound to crash.
The journey so far
It has been smooth without  hitches. And if you asked me why, I would say because of our long time of courtship. She has been able to understand who I am,  when I am happy or disturbed. We are  like friends, and it has kept us going all these years. She has been able to understand my profession and enterprise. She knows  when I am not able to step out of the house. It is just a matter of trust and understanding that has kept us going.
Attraction!
She is homely. Her homeliness was what attracted me to her. As beautiful as she was at that tender age, she was  staying in the dormitory. But each time she came  home, she did all those things that you could not easily find with young girls of those days. In those days, when you saw girls that were beautiful like her, they usually didn't do any home work but she was doing the normal home work of fetching water, helping her mother with her chores, and engaged in  farming. I naturally love homely people and I was brought up in that setting. I need somebody who can handle my kind of person. I'm not flamboyant. I have a limit to my social life. The truth is that she is a replica of what I wanted  in my life.
Accepting  your proposal
It wasn't easy. I told her of my intention to marry her without having to date her,  that I would wait for her to complete her education. The  next day, I saw her and called her but she shunned me.
What kept us  going
Trust and understanding. We have been able to understand and trust each other. Even when I'm not in town, I still believe there is somebody at home that I can trust. She believes her husband is safe wherever he is.
Before you met  her
I had a girlfriend while in the university. I was already a star then, because of the course I was studying. Obviously,  I needed somebody to be part of me. But then, it was on friendly basis because I wasn't thinking of settling down with her.
My husband chose truck as our bridal car — Wife
The journey so far It has been so great. I'm  very lucky.
Secrets of my success
Love and understanding. When you understand your partner  and he understands you,  with God on your side, things will work out smoothly.
Meeting him
I met him when I was in JSS 3, and he was already in the university. He brought me up like a mother, a sister and a daughter.  We grew up together. I hail from the town where University of Port-Harcourt is situated called Choba.  He graduated  before I did. In fact, while he was graduating from the university I was gaining admission into the same institution.
Marriage proposal
He came to visit one of his friends who was living in our compound then  from the hotel. The moment he sighted  me, he said, 'this is my wife'. I didn't believe him then, but later, I realised  he was sincere. I remember, before we finally got married, we used to do things together.
Regrets
I always say that if I have the opportunity of choosing a husband again, it must  be him. I'm not regretting marrying him.
Wedding surprises
My husband like to surprise people. I didn't know he was planning such a surprise. After our wedding, as we were stepping out of the altar, I saw a truck decorated and parked in front of the church. He told me this is the car that would take us home. I was surprised but, all the same, I was happy because it was part of fun for me.
Memorable time with him
Every time we are together, I always feel on top of the world. I'm  happy seeing him around me. There is nothing he does that I don't like.
His lifestyle
You know I have been with him for a long time. So, I understand his kind of person. While in the university, I did a  diploma course in theatre arts before I later switched over to political science/administrative studies. Acting is all about make-believe. As he's acting, I'm watching him, as well as seeing the other side of him. What you see on screen is the real Victor Osuagwu. The way he behaves on set is the same way he behaves at home.