BY EMMANUEL AZIKEN, POLITICAL EDITOR
GOvernor Serikae Dickson's ascent to the governorship of Bayelsa State on the platform of the Peoples Democratic Party, PDP was a remarkable journey in ideological transformation. The pioneer state chairman of the Bayelsa State chapter of the Alliance for Democracy, AD, he had the unique distinction of being the only AD chairman  in the South-South to produce federal legislators in 1999, which was a reflection of his grasp of the political dynamics of his state.
Dickson was, however, to change parties to the PDP following the enthronement of Dr. Goodluck Jonathan as governor in 2005 and eventually turning into one of the most steadfast loyalists of Dr. Jonathan. It was no surprise that he was in late 2011 called upon to be the frontman in the onslaught against the Timipire Sylva tendency that at that time held sway in Bayelsa.
Following his victory in the gubernatorial elections, Governor Dickson has made a show of flaunting his socialist credentials and inclinations in the sphere of governance. In this interview with newsmen, he asserts that his new home in the PDP is not averse to progressive thinking. Excerpts:
WHAT are the challenges you are being confronted with?
The challenges are enormous and we knew in this state that things are not right but I underestimated the magnitude – the absence of governmental structures, the absence, if you like, even of core values.
What is your position on the issue of amnesty for Boko Haram insurgent group?
On the issue of amnesty, I want to commend the President for his large heartedness in proposing amnesty, even for Boko Haram members. Of course we all know that Boko Haram, whatever is driving them is very different from the factors that gave rise to the situation that we had here in the Niger Delta.
Insurgency in the Niger Delta
Whereas the insurgency in the Niger Delta was founded on economic issues – issues that had to do with rights and deprivation of rights, the one in Boko Haram is religious fundamentalist, so there is a clear distinction and even with that the President has come up with amnesty, I think as a result of the calls by some leaders in the affected areas so that amnesty can be given and they want to see whether that can make the difference, so we have to encourage that. I think we should give it a chance.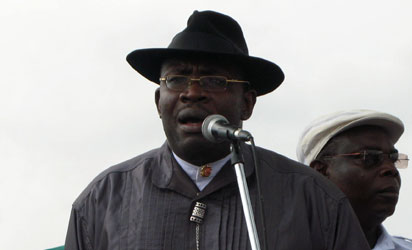 Though those who say amnesty should not be extended to Boko Haram members also have a very strong point on account of the mindless and criminal, despicable and wanton destruction of properties and lives. And even now, from what we are reading, they seem to say they have not done anything wrong and they are rejecting amnesty but on the part of the leader of a country, I think the President has done well by proposing amnesty. Let that not be the excuse for not getting all hands on deck to address that issue.
What is your position on the brewing crisis within your party, the PDP, especially in the face of the ongoing merger of opposition and birth of the APC?  
What you are seeing as tension at the end of the day, will resolve itself.  On the APC, I want use this opportunity to urge the leaders of the opposition to work hard to bring about a virile, effective and viable opposition; an opposition that will play by the rule, an opposition that will be in a position to confront the ruling party in a market place of ideas and vision.
We are looking look forward to virile debates on various issues; on economy, on national security.
If they are viable as a party we want to engage then and let us see the alternative viewpoints that are contending for the minds and hearts of our people beyond issues of religion, ethnicity and zoning – that's the whole debate. The whole political engagement is all about grandstanding, manipulation, positioning and it sickens me, really. So, for me, and I'm not speaking for my party, for me, I'd be very happy to see a very virile, effective and well organised opposition because a democracy without an opposition is dictatorship  – democracy must have viable opposition.
In this state, with what we are doing, I cannot for example be scared of strong opposition party; in fact, I had looked forward to an opposition party. Instead of rumours, blackmail and propaganda, I look forward to an engagement – an organised opposition that can confront us and then present an alternative vision. We have to develop that tradition in this country. It is not there now.
With all due respect, even if you not careful, we will descend to a situation that even respected national newspaper will just be like a political pamphlet. Let us have virile political parties that will contest ideas. But for me as a person; I'm not a spokesman for the PDP; I don't see any reason why anybody in the PDP is supposed to be scared of the APC. We just need to focus on what we are doing and at the end of the day, if the electoral process is free and fair; Mr. President has always promised Nigerians that, Nigerians will decide who occupies the power.
Why do you think the PDP came up with the PDP Governors' Forum?
Look, let me also make it clear; governors' forum is primarily a mechanism for peer review of governors who are equal. You do not have to be a member of the Nigeria Governors' Forum to be a governor, is it?
The Governors' is not and should not be a platform for control of national politics, because we are not elected to run the country. I don't how many of you agree with me? We, as governors are elected to manage our states. So the Governors' Forum cannot be allowed to go on as a trade union. Of course, that is wrong! What has happened is that people are taking advantage of the development and discontent in our system to manipulate it to suit their individual whims and caprices.
Political leadership
But what is wrong is wrong!  Look at the United States Governors' Forum where we even copied it from, you don't see Governors' Forum there coming to tell Obama what he should and what he should not do. We are provincial players, governors because our mandate is to lead our states, not to run the federation. Those who have a mandate to run the federation are the President, Vice President, the elected members of our national assembly and the political leadership of the parties.
Those are the people who have a platform. And if as a governor, I have any strong view on things that go on at the federal level, we have avenues; informal, formal – we have the National Economic Council. Over the years, I think what has happened, particularly in the PDP and it is very unfortunate, that the focus on the Governors' Forum is as a result of some developments in the PDP. It is unfortunate that it is rubbing off on the governors from the opposition parties.
What has happened over the years is that governors of the PDP who became chairmen of the Governors' Forum all attempted to use it as a platform for playing national politics – a platform for occupying national political space. It is wrong! It shouldn't be allowed! That's why the idea of the PDP Governors' Forum became necessary. But you see, because for now there is manipulation of facts and our institutions are not yet strong enough, including the media – you are doing a very good job but not yet strong enough.
You see  things being manipulated as if anybody is disturbing anybody, instead of saying no, this thing you guys are doing is wrong. People are saying as if "there is a crisis and somebody does not want somebody, no! The Governors' Forum is simply a peer review mechanism; no more, no less! PDP governors have the right to have their own group because the associative right is a first love in a democracy! ACN governors and others, even councilors have associations.
What is your stance on the faceoff between the president and Governor Amaechi?
You press people should not equate a provincial player with elected President of the Federal Republic. The President of the Federal Republic of Nigeria cannot have misunderstanding with a provincial player as a governor of Rivers State or any other governor for that matter. I don't know how you came by that – that is why we must be careful because you are also very important players in our democracy.
As governors, we are elected to run our states, no more – no less. If you want the mandate to run Nigeria, you contest an election for it. Don't do it through the back door. If you want to be a leader of oppositions, you go the opposition. What is happening is that people are taking advantage of our weak institutions and our fledgling democracy.