Former Super Eagles coach, Samson Siasia tells JOHN EGBOKHAN that the Super Eagles must strive to avoid conceding the first goal in next month's FIFA World Cup qualifier against the Harambee Stars of Kenya in Nairobi.
What should the Super Eagles avoid in their next FIFA World Cup qualifying match against the Harambee Stars of Kenya on June 5 in Nairobi?
Honestly speaking, there are many things that they must try to avoid but the key thing that the team must avoid is being scored against first because if that should happen, it is going to change a whole lot of things and give the Kenyans extra confidence that they can beat us. The match is a delicate one  and if the Eagles can avoid being scored against first, they will have an edge over their opponents.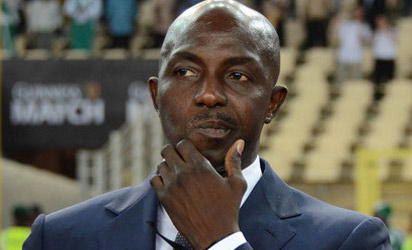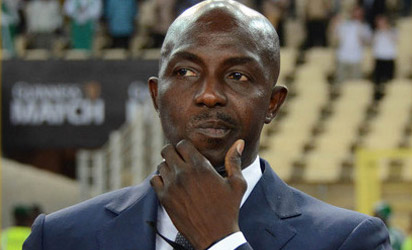 And they also need to go for victory because they know that it is a match that they must win to improve their chances of qualifying for the next FIFA World Cup in Brazil.
I just want to wish them the best of luck in this campaign. It is important for them to avoid being scored against first because that will help them to build their confidence and stamp their authority on the match.
Do you feel that we have the quality to qualify for the FIFA World Cup Brazil 2014?
I think we do. The players are good, we are the African champions and the coach is someone who understands what it takes to get to that height of the World Cup. He has seen it and done it before and I am positive of our chances to qualify again.
So you  are not nursing any fear as we approach this crucial period of the World Cup qualifying campaign?
I do not have any fear. As I said earlier, We have the players who can do rightly get Nigeria to the World Cup and all that we need to pray for is for the luck to be with them on that day. We can only feel be confident that these players can get the job done in their next matches.
You were at the one year remembrance and testimonial match organised  in honour of  former Eagles striker, Rashidi Yekini in Ibadan and at that function, you said that the late Yekini was the greatest star of Nigerian football. Some of your teammates were not there to honour their late teammate. What do you make of this development and what are the implications for those currently playing for the Super Eagles and other national teams? Are you not sad that your former teammates were conspicuously absent.
I was disappointed that a lot of people were not there. I think I was the only person with Dimeji Lawal who were there. That's not how we are supposed to honour a legend who died and did so much for this country.. That is not the way to send him back to mother earth. It is a very bad attitude and I am sad all over again just thinking about the matter. This type pf treatment does not encourage the present stars and the upcoming ones to give their all to the national cause. It is demoralising to play and not get recognition in death.
So what do we do as a people to right our wrongs?
I think we should make amends and learn to do things the proper way. We should always remember our legends in good time and in bad time. Our stars deserve our commendation and love, whether alive or dead.