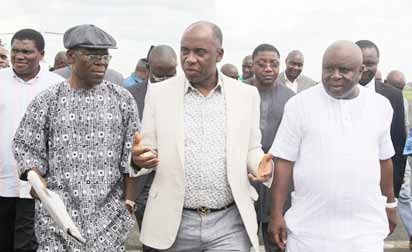 Rivers State Governor Rt. Hon. Chibuike Rotimi Amaechi(m); flanked by House of Representatives member, Chief Andrew Uchendu(left), Elder Chidi Wihioka and supporters on arrival in Port Harcourt Friday
By Henry Umoru & Caleb Ayansina, Abuja
FOLLOWING the sack of the Rivers State Executive of the Peoples Democratic Party, PDP which was loyal to Governor Chibuike Amaechi, Elders of the party Friday said there were moves to put in place a process to reconcile both the governor and the new Executive Committee.
The PDP elders also said that the Rivers State governor will not dump the party for another on account of the court judgment, just as they said that there was no reason the governor should do that because he was currently the leader of the party in Rivers State.
Addressing Journalists in Abuja yesterday, the PDP elders led by Sergeant Awuse and a former House of Representatives' deputy speaker, Austin Opara who spoke under the aegis, ''Concerned PDP Elders of Rivers State", stressed that there was the urgent need for this peace process if development, growth and a peaceful working environment must be guaranteed.
According to them, the new executive committee of the PDP in Rivers State led by Felix Obuah had put in place a reconciliation committee to ensure that all members of PDP in the State were properly united ahead of 2015 elections.
Other members of Rivers State PDP Elders Forum include, Senator Lee Maebea, while members of the Rivers State Legislators Forum include among others, Hon. Kelechi Nwogu, Hon. Inunwo Victor, Hon. Micheal Chinda and Hon. Martins Chike.
Meanwhile, members of Rivers State House of Assembly also yesterday denied allegation of plots to impeach the state governor, Chibuke Ameachi.
Responding to questions yesterday on whether there were plans to remove the governor, Hon. Inunwo said, "I am not aware of any impeachment plan. But what we are saying is that we should be allowed to do our job as the State House of Assembly members".
The allegation of impeachment plot against the governor was rife, just as it was reported that his Commissioner for Information, Mrs. Ibim Semenitari was invited for questioning by the Office of the National Security Adviser.