By Henry Umoru
*'My findings on the multiple crises in ruling party'
Alhaji Bamanga Tukur is the National Chairman of the Peoples Democratic Party, PDP. He was General Manager, Nigeria Ports Authority.  In 1983, he was elected governor of old Gongola State, now Adamawa and Taraba States; in 1992, he was a presidential aspirant of the National Republican Convention, NRC; and also a former Minister of Industries and President, Africa Business Roundtable. In this interview, Tukur bares his mind on the insecurity in the country, his reconciliation agenda for the PDP, and relationship with the PDP governors. Excerpts:
How far will you say you have gone in your reconciliation efforts in the PDP?
Unity, stability, peace, oneness can co-exist through information. You all know we are in a difficult situation and that is the reason I will appeal to you, the media, to really be objective in the way we present issues to the nation.  I was very much disturbed when I went to my village in Ganye and I saw the damage done through evil.
Today, in this nation, we witness people bombing churches, bombing mosques, bombing United Nations, bombing car parks, bombing markets. To me, they are national attacks and we know all the reasons they are telling us this kind of phenomenon is taking place.
And, under my watch, the PDP is interested in filling all the elective positions. If you search anywhere, my  members are affected. So I became worried. I believe that maybe we start thinking about how to face that evil.  The good always chases away the evil.  We are capable of doing that. I believe all of us, what I call the coalition of the willing, can do that.
I am obliged to give you my own understanding of what we have done and I am happy; those who accompanied me on the tour are also here, they are NWC members. I was surprised. The turn out in the South West for example, you hardly could see a free hotel, it was so full.
Similarly in Enugu, Port Harcourt, Bauchi. So all the zones we visited, the turnout of our members was so fantastic. But the concern is the insecurity in the country.  We are worried about insecurity. We are worried about the number of young men and women who are out of job. Security and economy come to play, but we cannot run the economy unless security is on  ground.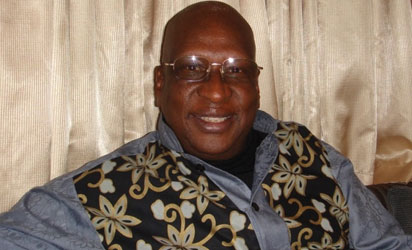 It is one of the cardinal principles of our party. We need to develop through peace and unity. I  believe that all manner of people, government apart, they don't need PDP to lead the way. ACN, CPC,  Labour,  we must come together to fight the evil of insecurity.
In my village they burnt the police station, killed policemen, burnt  houses of individuals with no cause. They broke through the prisons and released the inmates. What kind of society is that? Let us settle down and look for the cutting edge in terms of fighting that evil.
As the Chairman of the ruling party, if you are to advise the president as far as insecurity is concerned, what will you tell him?
It is not about the PDP or President Goodluck Jonathan; this is a matter that should be of concern to everybody irrespective of political, ethnic or religious affiliation: the opposition, the labour movement, religious leaders, traditional rulers. We all have to come to fight the evil that is now manifesting every where in our land; those perpetuating this evil are within us in the society, it is not a matter of Mr President or the PDP-led Federal Government alone.  It is not a kind of thing that we go and target somebody. My advice is, all of us, all Nigerians, all hands must be on deck to fight the evil.
The PDP NWC just clocked one year in office. What would you identify as your major land mark?
When I came in, we had a template which is our 12-point agenda. After one year, I went round  the states,  the people out on a mission for reconciliation, reformation and rebuilding. I spoke about the Triple E which is, Environment Sustainability, Education, Energy and Security. The third is Triple D which is, Defence, Dialogue and Diplomacy. And the remaining three is the consequences if we do what we pledge to do and accepted by our people.
If we reconcile, we get peace; you get peace to get security. You get security, you get investment. It is a circle, they  all work together. I found out that our people are still on the ground, with their party. As far as I know, they are patient, they understood what happened and they voiced it out.
They voiced out security, they voiced out economy, etc because the idea of having the 3 Ds, if you educate your people, they take care of the elements of the environment. The environment of sustainability Iam talking about, I am also talking about three things: land, water and people. That is God-given to every nation. But if you give them education, they will take care of these elements. They will turn water to hydro-energy, they can turn it to get energy, they can cut wood and boil water and get energy. You have to educate them. If you do that, all these will be ready.
During your reconciliation tour, most stakeholders and governors did not attend and your statements also conflicted with what the chairman of the PDP Governors' Forum said. What really happened?
The notice given to governors to attend the Abuja grand finale was very short. It is not true that they did not come because they don't believe in reconciliation. They were ready for reconciliation and attending the Abuja event because if you met somebody in Bauchi,  why should that person  came to the finale in Abuja?  But if you don't come really, we don't believe it is because it is a repetition of what took place in your state. So I can categorically tell you that no governor of the PDP  is at variance with the reconciliation.
One of the major agenda of your administration is reconciliation. You've been embarking on such across the geo-political zones. But you just marked one anniversary in office and we know that some of the people that contested with you for the national chairmanship of PDP were not actually happy with the process. Have you tried to reconcile with these  contestants?
I believe if you come to our meetings, you will see them. They are there. It was a contest. But there is no ill-feeling with those who contested with me. And we are working together. We consult each other. I talk to them, they talk to me. If I call them, they come. So what else can one ask for?
Having heard from the people during the tour and having ruminated on what you have seen and heard with members of NWC, what is the next line of action?
First of all, you cannot solve a problem unless you know that the problem exists. The fact that we work up to 1 a.m today says it all.  I am happy because all my NWC members were there. They are my team. We are looking at what our members in the zones told us to find the common denominator and try to find a solution.
Secondly,  we wil go to the states. After Easter, we are going to embark on individual state visits and I hope that you will also have the opportunity to come with us to see what we need to do. And you know that anywhere we went, we told them "the party is yours. We are bringing it back to you. No imposition. Send to us your representatives. "Our own is to process what you believe is your own choice, then we can work. What I intend to do now is to give us all a clear indication again to all to really have our programme of action in terms of solutions".
Having been in office for one year now, what would you say are your major challenges? And you said the other time that the NEC meeting will hold after the election of the BoT Chairman. Now that, that has been done, when are we expecting the NEC meeting?
NEC is the overall body of the party. It is like the supreme body. You don't go to NEC like that. You go to NEC also by giving them all the information so that you can ask them what you believe they should do. When I came in, I gave them the 12-point agenda.  Now I am going to call the NEC and tell them this is what I want and suggest to them the solution and ask for their approval.
Ahead of the 2015 elections, what plans does your party have for women to ensure that more women are actually encouraged and given the opportunity to fill elective positions?
PDP is gender sensitive. And PDP under my watch is fair to everyone because, yes, God has given us two hands which means we should work together, men and women. In the PDP, it is  our agenda to encourage women, that is the reason we say  we exempt them from payment for forms. But you can take a horse to the water,  you cannot make it drink. It is an opportunity given to them.
There is no imposition. They should go and fightfor election. But what we can say is that if you want to be our member, elective post, don't pay. I think women, to a certain extent, also like to follow men. Which is a normal thing to do. The aggressive ones are Prime Ministers, Presidents, but others are still cooking for their husbands.
What is the party doing to check some of the excesses by some members, especially with their remarks on the move to address the problem of indiscipline?
We don't tolerate indiscipline. It's work in progress. A party is a "family" actually.  Why should you go out and tell a stranger you couldn't get justice or whatever you feel within the "family". So it is all these areas that I said work is in progress.
Some ministers are not always on ground in their states especially states where PDP does not control the government and you will need them to complete your reconciliation move to be in touch with the people. What is the party doing in this regard?
We are a party and a party should give what we call patronage. That is what it is actually; we are a family. People who work in that family should be looked after. But it has happened to that extent and it is one of those complaints made and we are looking into it.
What is your relationship with the governors of the PDP?
I am 100% with my governors. They call me. There is no place we went, that the governors did not come out to say specifically that they are in support of me and my NWC.  The governors, all of them, respect me. They came out. What the papers mentioned, they tried to correct it. I can remember in Port Harcourt, Amaechi took a decision and they say oh, which is not true. We work very cordially.
They are our commanders. The state chairman has his own governor as his commander. The only thing the chairman has to do is to strengthen his followership in his state to support the governor so that in the next elections, the PDP wins. There is no dissention. How can we have any dissention anyway? A PDP governor and a PDP chairman, are we competing on anything? No! We are complementary to one another.  There is no competition between the chairman and the governor and, therefore, there is no element of dissention; it is just an imagination.