By JOHN EGBOKHAN
Former Green Eagles star, Paul Okoku has said that the Cup triumph of the Super Eagles at the 2013 Africa Cup of Nations in South Africa has vindicated Coach Stephen Keshi's decision to give opportunities to home-based players  in his 23-man team to the tournament.
Speaking against the backdrop of the lack of belief in the Eagles ability to do well, not to talk of reach the final of the 29th edition of the Cup of Nations, Okoku, a former teammate of Keshi n the 1980s, said that Eagles success was down to the latter's firm belief in his players' ability to soar higher above other teams in the competition.
"I make bold to say that Nigeria succeeded because Keshi believed some much in his players. Even before the start of the competition, Keshi confided in me that Nigeria were going to play in the final and that we would win. He said that he was going to invite me for the final", Okoku said on the phone from South Africa,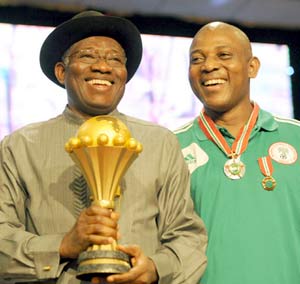 "He could not have failed because he believed in his players and he gave everybody equal opportunity to shine. Under his management, our home-based players were accorded their due respect. He could not have failed because he led by example and his players had to give back what he taught them.
"Our people did not believe in Keshi's vision but he remained consistent, never allowing anything to distract him from achieving the set target, which was to first get out of the group, which was not easy but we did it. From there, the only way was up and it was remarkable that the story ended well.
"Nigeria's AFCON glory has vindicated Keshi because the story ended well. People wrote him off with a wave of the hand. It is a shame that we do not believe in our own. People, even those running our football, never believed in him. They wanted to hire another foreign coach but we thank God that the rejected stone has finally become the chief corner stone of the house. We must learn to give our local heroes their due respect.
"If Keshi were a white coach, I am sure that Nigerians would be worshiping him like they did to Clemens Westerhof, who used five years to win the Nations Cup in 1994 but Keshi achieved the same feat in less than two years", added Okoku.