By AbdulSalam Muhammad, Kano
KANO –  The Joint  Task Force, JTF  has explained that only two suicide bombers were killed in what appeared to be coordinated attacks on telecom facilities in Kano, Saturday morning.
Spokesman of the Military Taskforce, Capt. Ikediche Iweha told Vanguard on phone that,  "a generator operator with the Airtel  firm was injured and is on admission at an undisclosed hospital.
Capt. Iweha stated that the suicide bomber forced his way into the Airtel office, opposite Malam Kato Square at the Central business district in the commercial city.
He explained that  JTF troops foiled a second attack on another mobile phone operator,  MTN , but the resultant suicide blast affected a car parked near the office.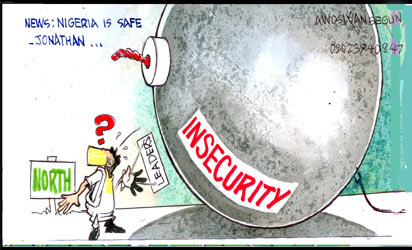 But, security sources  had earlier told Vanguard that four people died from the blast at the MTN office.
The MTN switch located off Independent Way, by Mailari at Bomapai industrial estate, it was gathered, serves 13  northern states.
However, Bayo Osho,  one of the survivors of the Airtel attack,  told reporters that two suicide bombers carried out the  bombing of the telecom facility.
According to him, "the first car forced its way into the premises, clearing the way for the second car,  laden with explosives. He said that the driver of the second car jumped out of his car and engaged security agents in a shoot-out. "Then, what followed was a  loud bang."