By Vera Samuel Anyagafu
ANALYSIS of narratives by some Nigerians who are resident in Thailand, and that of those who just returned to Nigeria to celebrate Christmas holiday with their loved ones gave an insight that presented a statistics which shows a lot of Nigerians are happy with the new Nigerian Ambassador to Thailand, Ambassador Chukwudi Newington Okafor.
Bothered by what he called diplomatic wickedness to Nigerians in Thailand by the former Ambassador of Nigeria to Thailand, Ambassador Suleman, and staff of the embassy,  Mr. Adolph, (real names withheld for security reasons) who just arrived Nigeria to spend the Christmas holiday with his family highlighted some of the daunting problems they had experienced from the leadership of the former Ambassador, which was far more of an abuse of high level of human rights, when compared with the good work of the new Ambassador, Chukwudi Newington Okafor.
Distasteful attitude
He lamented the distasteful attitude extended toward Nigerian nationals by the former Ambassador, the Counsellor and some of the embassy staff whenever they visited the embassy for various forms of consular assistance/services, saying, "we were always dissatisfied by the form and manner we were misrepresented in Thailand then.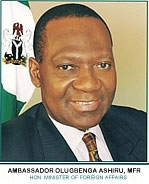 "A large number of Nigerians in Thailand, including myself, were not happy with some of the actions taken by the former Ambassador to which we all felt was more or less a purposeful disregard of the very essence of his diplomatic mission to Thailand. Several complaints that emanated from other Nigerians in Thailand, expressed that we expected our Ambassador to be the key that should unlock the door to our desired fulfillment while in a foreign land, rather than become the originator of our disintegrations.
In all its ramifications, it is wrong for any embassy to charge her national to issue them any kind of simple letter of identification or certification, and or alarming sum of money to issue them Travelling Certificate (TC) in the case of lost or no passport."
Another issue of great concern to Adolph was in respect to the non-challant disposition of the Ambassador and the Counselor whenever they were called upon to identify or certify a deceased Nigerian in Thailand. Their show of negligency, by not cooperating with the hospitals management led hospitals in Thailand to burn such unidentified corpses which is totally inappropriate and against the cultural and traditional beliefs of Nigerian, whose tradition seriously forbids the burial of their men in foreign land.
He also recalled a scenario, where the embassy refused to recognize the election of Mr. Gilbert Akudo Ndigwe, aka Kudos, as the elected president of the 'Nigeria Community Association' in Thailand for fear that he was going to expose their excesses, and help put a stop to the massive corruption that goes on in the embassy, as was stated during his campaign.
Nigerians languishing in Thailand prisons
In rather an emotional manner, Adolph stated that, "The most painful part of the Ambassador's act of negligence, is by not making any effort to ensure that Nigerians who were then languishing in Thailand prisons were granted bail, rather he called them touts and the counselor then, Mr. Abayomi Bamgbelu, said they were illiterates and were constituting nuisance in Thailand. Going by those statements, they suceeded in creating unwarranted premise for the Thai Police to arrest, detain, torture and imprison Nigerians in Thailand unjustly."
Then advocating for the existence of a better cordial and stable relationship between Ambassador Suleman and Nigerians to whom were one of the reasons of his diplomatic mission then as Nigeria Ambassador to Thailand, Mr. Ibe, a businessman in Thailand, was of the opinion that Nigeria government should assist in the case therein to caution and or curtail some of the negative proceedings placed against the then leadership team of her embassy by her people, stating that, " That was my first time to have seen or read of an Ambassador who arrested, detained, tortured and jailed his own people in a foreign land, where he was sent to protect their interest and the image of the Country.
To me personally, it was a high level of abuse of human rights for Ambassador Suleman to reward such simple act of peaceful protest, which was aimed at seeking attention from him with such brutality. That was indeed diplomatic wickedness."
In as much as Adolph, Mr. Ibe and others are entitled to their complaints about the former Ambassador of Nigeria to Thailand, many other Nigerians in Thailand argued that the Ambassador was not biased in exercising the various reasons of his diplomatic mission to his fellow Countrymen in Thailand.
To be concluded