BY CHARLES ADINGUPU
For electricity consumers in Nigeria, it is not yet uhuru as day in, day out, they bear the burden of erratic power supply.
The quantum loss suffered as a result of this can better be imagined. From Sokoto to Delta, the story is the same – spurious electricity bills imposed on unsuspecting consumers for services not rendered.
Upon assumption of office, President Goodluck Ebele Jonathan vowed to tackle the intractable erratic power supply nationwide. As part of measures to make good his promises, he appointed renowned engineer, Professor Barth Nnaji as helmsman to oversee the sector.
Overwhelmed by his discovery, the then Minister, Professor Nnaji working in tandem with the President Goodluck's agenda, embarked on a tortuous journey of unbundling the Power Holding Company of Nigeria (PHCN). But at the turn of each tide, the minister's efforts hit brick wall.
The privatisation exercise became a charade. The PHCN workers who dreaded job loss, cried foul, listed uncompromising conditions for their lay off.
At the same time, conflicting reports trailed the number of power stations that have been completed. Yet again, the final privatisation exercise was marred with reports of underhand dealings. At last, Professor Barth Nnaji was however forced to resign from office for the "President's sake."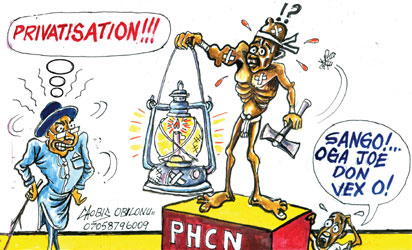 The PHCN workers won their battle and political gladiators eventually emerged as proud owners of different power stations scattered nationwide  and for the Nigerian consumers, their suffering in darkness continues.
So far, so good
Electricity distribution this far seems to be getting worse in each passing day. Investigations by Saturday Vanguard showed that PHCN workers appear resolute in plunging the nation into perpetual darkness as virtually every state swallows the bitter pill of their poor service.
"It is the same old PHCN workers operating in different nomenclature. No noticeable difference can be made until they are relieved of their jobs. Officials of PHCN are neck-deep in corruption. They (PHCN officials) slammed arbitrary bills to unsuspecting consumers for services not rendered," lamented Innocent Idigbe who resides at Ikorodu, Lagos.
About a month ago, a lawmaker  who also doubles as a committee member of power was prevented from embarking on inspection work done so far at the Egbin Power Station at Ikorodu, Lagos by angry residents of the area who claimed that they have been plunged into perennial darkness by PHCN despite the fact that their land houses the gigantic power plant.
They wailed uncontrollably before the Lawmaker, listing catalogues of the pains and losses simultaneously, some of the inscriptions the placards carried by the protesting villagers read:
"We have been in darkness for almost six months, yet we received electricity bills for services not rendered." Our children who are mostly artisans have been thrown out of job." "We sleep in discomfort and can't even preserve anything in our homes."
It will however be recalled that before the visit of the committee member (Lawmaker), Ikorodu residents went on rampage over the incessant erratic power supply they experienced on daily basis. They alleged that their own share of electricity had been allotted to Dangote firm at Ipakodo, a report which PHCN officials swiftly denied.
"If it's not true that someone somewhere is consuming our share of power, then why this prolong darkness we experience everyday? It's so funny, for almost four months or thereabout, we lived in darkness. Ironically in those months, we got the highest electricity bill. I wonder where they got their readings (meter) from, Madam Ayomike Theresa enthused.
Available reports showed that PHCN officials engaged in sharp practices in most suburbs in Lagos. According to most consumers, electricity is only available whenever they (PHCN) want to distribute bills or embark on disconnection exercise.
In other states in the South West, the electricity situation remains the same, consumers groan under epileptic power supply. In some parts of Ondo State including Akure, the state capital, power outage has paralysed economic activities. According to the report, it was only in Ore, Odigbo local government area and some parts of Akoko that enjoy semblance of electricity supply. A source however blamed the outage on a fault at the Osogbo power plant in Osun State which supplies electricity to South West states.
In Niger Delta
The people in this area still experience incessant power outage. In Asaba,  Delta State capital, power supply is never stable for reasons yet unknown.
Also, available reports showed that neighbouring towns and villages as Ibusa,  Ogwashi-Uku, Ubulu-Uku stretching to Agbor have been in darkness for almost six months or more, yet, they were compelled to pay electricity bills.
A lecturer at the Ogwashi-Uku Polytechnic, Tony John, who lives in Ibusa, few kilometres to Asaba, said that for almost seven months or more, Ibusa residents have been plunged into darkness.
"Every month, I received electricity bill for power outage. I can't understand what's going on. Although, they (PHCN officials) flash the light. But people here relied more on generator. In the night, the whole environment is noisy. But God will help us," John said.
It was also alleged that the few quantity of electricity was only distributed to Asaba, leaving neighbouring towns and villages to grope in darkness.
In Bayelsa, Rivers, Akwa Ibom and Cross River states, the same tune of  despair was played. Apart from the states capital and some headquarters of local government areas, the people still wallow in darkness following the non-performance of PHCN officials. Yet, they still received spurious electricity bills.
South East
In the South East, the situation is not either better as major  towns in Anambra,  Enugu, Imo and Abia states are still tucked in perennial darkness.
Distribution of Prepaid Metres
For most Nigerians, the distribution of prepaid metres has remained the only panacea to the arbitrary billing methods by the PHCN officials.
"Despite the much touted reorganisation of PHCN, nothing tangible has been achieved thus far because, it is still the same workers but under different organisation mechanism," said Daniel Torofa.
The Saturday Vanguard investigation further shows that PHCN officials even issued electricity bills to locked-up homes.
But an official of PHCN in Lagos who would not want his names in print, disclosed that distribution and acquisition of Prepaid metres is free.
The Saturday Vanguard however gathered that some unscrupulous PHCN officials demand for money before the Prepaid metres are installed in homes. This accusation has been  levelled against PHCN workers in virtually all states in the federation, A panoramic overview showed that less than two per cent of electricity consumers have thus far got the Prepaid metre.