By Onochie Anibeze
An official from a sport neglected in Nigeria yesterday pleaded with President Goodluck Jonathan to restructure sports in Nigeria and make it more result-oriented.
The official who begged for anonymity cried out to the President when reports had it that more than N2b had been released for the Olympic Games here in London. He was bitter that the money was released so late that it did not help Nigeria's preparation for the ongoing London Games.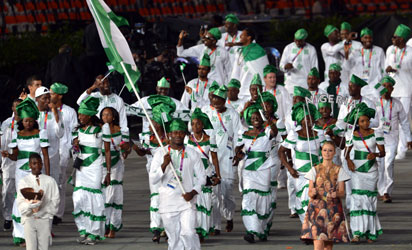 "N2b can help our sports and help us win gold medals at the Olympic Games if it is released in time and spread over four years for preparation," the official said, lamenting that the last minute release of funds only creates room for corruption as the whole money is hardly used for the purpose for which it was meant.
"About N2.3b was said to be the total so far released for the London games but I am sure that they have not spent more than N800m on our preparation and they couldn't have spent more than N200m here in London because the host is providing accommodation, feeding the athletes and providing some other logistics for all teams," the official said. He continued:
"From the last Olympics in Beijing till date if we used N2b to develop our athletes, train them, expose them and enter them for competitions I will be telling you how many gold medals we can win here in London.
But we are still running sports according to government lines and all monies approved and allocated each year must be spent that year and when we have the Olympic games we will be waiting for budget approval and implementation to start preparation at the time others would have finished theirs.
The whole thing is wrong. As far as I'm concerned the N2b released for the London Games was more of a waste because  the money did not do much for our preparation.
It came late and we could have done better with such an amount. I want our President to restructure our sports so that funds released for sports will be useful to sports because we are not developing sports in Nigeria, we only attend competitions where we spend a lot without spending when it matters most."
What the official complained of has been the practice in Nigeria for years but appears more pronounced now than ever before. The National Sports Commission was even said to have borrowed money to execute some Olympic qualifying events. But now they could have more than they would need to compete here.