By Benjamin Njoku
Remember that longest running drama series on NTA in the 1990s, Ripples? The series is hitting the screen again, going by the information dropped by the creator, Zeb Ejiro.
Ejiro, disclosed in a chat with HVP, in his new office, in Surulere, during the week that  following   popular demand, he has decided to return the now rested soap opera on screen.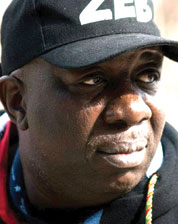 "Ripples" which ran for five years uninterrupted on  NTA, rested in 1993. It featured the best brains in the industry, including Alex Usifo, Babara Soky,  Clarion Chukwura, Kogi State-born Lola Alao and many others.
"Each time, I talk about 'Ripples' people have always encouraged me to return the series on screen. We need to re-enact those days when people used to rush home to watch their darling TV series. I'm coming back in a big way to tell the world that I have always been in the fore-front of film making in Nigeria. "  Ejiro said.
The veteran  producer cum famed Nollywood godfather also hinted that the series which will be written by award-winning screenplay writer, Joe Dudu will now be known as "Ripples: The New Generation", and featuring the 'old horses' as well as the emerging actors.
" It's going to be highly glamorous." he said, adding that the poor quality of some of the soap operas that are paraded on our screens nowadays informed his decision to return to the base.
According to him, "I have looked around and feel dissatisfied with the kind of soap-operas that are produced nowadays. Some of them are good while many others are nothing to write home about.
"The days of "Ripples", "Mirror in the Sun", "Checkmates" and "Behind the Clouds" are gone. M-net produced "Tinsel" is the only  soap opera which is currently making waves on air. But Tinsel can be challenged by the return of Ripples"
Ejiro said, he rested the popular soap opera because of the need to create something different. "And that was what gave birth to 'Fortunes'. I think that ' Ripples'  was different and bringing it back on screen, will make a lot of sense to the people." he said.
By this new project, the first rate producer is returning to what he really knows how to do best-film making after few years of observing a break in the industry. He has been the brain behind the most of the soap operas that ran on NTA in the 90s.
Apart from creating "Ripples", Ejiro also created "Fortunes" which was later changed to "Mega Fortunes as well as "Sweet & Sour."
His quest for creativity launched him into the movie industry. The first movie he shot as a director was "Nneka the Pretty Serpent."  Later she shot "Fatal Desire where Hilda Dokubo debuted, "Ikoko 2" followed and then "Mortal Inheritance" among many others.