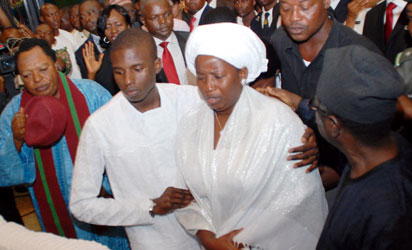 Governor Jonah Jang of Plateau State (right) and Hannatu Dantong, widow of the late Senator (2nd right) paying their last respect to the late Senator Gyang Dantong during a valedictory session at the National Assembly, Abuja, yesterday. Photo: Gbemiga Olamikan
By Henry Umoru & Inalegwu Shaibu
ABUJA—THE Senate was Wednesday thrown into tears, mourning and solemn mood as Senators held a valedictory session in honour of late Senator Gyang Dalyop Dantong, PDP, Plateau North.
All activities at the National Assembly especially the Senate were put to a halt to enable the Senators respect their own, the Chairman, Senate Committee on Health who died July 8.
Speaking at the session, Senate President David Mark who noted that the late Dantong paid a supreme sacrifice, stressed that the senator must not die in vain, adding that with his death, peace must return to Plateau State now.
Meanwhile the wife of the late Senator, Mrs Hannatu Dantong who led her children to the Senate Chambers, could not hold herself during the procession when she stood for well over five minutes at 1.05 gazing into the casket where her late husband's body was kept and the lifeless face looking into the sky. She dressed in white.
The Procession to pay last respect after the plenary session was led by the Senate President, followed by the Deputy, Deputy Speaker, then the Leadership of the Senate and House of Representatives; the Senators; members of the lower House; the Plateau State governor, Jonah Jang; Mrs Dantong; Senator Ibrahim Mantu; Dantong's parents; former Senators; wives of the senators among others.
The plateau State governor, Jonah Jang was however solemn like every other person who was at the session.
After one minute silence for the late Senator, Senate President Mark read out the list of the delegation of the upper chamber with the Minority leader, Senator Ganiyu Solomon , ACN, Lagos West leading the team. Other members are Senators Ifeanyi Okowa, Delta; Chris Ngige, Anambra; Esther Usman Nenadi, Kaduna; Smart Adeyemi, Kogi; Clever Ikisikpo, Bayelsa; Emmanuel Bwacha, Taraba; Ahmed Lawan, Yobe and Mohammed Sani Saleh, Kaduna.
Speaking further, Senator Mark stressed that the Senator's death will be in vain if the people of the state cannot give him the respect by working together, adding, ''having paid this supreme sacrifice, his death must not be in vain. Peace must now return to Plateau State. If peace does not return to Plateau State then his death would have been in vain.
''For the sake of late Senator Dantong and all those who have lost their lives in Plateau State, I urge all warring parties to sheath their swords and return to dialogue like brothers and sisters.
''Most people who knew Dantong were inspired by his love for his people. In one brief moment, his mission in this finite world came to an end, and our own life without him has begun. Everything about him was centred on caring for others. He made us, his colleagues and friends, to understand that the joys and sorrows of others were also our own. He was truly his brother's keeper.
''The only way we can honour this distinguished gentleman of peace is by taking up the lessons of his life. Dantong put in all he had to bridge the gap between Muslims and Christians. During one of the crises, he was nearly killed at a mosque when he tried to broker peace. His life was an emblem of humility, determination, courage, resourcefulness, self-sacrifice and devotion to his Creator. He sought to bring peace and unity to Plateau State in particular and Nigeria in general."
Senator Mark whose presentation was tagged, ''the Passing of the People's Hero, said "Everything that happens in this world happens at the time God chooses. He sets the time for birth and the time for death. He sets the time for sorrow and the time for joy. There is the time for silence and the time for talk. There is the time for war and the time for peace. There is the time for mourning and there is the time for dancing. We must all die – wise and foolish alike." Today we say goodbye to Senator Gyang Dalyop Dantong. Many of Dantong's friends and relatives are here. Even in death, he continues to be a uniting factor and a shining example of model leadership. He was a man who had the capacity to make the best out of life, and he did just that. In the brief years that he acted on life's mortal stage, he played his roles exceedingly well. As a husband, father, senator, medical doctor and Chairman Senate Committee on Health, he distinguished himself as a lover of peace, humanity, unity and progress.
''Now he is gone. How do we say goodbye to a man who has been a vital part of our life for many years? How do we reconcile ourselves to the distressing reality that our beloved friend and brother is no longer physically with us?
''For those of us who know Late Senator Dantong, he was calm and easy going, just as he was so passionate about how to improve the health situation in Nigeria. This passion for the health sector was demonstrated by his tireless efforts to broker an amicable resolution to the recent Lagos State Doctors strike. Senator Dantong urged his colleagues and the Lagos State Government to do everything humanly possible to resolve the stalement because life is sacred. He emphasized that as doctors whose solemn oath is the prevention of disease and the preservation of life, strike should be an instrument of last resort. Such was the belief and deep seated compassion of Dantong. There was nothing in his power he would not do for others. He never lost his natural compassion or the moral compass that informed his respect and love for humanity and primary calling of medicine."
It was also an opportunity for other Senators to say goodbye to their colleague, friend and brother.
In his remarks, Deputy Senate President Ike Ekweremadu said, ''I am saddened and I believe all of us are saddened. It has been a very challenging time for us as a country. Church bombed on Christmas, New Year churches was bombed. In Yobe even cattle were attacked. Children have been attacked and killed. Dana air crash, tanker fire incident in River State. It has been one incident after another all on the negative side. As we mourn Dantong we are morning all the people that died in the various incidents. Ask god to bring peace to our country.
''Some people who are fanning the embers of the incidents are somewhere today watching and listening to us but the man who is making peace is laying outside dead. The day of reckoning will come and everybody will pay his dues.
For Senator Chris Ngige, ACN, Anambra Central, ''He was not pecuniary minded. He went to work for a missionary hospital instead of going to establish his own hospital. He was passionate about our work in health. He was very passionate about eradication of polio. I ask myself if a personality like Dantong can be vanquished in the Plateau where is the hope for all of us. I don't know what to say. I only want to say that the peace in the Plateau that is becoming elusive now is a sign of serious security problem in the country. Where are the Lars, Saleh Jambo, Wash Pams, Dasuki's. Are they telling us that this matter is far above them? Do they want many Dantongs to die before the wake up?"
Senate Leader, Victor Ndoma-Egba who described the day as a sad and humble one in the life of the Seventh Senate and the Federal Republic of Nigeria, said that Senator Dantong, ''excelled in every aspect of life as a senator. Sixth Senate made passionate effort to get the health bill passed. There are two things that can kill a man. Either what we love passionately or what we fear very badly. Fear rabidly the ethnic tension in Plateau. But it consumed him. Blessed are the peacemakers of they shall be called children of God. He was fervent about his profession, in lamentation I ask where is Jos of old, where is the melting pot of peace and religion.
''Who has replaced tears with joy, hand shake with bombs, life has become too casual in Nigeria. He was the bridge between culture and religion let his death not be in vain. Leaders of Plateau owe it to Dantong to ensure peace in the Plateau."
Senator Bukola Saraki, PDP, Kwara Central said, ''I am more sorry for our country Nigeria where it seems now that we allowed death to steal our good men so cheaply. Senator Dantong was a good man. He was a quintessential Senator. A man worthy of his representation-he stood by his people through celebrations and mourning. He went with them where they went, he died with them where they died. He dedicated his life to his people and gave them more than he could ever good."
Also in contribution, Senator George Thompson Sekibo, Rivers East, said, ''Dantong told him that one day the crisis in the country will take the leadership of the country one by one. It was like a prophecy but unfortunately the prophecy came first to him.
''When I heard of his death I saw death coming to all Nigerians. In the midst of live we are in death because we don't know who the shadow of death will come to. He had a premonition that something was going to happen and that it is going to come to the leadership if something is not done. Unfortunately, the prophet died first. We have to congregate to find lasting peace in the Plateau and all the states we are having all these crises. We have to stand up as a nation and confront the enemies.
According Senator Ahmad Lawan, ANPP, Yobe North, ''death is a teacher, it reminds. Today we have lost one of our very good senators and citizen. In his death we have so many things to learn. He always say "there must be peace and unity in Plateau state." We have to learn this lesion that all of us here have to work to ensure we unite our various ethnic groups regardless of ethnic persuasion and if we do that our colleague would not have died in vain. The situation in Nigeria today requires so much prayer.
''We must approach god with very clean and sincere heart that he must intervene in the crisis facing our country. We need to continuously prepare and the only way we can prepare is to strive to ensure peace and unity in Nigeria. Today we have lost one the finest, humble, dedicated and committed gentleman who worked with those in the health sector to ensure that it is strengthened.
Also in his contribution, Deputy Senate Leader, Abdul Ningi, said, ''He was passionate about the crisis in Plateau and the Northern Nigeria. Dantong was a bridge, a peacemaker, honest man. He was a seer. Play politics to move forward the dreams of Senator Dantong. As long as I am a senator, and alive I will continue to pursue peace with whatever it takes in the Plateau.
For Senator Adegbenga Sefiu Kaka, ACN, Ogun East, ''this is a sad moment. I know he died a sad death. On many occasions he will say he is going home to rest. Are sick no. but he will say he is sad. I find him to be imbued with all the traits that leadership demands. All we pursue in this country is vanity. We left what should be done undone and we keep doing what should not be done. This is time for us to have a rethink. All our leaders have abdicated our responsibilities to our citizenry. We have failed our people. I pray that the death of Dantong not be in vain. It is painful that senator Dantong is sacrificed on the altar of criminal negligence. We are all guilty."
In her comments, Senator Zainab Kure, PDP, Niger South said, ''my heart goes out to his wives and children."
Deputy Speaker, House of Representatives, Emeka Ihedioha who stood in for the lower House said, ''Our message is simple. On Tuesday the 10th of July we had to adjourn sitting in honour of this great man. One of us who court the part of peace while he lived. What shall we remember him for? For us who are alive, the time for politicking is gone. We must begin to find solutions to the problems of this country and not lip service. Let his death challenge us to truly wake up and salvage our country."
Also in his contribution, Senator Ifeanyi Arthur Okowa, PDP, Delta North and Vice Chairman, Senate Committee on Health said, ''he was a man of peace and he has paid the supreme price in the pursuit of peace in the Plateau. He prayed that the Plateau will not continue to be a theatre of conflict."