Since the enthronement of the Fourth Republic about thirteen years ago, Nigeria's catalogue of  woes appeared to have reached unfinished symphony. Her people groaned under the yoke of repressive successive government, unemployment, dearth of social amenities abysmal demonstration of travesty of justice.
Recent revelations from the different probe panels raised by both the upper and lower legislative chambers speak volume of the unbridled corruption that pervades the entire spectrum of governance.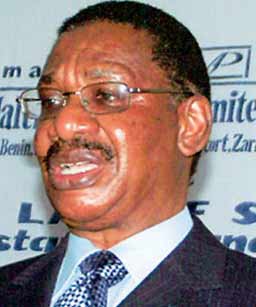 'The National Assembly is  full of rogues and armed robbers," former President, Chief Olusegun Obasanjo declared during the week. But President Goodluck Jonathan made futile attempt to absolve his administration from the near decadence the nation is experiencing when he stated that Nigeria's problems were not caused by his regime. For Nigerians, democracy has brought them untold hardship and created a state of hopeless despair. Chief Obasanjo puts it better when he asked rhetorically in a conference held during the week in Lagos. "Is there hope for Nigeria?
However, renowned Constitutional Lawyer, Professor Itse Sagay, in an interview with Charles Adingupu declared out-rightly that the Fourth Republic has collapsed.
Appraisal of the Fourth Republic
Our Fourth Republic democracy is a complete failure in the sense that the very first  threshold of what constitute democracy has failed. That's free, fair and credible election. Since the inception of the Fourth Republic, we have not had any election that can be described as free, fair and credible. What we have had are very bad elections, extremely fraudulent and completely overwhelmed by rigging.
Though, some elections were not as bad as the others, but all bad is the degree of vice  that they contained. For example, the worst elections we have ever had is the 2007 elections. Everybody knows that. The 2011 elections is an improvement on the 2007. But event  that one it is still a long way off  from what can be described as credible. So that's the beginning.

Also, if one take a look of the practice of democracy itself, one would see that there is a lot of immaturity in the behaviour of the political actors. If you look at the politicians at the National Assembly, they behave like little children who have seen ice-cream and lolly-pop. They voted fo themselves high income and remuneration, the highest amount of money ever received at any legislature in the whole world. They were so  immersed in seeing money that they forgot that is Nigeria's money, not legislature's money. So, we have a senator earning about 1.7 million dollars a year. When by contrast, his American counter part is earning just over two hundred thousand dollars a year. The President of America earns just four hundred thousand dollars a year. So, one can see not just the ironies but how ridiculous it is.
The orientation is very childish and infantile self interest. The politicians are there to promote their material  interest without any consideration for the country. The teeming population of this country which  currently stands at well over  one hundred and fifty million are earning less than a dollar per day. The fact that a senator earns 1.7 million dollar, those in that one hundred million bracket are earning three hundred and sixty-five dollars. Therefore, one can see the magnitude of the impunity and criminal misconduct that is involved.
At the executive level, it's all the same thing. We have heard a lot of scandals although not as overt as that of the National Assembly. The list is endless. However, few of them included, pension scam, petrol subsidy, the recent one, the Nigerian Security and Exchange Commission (SEC) and so on. The country is overwhelmed by corruption. Democracy has brought nothing but misery to everybody. It was quite unfortunate  that  for one year, fellow Nigerians collected a whooping sum of 1.17 trillion naira from the federal government when they did not supply any petrol. That was the decree of decay and degeneration that 13 years of democracy has brought to us, Nigerians.
Though, they might be one or two things to celebrate. But if one looks at the general atmosphere, the roads are all bad. With the three successive democratic adminstration, the power situation got worse. Despite the huge amount of money budgeted for power, the situation remains static. Since Professor Barth Nnaji became the Minister, the power situation has deteriorated to an incredible level inspite of all the noise he's making. The roads are the same, schools, universities, hospitals are all in bad state. The National Hospital in Abuja which is supposed to be the best in the country today, I understand is in no way any better than a morgue. If you have any serious illness, you dare not go there for treatment otherwise, you won't come back alive.
Today, every Nigerian is now going to India for treatment of one ailment or the other. The Indians capitalised on our foolishness to establish a huge laboratory in Oshodi, Lagos in order to make things easy for us. Also, South Africa has established a similar laboratory in Lagos. Somehow, our government is incapable of establishing anything that is enduring and beneficial to Nigerians. I'm afraid, there is nothing positive about Nigeria's thirteenth years of democracy. For me, it is thirteen wasted years. The wrong people have been in power and it will continue to be so as long as the wrong people continue to remain in power.
Structure of political parties
The political parties are too many. They are over sixty. This has weakened the political opposition and has prevented them from presenting a credible challenge to the ruling Peoples Democratic Party (PDP) which is just an conglomeration of people who want to share power and resources without any ideology. The opposition is not mobilised. They are scattered all over the places. Most of them operate in one parlour office, just waiting for the usual financial support from the government to share. That is all they do. They are not organised.
In my view, with the state of our political orientation in the various zones of the country, it is possible for some of the major opposition parties to establish a formidable alliance with the intention of winning power and introducing real transformation in the Nigeria system. The opposition can do it if they plan properly. It is all about allowing each party to present credible candidates in areas where they are strong and work together. It is very important that Nigeria has a breath of fresh air which can only come if the PDP is defeated at the federal and state levels.
The other issue dragging this country back is lack of federalism. With the current structure of the country, virtually all the powers are concentrated in Abuja. All the resources of the nation are also domiciled in Abuja. The result is that the federal government is handicap.  It has too much to do and failed to apply the resources of the country intelligently and beneficially. It si obvious the federal government  is already lost in confusion over what to do with so much power and resources. But if these resources are transferred to the federating units, the states will be stronger politically and financially and then become an engineer of development.  We have thirty six actors all applying resources wisely. In ten years, this country will be unrecognisable.
Is the problem with the people or the system?
The system is part of the problem. It is true that more may lead to temptation. But that is the problem of the wrong people in power. Former President, Chief Olusegun Obasanjo said recently that virtually every House legislature at various levels are being controlled by thieves and armed robbers.
And he should know better because he has ruled this country for more  years  than any other person. I'm waiting for people in power to challenge him. If we did not improve the quality of those in power, even the  federalism would not make any appreiable difference. There had to be qualitative change in personnel. The quality of political elites has to improve. They must be cultured and endowed with integrity of honour.
Appraisal of INEC
The Professor Jega's Independent National Electoral Commission is an improvement but he still has a long way to go. The major problem of INEC has to do with its commissioners and facilities at the headquarters. Presently, INEC has no system of vetting results coming in from the states. Therefore, for INEC to function properly, it must have a system of vetting, monitoring and rejecting results. The results of that was that whilst elections went fairly well in the South West and most of the North, those of South South and South East produced outrageous election result.
I was surprised Jega approved those results. South South had never produced any credible election result in this country. The rigging coming from the South South usually emanates from the riverine areas. Jega should put in place a mechanism that would checkmate electoral fraud, particularly in the South South and South East. Also, Jega should not allow any local Resident Electoral Officer to announce result because  most o them are very corrupt.
They can be easily bought by states government. Before results are declare, they must satisfy certain parameters and if they are not consistent with those parameters, the results should be rejected and fresh election announced. This is the only way Jega can come out of 2015 with credibility.
The way forward
There are credible Nigerians. I'm not going to call names. Not every political elite that is bad. We as Nigerians must vote in credible and honest people, men of integrity, who want to serve and not political hawks who are there to share resources and power. We must be able to change the group of people who have been in power electorally. However, for that to happen, elections must be free, fair and credible. Also, the opposition must organise itself by forming formidable alliances.