BY EBELE ORAKPO
IF what Mr. Ben Murray-Bruce, one of the governorship aspirants to the Bayelsa State Government House said is anything to go by, then Bayelsans are in for a great time if he is voted into power come 2012.
Addressing participants at the 4th biennial convention of the National Association of Ijaw Female Students (NAIS) at the National Theatre Iganmu, Lagos recently, Murray-Bruce, who was the chairman of the occasion, said Bayelsans had no business being poor as according to him, the state has a N2 trillion economy, one of the highest in Africa.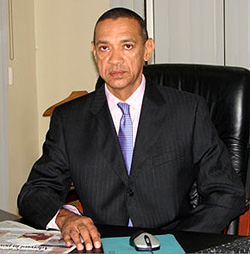 "In deciding to run for public office, I decided to study Bayelsa State, one of our Izon states. I wanted to understand what the problems were. Bayelsa has a N2 trillion economy, one of the richest states in Africa on paper.
Bayelsa has very high infant mortality rate, one of the highest in the world. It has one of the highest maternal mortality rates in the world. Bayelsa came last in WAEC last year. It has the highest unemployment rate in Nigeria and it has the highest misery index. But definitely, we are the richest state," he stated.
The Chairman of Silverbird Group and former NTA D_G said that education of Bayelsans was the key to the state realising its full potential. "In resettling our people, first of all, they must go to school. We have a very small number of people going to primary school in the state and only 18 per cent of that go on to secondary school.
In the Niger_Delta University, we have 4,000 students, 2,000 of them are not from the state. Nineteen years after freedom, we are developing an illiterate population but we have the richest economy. It makes no sense!"
Waxing philosophical, Murray-Bruce said: "You cannot be rich on one hand and so poor on the other hand. This is an inconsistency. As I look at you today, I see the future but what kind of future will it be for our people? We cannot have an 18th Century economy in the 21st Century, yet we have the resources.
Thirty per cent of all oil and gas comes from Bayelsa, yet we live in abject poverty. Who will you blame? Who is responsible? Do we blame ourselves? Do we blame the Federal Government? What is fundamentally wrong with our people?" he asked.
He regretted that many of the leaders are only interested in consuming the resources of the land without producing anything. "If we get in the position of leadership, why are we so concerned about consuming the resources of our land and producing nothing?
There are two kinds of people in this world. You are either a producer or you are a consumer. If you produce, it leads to freedom and if you consume, it leads to fatness. You must produce to be free. We have a responsibility to our people."
In order to transform the state, Murray-Bruce recognised the power of education to empower the people and to ensure that none will have any excuse for not getting an education, he promised Bayelsans free and compulsory education.
"As governor, education will be free and compulsory at every level. I am not doing you a favour, it is your money. We will provide one free meal a day in every school. We will provide buses to pick you up at designated points and take you back home every single day."
He continued: "I still have to worry about the parents as a governor so I will create a hundred million naira intervention fund where your parents can borrow money without collateral. Your existence is your collateral, the state will guarantee the loan and the banks will disburse the loans.
"For students, if you are smart/intelligent and get the best grade, I will send you to Harvard University, it is your money. Your universities will be equipped to take part in every single Olympic sport. If you produce cassava, the state will buy it from you so that you will record no loss. You will survive and your parents will survive."
He advised the students to always keep hope alive because they have the wealth that they produce, the resources and there is no reason for them to be poor.
He noted that as a private sector person, he is not a consumer but a producer and guaranteed that his administration will transform Bayelsa State. "The money is yours and should be used for you. There must be transparency and accountability. Nigerians are not less intelligent than the Japanese or Americans and our environment is more favourable. If you have no father or mother, I will be your father and mother," he said.
He congratulated Comrade Joseph Evah for keeping the Ijaw and Niger-Delta flag flying over the years.
Subscribe for latest Videos