With Remmy Diagbare
Neta Nwosu ,is an integrated Marketing Communicator whose 22years cognate experience cuts across branding, advertising, public relations, promotions, training and marketing journalism. A Zoology graduate of the University of Benin, she commenced her working career with Vanguard Newspapers in 1989 as an Advertisement Executive. Her extraordinary feat at the newspaper won her a job with the Enterprises and Promotions Unit in Concord Newspapers where she had the additional responsibility of marketing and managing the popular Concord Furniture Fair. It was also in Concord Publishing Limited that she cut her teeth in journalism. She wrote the sensational weekly Fashion Page of Weekend Concord which became a rendezvous for prominent fashion designers in the country.
Neta Nwosu is presently the Assistant General Manager, Corporate Services of The Sun Publishing Limited. She also writes the weekly MARKETING Matters pull-out of Daily Sun Newspapers. A pioneer staff of the company, she has served variously in the capacities of Business Development Manager/Brand Columnist and Assistant General Manager, Business Development. Neta is the current Chairperson of the Brand Journalists' Association of Nigeria (BJAN). She is a recipient of many awards, the most recent being Nigeria Breweries Plc Golden Pen Award, Media Nite–Out Brand Writer of the Year, NIMN Most Valuable Media Person of the Year and Best Marketing Page. In this interview, Neta espouses on the idea of style.
What is style?
Style has diverse meanings. It has been described in various ways. Style to me is distinctiveness aimed at creating unique differentiation. But to the majority of the people out there, style is simply fashion, panache, elegance, grace, charm, luxury and extravagance. While to a few, style is a way or technique of some sort. Yes, these various definitions are correct in their own ways. There is also a ridiculous angle of the definition of style. In this jet age, a group of people see stylish people as good for nothing people.
Well, for me, style is that element that drives distinctiveness in things we do. Style propels value.
Are you stylish?
I'm a stylish person. But that doesn't mean that I'm fashion crazy. I'm stylish in the sense that I want to stand out in every thing I do. I like to do my things differently in such way that I also deliver distinct value.
Can you be stylish without been fashion crazy?
The fact that I said that I'm not fashion crazy does not mean that I'm not fashion conscious. I'm indeed fashionable because I have to move with the trends to be able to incorporate myself into the fabric of the society and scheme of things. People are generally not attracted to the rustic and unfashionable. To make distinctive statements and create appreciable value therefore you have to be fashionable and at the same time trendy. You have to be current. What is value creation when you are not up to date?
In the course of this interview you have consistently talked about value creation. What do you mean by this?
Everything now all over the world revolves around value. Employers are seeking for employees who will offer value to their businesses and organizations. Politics is about delivering value to your constituencies. Consumers purchase only products and brands that can offer them their desired values. The world is value driven. Those who offer value will continue to grow and those who don't, will get stunt and stifled; I don't want to use the word, die.
Where does style come in all these?
Most of us tend to have simplistic and mundane attitude towards style, yet that is where to begin. If only we understand the unique position of style in virtually everything we do, we'd come to appreciate that style is the most critical factor we should consider before we initiate anything, especially where we want to win attention, respect, patronage and loyalty. The Almighty taught us to be stylish. Everything He created is beautiful, unique and peculiar.
As I was saying; style is it. Be it at home, in the office, in business, in the market place, in cooking, in your make-up, in building your house, in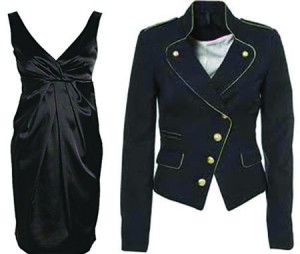 writing your column, in packaging your newspaper and other products, you just name it, you must consider what style you want to adopt. It is therefore the ability to be differentiated with a an added value. It could also be a way; a technique for delivering value. If you like, have a bundle of values, nobody will come near you except they are either stylishly presented or expressed. Style attracts. Attraction stimulates trial. This is to say that style is a tool for engineering appealing. People instinctively align with things that are attractive. Why is everybody queuing up for Obama? He is stylish and strives to deliver quality in everything he does. He is a stylish orator; he delivers his speech like no President before him did. Are Bournvita and Milo not cocoa drinks? Both are simply cocoa drinks. But they tend to be stylish in their packaging and different advertising appeals to their teaming consumers. Only recently your newspaper redesigned its masthead. All newspapers publish same news relatively but they tend to differentiate themselves with sophisticated layout designs, stylish fonts and mastheads that would better appeal to the readers. Style is one factor that has become very critical to value creation and uniqueness.