By SAM EYOBOKA and LAJA THOMAS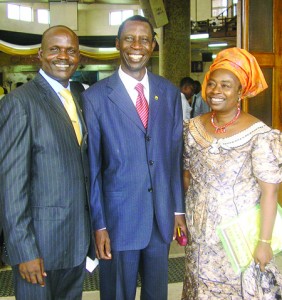 THE sudden removal the president of God's Kingdom Society, GKS, Brother Oseghale Emmanuel Aighalua for sundry actions and statements which came short of required standards, in line with Scriptural injunctions and the traditions of the church, may not have gone down well with the generalty of members of the church.
Some members contacted, told our reporter that whatever the offence of the church's third president, the Ministers could have reprimanded him and allow him to continue with the expansion work he had started in the 10 years since he was installed in September 2001.
Separate visits to some branches of the church in Lagos revealed that lay members of the church are not happy with the decision of the ministers to sack the president who, according to sources, had taken the church to enviable heights.
At the Egbe branch in Lagos, there was no service as members were directed to other service centres, while a few members were seen discussing the crisis in subdued tones around the premises of the church.
"Obviously, there was crisis in the church," a senior member of the church told our reporter, adding "but to err is human and to forgive is divine".
Late on Monday night, a statement signed by the Secretary of the church's Laity Council, Brother Emmanuel Efeni neither condemned nor endorsed the Ministers' action. It did not also give any clue as to what the offences of the out-going president were, that would warrant the sack.
The statement reads: "Sequel to the statement from the Publicity Secretary of the God's Kingdom Society (GKS), dated March 18, announcing the decision of the Ministers of the church to remove the president, Brother Aighalua from office, the GKS Laity, Nigeria and Abroad wish to state as follows:
"That all members of the church have been advised to remain calm as the Laity Officers Committee (LOC), the apex body of the GKS Laity is in touch with the church's Ministers to fashion a way forward.
"We continue to look unto Jehovah, the Almighty God, Who puts people into positions in His organisation to direct and feed His followers spiritually. The LOC has slated a Conference of Lay Members of the church for March 26, to enable the Laity accomplish a way forward by God's grace," the statement added.
Also speaking to our reporter on phone, the publicity secretary, Brother Benedict Hart said several meetings have been slated for this week to fashion a way out of the logjam.
According to him, after due consultation with all concerned groups and individuals who have started arriving the Salem City headquarters of the church, the public would be informed on the way forward.